2019 Louisiana Derby Race Predictions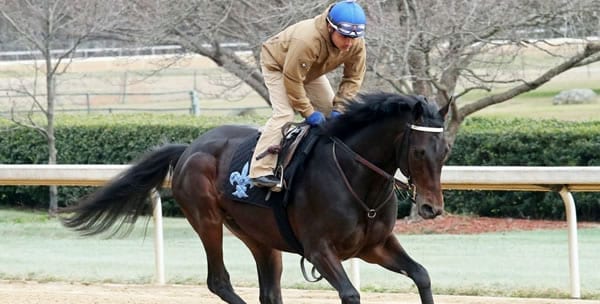 Country House gets the call to upset War of Will in Louisiana Derby, Spinoff the wild card
Event: Louisiana Derby-G2, Fair Grounds
When: Race 13, Saturday, March 23, 2019
Age:3-Year-Olds
Distance: 1 1 1/8-miles
Surface: Dirt. Purse: $1 Million
2019 Louisiana Derby Picks
Country House
War of Will
Sueno
Spinoff – Wild Card
Louisiana Derby Analysis
The 2019 Louisiana Derby-G2 is a trip handicapper's delight and a nightmare at the same time. We've got a combination of improving horses, others that had trouble in their most recent starts, and some that are just getting race fit.
War of Will is the logical choice for a number of reasons, but we get the feeling this race will be tougher than his last two, and he will also be an underlay.
The likely even-money favorite in this year's Louisiana Derby is big and strong, he rates nicely, and he looks like he'll go 1 1/8-miles. The fifth-place finisher in last year Breeders' Cup Juvenile Turf-G1 also has the home court advantage. Both of his starts this year have been at Fair Grounds, and he's won both of them, the LeComte Stakes-G3 and the Risen Star Stakes-G3.
War of Will is the only horse in the field to have broken 90 on the Beyer Speed Figure scale, which he did with a 94 in the LeComte and a 92 in the Risen Star, and he's likely going to make his own trip again from just off the pace. But this race is longer, and a number of horses with similar tactical speed are expected to improve. One of them could take some sting out of him turning for home.
Country House took a good but green run at War of Will in the Risen Star Stakes, lugging in through the stretch before finishing second beaten 2 ¼-lengths. He'll be getting a new bit but for the Louisiana Derby and he received both an education and a fitness boost from the Risen Star. He makes his third start off the layoff for Hall of Fame trainer Bill Mott, and his 9/2 morning-line odds make him very enticing.
Limonite made his first start off a three-month layoff in the Risen Star and didn't get the best of trips before finishing fifth, beaten 7 ¼-lengths. He had to wait inside through the final turn behind horses, and it didn't get a whole lot better for him in early stretch, but when he did get clear, he at least made an effort while tiring. He should improve with a better trip as he makes his second start off the layoff.
Mr. Money made his first start since finishing fourth in the Breeders' Cup Juvenile-G1 in the Risen Star Stakes and was well placed inside to the stretch before coming up short. He had some run in him into the turn and a little left for the drive, but he was forced to check while tiring as the top pair left the field. It wasn't the check that stopped him from finishing in the money. He didn't look anywhere close to being fit enough for the Risen Star. He should improve in his second start off the layoff. How much is the question?
Roiland took himself to the back of the pack in the Risen Star, as he always does, and he was at least 15 lengths behind the field running by himself in fairyland at one point. He ended up making a decent late run to finish third, and he'll likely appreciate the 1 1/8-miles of the Louisiana Derby, but he's another that's impossible to figure out. Did he pass tired horses in the Risen Star and/or is he just starting to get his act together. Has to be included underneath in your superfectas, as he'll probably come up with another late rally, but there are a lot of others in here expected to run better than they did in their last.
Hog Creek Hustle was taken back early in the Risen Star and made a wide move outside Country House before flattening out in the stretch. Now he has to go further. There are probably better spots to run him in, and he would need a complete pace meltdown in here to win. There's a slight chance he could make it into the bottom rungs of the superfecta with a perfectly timed rally, but that's as far as we'll go with him.
Sueno was full of run throughout in his last, the Southwest Stakes-G3, and stalked a bid battle from between horses before making a good late run to finish second behind freak 62-1 winner Super Steed. He had to wait briefly behind horses in the Southwest, but that didn't cost him the victory. The third-place finisher in the Southwest Stakes, Long Range Toddy, actually had to wait longer than his rival for room in early stretch. Still, Long Range Toddy made Sueno look good when he came back to win the Rebel Stakes in his next start with a nice inside trip. Sueno looks like a "tryer", we just don't know how good he is.
Bet on the Derby Prep races from your phone! Win, Place and Show plus Exacta and Trifecta wagers.
Bovada Racebook
Bankit was carried wide on the first turn in the Southwest Stakes, shifted inside on the backstretch, advanced into the final turn and then shifted out to rally, but finished evenly. The trouble he had on the first turn in the Southwest doesn't make him good enough to win this race, but we'll probably put him in the bottom rung of our superfectas due to the presence of top rider Irad Ortiz Jr. in the saddle. If there's an all-out battle on the final turn, which could happen, Ortiz might get just enough run out of this guy late to make it into the superfecta.
Leminscate just broke his maiden on the turf going 1 1/16-miles at Gulfstream Park and looks like a pace presence that is being thrown to the wolves here instead of running in an N1X allowance race. He has speed, but he's moving way up in class for this race, and he should have company up front.
By My Standards is another that just broke his maiden, but he did it at the Fair Grounds going 1 1/16-miles and won by 4 1/4-lengths. He rated reasonably well on the outside before making his move in that race, but this time there will be numerous horses either going with him or running away from him. His Beyer Speed Figures seem to be stalled in the high 70s, and that's not good enough for these, even with improvement.
Spinoff is another speeder, but this one comes from the Todd Pletcher barn and gets the services of Hall of Famer John Velazquez. He broke his maiden impressively going a mile and 40 yards in his third-lifetime start, winning by 11 ¾-lengths off a six-month layoff at 60 cents on the dollar, but that was at Tampa Bay Downs, and he was so much better than the horses he faced it was laughable.
Spinoff finished third beaten 2 3/4-lengths in the 4-horse Saratoga Special-G2 last year, so he has some speed and quality to him, but he sure has some significant gaps in his form. Make a small Win-Place-Show wager on him and include him in your exotic bets, just in case. Every once in a while these connections put one over on us. What happens if Johhny V decides to send early and Spinoff gives the field the slip? His sire, Hard Spun was a fierce competitor, and his pedigree certainly has enough stamina in it. Wild Card.
The race sets up with either Leminscate and Spinoff on the early lead while War of Will rates and presses from the outside. War of Will could probably open up early on these if he wanted to, but why change a pressing style that works.
Sueno is another that could make the lead in here, but he'll likely take up a pressing roll along with War of Will. Mr. Money and By My Standards should be just behind the first flight, followed by a hopefully more educated Country House. Bankit and Hog Creek Hustle will be further back, and Roiland will likely take up his usual position at the back of the pack.
When the field enters the final turn, and the running starts we expect Leminscate to wilt and War of Will, Sueno and Mr. Money to take on Spinoff. By My Standards likely won't be able to make much of a bid when this bunch starts running, and when the smoke clears turning for home, we expect War of Will and Sueno to be going at it. At this point, Country House should be in a perfect spot to take advantage of the stretch duel and rally to take over very late. Limonite, Hog Creek Hustle, Roiland, and Bankit should then rally to pass tired horses.
Trying to predict how a race will set up before it happens is like calling the flight path of golf shot before you make it. Sometimes it works perfectly, other times not so well. But when it does work, it feels like…
Country House to win and place.