2021 Arkansas Derby Odds & Picks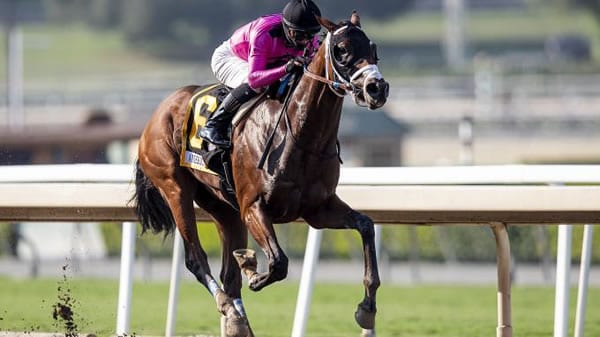 Can anyone beat Concert Tour in the Arkansas Derby? We're betting on it!
Arkansas Derby-G1, 12th Race, Oaklawn Park, Saturday, April 10, 2021
3-Year-Olds. Distance: 1 1/8-miles. Surface: Dirt. Purse: $1 Million
Arkansas Derby Picks
Get Her Number
Concert Tour
Super Stock
Caddo River
Arkansas Derby Analysis
A lot of things have to go right for us to cash a decent bet on Saturday's Arkansas Derby-G1 at Oaklawn Park, but crazy things can happen in short fields, so we'll take a shot at predicting a profitable outcome. Morning-line favorite Concert Tour may be the best horse in the Arkansas Derby at a perfect 3-for-3, but he was handed the victory in his last race, the Rebel Stakes-G2 when Caddo River decided to rate early and give up the inside. Still, Concert Tour looked freakishly good in that race, as so many of the Baffert trainees do, and the only question may be whether he can keep it going. Some of the Baffert horses do, while others run a few monster races and then fizzle when least expected.
Concert Tour's Rebel win certainly didn't take anything out of him, and he proved he could rate and grind it out down the lane two starts ago when he wore down Freedom Fighter to win the seven-furlong San Vicente-G2 at Santa Anita by half a length. He didn't appear to really like being rated in that race, but he reluctantly did what he was asked to do. If he doesn't get an easy lead in here, there's a chance he could get beat on the dislikes-rating angle, but he may just outclass this bunch. Caddo River got an odd ride in the Rebel Stakes. The proven speed horse had won two in a row on the front end, including the Smarty Jones Stakes in his first start off the layoff, but he was uncomfortably rated inside early in the Rebel, letting Concert Tour take the lead from the outside and then letting that rival take his inside path. Caddo River moved outside on the backstretch while still being rated, and he did not like that tactic. He did make a run in the drive before tiring, but it was clear when they turned for home that there was no way he was beating Concert Tour. Not with that trip.
BET ON HORSES
(Use Your Credit Card)
Win, place, and show, exactas, trifectas, superfectas and more! Plus grab a 50% deposit bonus!
You have to expect different tactics from Caddo River this time. Logically, off that last debacle, he has to be sent to the lead, where he thrives. While that still might not be good enough to win, it would at least give him a fighting chance. Get Her Number is even more intriguing. Last year's American Pharoah-G1 winner at Santa Anita made his first start in almost six months in the Rebel and was another who looked uncomfortable rating between horses on the first turn. He was steadied and pulled back from between horses on the backstretch and then started climbing in green fashion. Once he got things figured out, he made a decent run on the final turn before being soundly bumped in mid-stretch and fading. He was going to fade regardless, the bump didn't make any difference in his finishing position, but he should improve off that race. Get Her Number could show more speed in the Rebel, but again, it's going to depend on what Caddo River and Concert Tour do. If they duel this time, or Caddo River goes to the lead as he should, the complexion of the race would change in favor of Get Her Number from just off the pace.
Hosier
is the second Baffert entrant in the Arkansas Derby, and he also comes out of the Rebel. He finished second in that race with a relatively clean and smooth inside trip compared to his outside rivals, and he did dig in to save the place, but he simply was not impressive. He should have been fit enough after three 2021 starts to run his best race, and he probably did. We're not convinced he can improve off that performance and others in here have angles that can move them further forward.
Super Stock
made his first start off, almost a five-month layoff in the Rebel Stakes, and had a relatively clean trip, making a run before flattening out in mid-stretch while clearly tiring. He has a little class to him based on his third-place finish behind champion Essential Quality in last year's Breeders' Futurity-G1 at Keeneland, and while he was no match for that rival, he fits better with this bunch with expected improvement.
Last Samurai
is the final entrant in Saturday's race, and he makes his second start off the layoff after finishing a rather dull fifth beaten 13 1/4-lengths by Essential Quality in the sloppy Southwest Stakes-G3 after four months off. Even with improvement off that race, his numbers would have to take a much bigger jump to get into the exacta here. So what has to go right for us to cash on the Arkansas Derby?
We need Caddo River to use his natural speed and go to the lead instead of rating as he did in his last, and we need Concert Tour to be forced into a rating pressing position outside Caddo River. Concert Tour may outclass this field, but he doesn't appear to be near as effective when forced to rate and grind. Watch his race in the San Vicente for proof of that. We need Hozier to back up our assumption that he had a better trip than his rivals in his last and basically run the same average race he did in his last. We need Super Stock to improve enough to have a chance at the exacta, and we need Last Samurai to prove our assumption that he's not good enough to beat these based on numbers, even if he is making his second start off the layoff with possible sloppy track and fitness excuses in his last.
And finally, we need Get Her Number to get a perfect trip behind Caddo River and Concert Tour, without traffic and without trouble, so he can give us a clean run and show us what he's got. Is all that too much to ask? We hope not!
How to Bet on Horses
Read our Race Betting Guide to get insight on all of the types of wagering options in horse racing. Dig deeper below to get tips on the most popular exotic wagers with winning strategies provided by expert Kenneth Strong.