2022 Kentucky Derby Picks and Analysis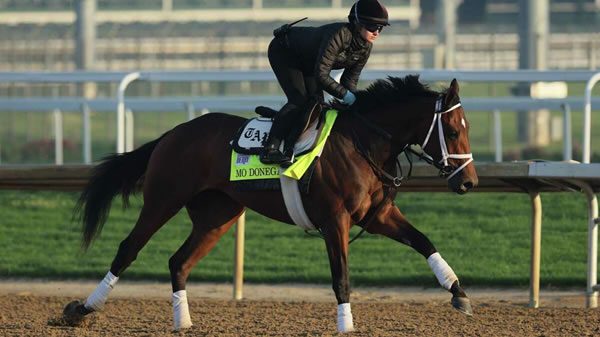 Price is Right on Mo Donegal to win 148th Kentucky Derby
Race: Kentucky Derby-G1 Race 12
Track: Churchill Downs
When: Saturday, May 7, 2022
Conditions: 3-Year-Olds.
Distance: 1 1/4-miles.
Surface: Dirt.
Purse: $3 Million
2022 Kentucky Derby Picks
Mo Donegal
Epicenter
Messier
Zandon
White Abarrio
Kentucky Derby Superfecta Longshots
Barber Road, Crown Pride, Tiz the Bomb, Taiba, Cyberknife
The 2022 Kentucky Derby looks very competitive on paper, and regardless of who you end up playing, you'll likely get your price. The morning line favorites, Zandon (3-1) and Epicenter (7/2) look reasonably good on paper, but they certainly don't stand out by any large margin.
Winning the Kentucky Derby is about much more than pure talent. A horse has to be physically fit to go the distance and mentally tough enough to handle both the crowd and the craziness that occurs in such a large field. Winners also generally have some high class and stamina in their pedigrees.
Winning the Kentucky Derby also requires grit and determination. Horses without those character attributes have won this race, but only if they were five lengths more talented than the field or somehow managed to get a clear lead and slow down the pace. That rarely happens in the Derby. Above all, a horse needs a good trip, which is very tough to work out in a bulky field.
With the above factors in mind, we'll review the field for the 148th Kentucky Derby from the inside post out. We'll then look at the race setup and try to pick the winner and the exotics.
Bet on the Kentucky Derby:
Win, Place, Show, plus exacta, trifecta, and head to head matchups CLICK  HERE
Kentucky Derby Horse-By-Horse Analysis
1. Mo Donegal (10-1) has both talent and character, and he gets top jockey Irad Ortiz Jr. He'll need all of that rider's talents to work out a trip from his inside post. As a proven stalker, it's tough to say whether he'll drop back to last early or try to find a spot mid-pack along the rail and wait for an opening. He showed good determination to win the Wood Memorial in his last, running down a lone speed horse. It was a race an ordinary horse would not have won. He has some high class and stamina on the female side of his pedigree, so he should get the distance. He'll need an almost perfect trip to win, including a contested pace, but his odds should be enticing.
2. Happy Jack (30-1) was well beaten by fellow Kentucky Derby rivals Taiba and Messier in the Santa Anita Derby, and we can't see any reason why he might improve here. He gets blinkers off, but at this point, his Beyer Speed Figures aren't good enough. Pass.
3. Epicenter (7/2) proved he could come from off the pace in his last, so while he has ample speed, he doesn't need the lead to win. His morning-line odds are fair, and he should be able to get the right kind of trip with his tactical speed and Joel Rosario aboard. He defeated fellow Derby entrants Zozos, Pioneer of Medina, Smile Happy, and Zandon in his last two starts and wasn't fully extended. He probably has another notch of improvement in him and owns the second-highest Beyer Speed Figure in the field at 102, behind only Messier and Taiba at 103. He also has both stamina and high class in his pedigree—the horse to beat.
4. Summer Is Tomorrow (30-1) was well beaten by Derby rival Crown Pride in the UAE Derby and will likely be much higher odds than 30-1 at post time. He could be part of the pace early but doesn't appear to have either the class or the talent to win this.
5. Smile Happy (20-1) was favored to win both the Risen Star and the Blue Grass Stakes in his two starts as a 3-year-old after going undefeated as a 2-year-old, including a victory in the Kentucky Jockey Club Stakes. He was beaten by Derby entrant Epicenter in the Risen Star and lost the Blue Grass to morning-line Derby favorite Zandon. He finished second in both those races, and he did try, but he seems to be just a notch below the best in here. Maybe he was just using his recent starts as preps. If so, he could grind away late for a possible piece of the Derby Superfecta.
6. Messier (8-1) chased a fast pace off a two-month layoff in the Santa Anita Derby and tired late to finish second to the freakishly good Taiba. He doesn't need the lead to win, and he appears to have some high class to him. The only thing we're not sure of is his ability to accelerate when challenged late. He should make a solid bid, but can he hold? A Bob Baffert trainee now conditioned by Tim Yakteen, we're expecting a big effort from him at a decent price.
7. Crown Pride (20-1) would be a mild overlay if he went off at 20-1, but that's unlikely now. The Japanese runner has gotten all kinds of attention from the media this week due to his fast works and the success of the Japanese horses in last year's Breeders' Cup. He moves up in class substantially here, but he should have just the right fitness level. The question is the class raise. At 20-1, the UAE Derby winner has to be included in your Kentucky Derby Superfectas, just in case.
8. Charge It (20-1) looks like he's still developing, and he may not have quite enough experience yet. He finished second to Derby rival White Abarrio in the Florida Derby after hitting the gate at the break and lugging in through the stretch. He had to be asked to give his best in that race, which was good enough to beat fellow Derby runner and third-place finisher Simplification. We think he'd need to be less green and more willing to defeat 18 rivals in the Derby.
9. Tiz The Bomb (30-1) is a total sleeper. The runner-up in last year's Breeders' Cup Juvenile Turf is 2-for-2 on synthetic surfaces and 2-for-3 on turf, but he's only 1-for-3 on dirt. He's won his last two starts at Turfway Park, including the John Battaglia Memorial and the Jeff Ruby Steaks, and he appeared to be a class above those horses, which included fellow Derby longshot Tawny Port. He finished more than 20 lengths behind Derby runner White Abarrio in his first start as a 3-year-old in the Holy Bull Stakes at 4-1, but other than that race, he's a very solid 5-for-8, including two graded stakes wins. If the pace totally falls apart, he could come running late and shock everyone. Guessing game.
10. Zandon (3-1) is the morning line favorite in this year's Kentucky Derby off an excellent winning performance over Derby rival Smile Happy in the Blue Grass Stakes. Trained by top conditioner Chad Brown, in his first start this year off the layoff, he finished third behind Smile Happy and Epicenter in the Risen Star. Another move forward is expected here, but the price will be short, and he'll have to negotiate his way through a large and bulky field to win. Top jock Flavien Prat will help him with that, and we expect a good performance, but at a short price, we'll be looking elsewhere in the win spot.
11. Pioneer of Medina (30-1) finished fourth and third behind Epicenter in the Risen Star and the Louisiana Derby, and he might already be as good as he's going to get. He can be close to the pace early in this year's Derby, but that's all we'll probably get. When the running starts and the big beasts start ranging up on the turn, we expect him to find him to be lacking the punch needed to go with them.
12. Taiba (12-1) has shown freakish talent in his only two lifetime starts. He went from breaking his maiden, going six furlongs with a Beyer Speed Figure of 103, to running down the much more experienced Messier in the Santa Anita Derby with a Beyer Speed Figure of 102. The only two other horses in this year's Derby that have recorded triple-digit Beyer Speed Figures are Messier and Epicenter, and he's already beaten one of them. But, unless this horse can improve again, he may have his hooves full when the fitness crunch comes in the stretch. His lack of seasoning could cost him. Has to be included in your Derby Superfecta, and he does have a chance to win if everything goes his way. Top jock Mike Smith will help his chances.
13. Simplification (20-1) won the Fountain of Youth Stakes but could do no better than third in the Florida Derby behind Derby entrants White Abarrio and Charge It after dueling and tiring. The pace is expected to be solid in the Derby, and if he duels on the front end, he won't finish in the money. He can be rated, but there are classier pouncers in here he'll have to outkick. A Derby Superfecta include in the third and fourth positions at best.
14. Barber Road (30-1) is one of our favorite Derby Superfecta longshots. In both of his last two races, he surged very late to take a piece of the purse, and he's likely to do the same here if he can get any kind of trip. He's likely to be totally overlooked on the tote board because of his grinding style, but he dug in exceptionally well late to finish third in the Rebel Stakes and second behind Derby entrant Cyberknife in the Arkansas Derby. While we don't necessarily think he can win, he should like the added distance and keep running very late to get a piece of the Derby Superfecta at a huge price.
15. White Abarrio (10-1) would be your choice if you could bet the prettiest horse in the race, but don't let his vanity looks fool you, this guy knows how to win. We don't think he's quite as talented as some in here, but he's won four of his five starts, and he should get another good trip based on his tactical speed. If some of his more heralded rivals decide they don't feel like running their best race in the Derby, this guy will beat them. He's training well, he's close on numbers, and a good effort is expected, but we're not sure if it will be quite good enough. The odds on him, however, should be excellent. Likely overlay with a chance to win.
16. Cyberknife (20-1) visually improved while winning the Arkansas Derby over Barber Road and Friday's Kentucky Oaks winner Secret Oath in his final Derby prep. Even though he looked good winning an allowance race two starts back, his big effort in the Arkansas Derby was a bit unexpected. This horse could be set to make another big move forward, which would be good enough to at least make a bid here and maybe even good enough to win. Apparently, his temperament may not be the best for the Kentucky Derby craziness, but he's been training well and is another that should be an excellent price.
17. Classic Causeway (30-1) looked great winning both the Sam F Davis and Tampa Bay Derby but stopped badly after dueling in the Florida Derby while facing tougher horses. Derby entrants White Abarrio, Charge It, and Simplification all beat him in that race, and the pace will be even tougher in the Derby. The only way he could get a piece of this would be if he opened up and slowed down the pace, and that's unlikely to happen. Pass.
18. Tawny Port (30-1) finished fifth behind Derby rival Epicenter in the Risen Star Stakes and came back to finish second behind fellow Derby entrant Tiz the Bomb in the John Battaglia Memorial with a solid effort. He then rallied over the Keeneland dirt to win the Lexington Stakes over lesser rivals. He's making his third start in just five weeks, but if he has one more move forward in him, he could slip into the lower rungs of the Derby Superfecta.
19. Zozos (20-1) has some speed, and he did handle the class raise well in the Louisiana Derby to finish second behind Derby rival Epicenter. The problem is, he's only had three-lifetime starts, and now he's a speed horse facing other class speed horses while breaking from post 19. I can't imagine any scenario where he could win this race.
20. Ethereal Road (30-1) SCRATCHED.
21. Rich Strike (30-1) draws in off the also eligible list with the scratch of Ethereal Road, which is nice for the connections, but not so much for the horse. Rich Strike has been well beaten twice in a row by Derby entrant Tiz the Bomb, finishing fourth in the John Battaglia Memorial and third in the Jeff Ruby Steaks. His numbers simply don't match up with these. Pass.
2022 Kentucky Derby Race Setup
It's always fun to predict how the Kentucky Derby will be run. If we can visualize it reasonably well before the race is run, we have a better chance of picking the right horses.
While there are a few speed horses in the 2022 Derby that could send early, the class speed of Messier and Epicenter should dominate the race after a five furlongs have been run. Neither of these horses needs the lead to win, and they'll probably press the cheaper speed horses early, but if one of these two gets loose, they could go all the way.
The most likely scenario is that Messier and Epicenter are close early, and both make their moves into the turn with Taiba, White Abarrio, Cyberknife, and Simplification right behind them. This will turn into a rider's race on the turn. Do you go after Messier and Epicenter, or do you wait for them to battle each other into submission?
Those that try to go with Messier and Epicenter on the turn will pay a high price, which should set the race up for a host of late ralliers, including Mo Donegal, Zandon, Tiz the Bomb, Barber Road, and Tawny Port. Whether any of these are classy enough to get by Epicenter and Messier remains to be seen.
If Mo Donegal can work out a trip from his dreaded inside post, he should be able to sneak by the top pair along the rail in the stretch. At 10-1, we won't mind if he rallies outside.
Go Mo! Bet YOUR Kentucky Derby picks for FREE by taking advantage of a 50% real cash bonus on your first deposit of $100 to $500 at Bovada Racebook! They offer a TON of wagering options and pay FAST!
How to Bet on Horses
Read our Race Betting Guide to get insight on all of the types of wagering options in horse racing. Dig deeper below to get tips on the most popular exotic wagers with winning strategies provided by expert Kenneth Strong.