Belmont Stakes Picks 2019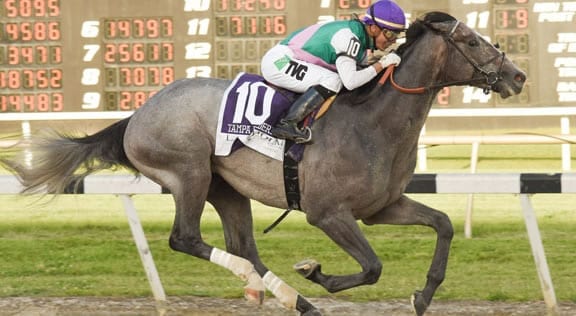 Fresh Tacitus, the horse to beat in 151st Belmont Stakes
Event: Belmont Stakes-G1, Belmont Park
When: Race 11, Saturday, June 8, 2019
Age: 3-Year-Olds Distance: 1 1/2-miles.
Surface: Dirt.
Purse: $1.5 Million
2019 Belmont Stakes Picks
Tacitus
Sir Winston
War of Will
Master Fencer
2019 Belmont Stakes Entries
N0. Horse (ML Odds) Jockey Trainer
1. Joevia (30-1), J. Lezcano, G. Sacco
2. Everfast (12-1), L. Saez. D. Romans
3. Master Fencer (8-1), J. Leparoux, K. Tsunoda
4. Tax (15-1), I. Ortiz, D. Gargan
5. Bourbon War (12-1), M. Smith, M. Hennig
6. Spinoff (30-1), J. Castellano, T. Pletcher
7. Sir Winston (12-1), J. Rosario, M. Casse
8. Intrepid Heart (10-1), J. Velazquez, T. Pletcher
9. War of Will (2-1), T. Gafflione, M. Casse
10. Tacitus (50-1), J. Ortiz, B. Mott
Wager on the win, place and show plus horse vs. horse matchups and more at
Bovada Racebook
2019 Belmont Stakes Analysis
We loved War of Will in the Preakness Stakes-G1 and got 6-1 on him, which was almost too good to be true. But it was! Back to reality, we won't get anywhere close to odds like that on War of Will in the 151st running of the Belmont Stakes on Saturday. He's listed at 2-1 on the morning line, and he should go off at close to that. That's okay, we were going in a different direction anyway.
War of Will did what we thought he would in the Preakness after getting back to a decent fitness level in the Kentucky Derby-G1. Forget about his trouble in the Derby, which was way overrated as the reason he lost. He wasn't fit enough to win that race, and both the trainer and the jockey knew it. He took a good run at the winner (who should not have been disqualified based on previous Kentucky Derby rodeos) in the Derby and got tired. But it primed him perfectly for the Preakness, which he won with a perfect trip while being kept to task.
War of Will should get a similar trip in the Belmont, but based on his Preakness performance, we're not sure he wants to go 1 ½-miles. The monster stretch on "Big Sandy" has a tendency to eat horses up and spit them out as they desperately search for the wire late. War of Will looks like a decent horse going 1 1/8-miles, and he might even stretch it to the Preakness distance of 1 3/16-miles occasionally, but anything further than that and all bets are off until he proves himself.
Tacitus is going to be our horse for the Belmont. We hate to pick favorites (he's 9/5 on the morning line), but in this case, he just seems to be the right horse. Tacitus finished a rallying fourth beaten 3 ¼-lengths in the Kentucky Derby with some minor trouble and he skipped the Preakness to prepare for this race. Trainer Bill Mott is one of the best on the planet and he saw what we did. Three tough races in three months for a horse that appeared to be still learning, and it was time for a rest. He's been training well and should get a nice trip under regular rider Jose Ortiz, who not only knows the horse, but also the track.
After Tacitus and War of Will, this year's Belmont is a guessing game of newcomers and in-and-outers. Joevia moves way up in class after a victory in the Long Branch Stakes at Monmouth going 1 1/16-miles in the slop. Everfast comes into the race off what looked like a fluky second-place finish in the Preakness. He'd run three terrible no-try races before that effort and we have to assume he got lucky with his inside trip in the Preakness.
Japanese horse Master Fencer is a little intriguing but should be 12-1 instead of 8-1 on the morning line. He actually finished well in the Kentucky Derby and was only beaten four lengths, but reports are mixed on his recent training. Jockey Julien Leparoux said he was going great and the clockers reported he wouldn't change leads when asked. That could be an issue with the big sweeping turn at Belmont, and although the rumor is that he doesn't change leads because he's fooling around, we've rarely found that to be the actual case. There's usually a reason. Who knows, maybe he'll pick the Belmont to put it all together, and he does look like he'll go the distance.
Tax finished second to Tacitus in the Wood Memorial-G2 but came back to run 15th in the Kentucky Derby with no apparent excuse. He's also rumored to have come out of his last work with some type of foot issue. His best race could put him into the bottom rungs of the Belmont Superfecta, but that's the best we'll give him. Interestingly, Irad Ortiz takes off Fountain of Youth-G2 runner up Bourbon War to ride Tax.
Bourbon War has not panned out the way many thought he would, including the jockey. He was comprised by the slow pace two starts ago in the Florida Derby-G1, but then came back to run a nondescript eighth in the Preakness with blinkers on. Blinkers come back off today, and new rider Mike Smith goes on.
Spinoff finished a wide 18th in the Kentucky Derby but ran a good race in the Louisiana Derby-G2 going 1 1/8-miles in the start before that. He likes to sit close to the pace and could go further than expected off the freshening for trainer Todd Pletcher at nice morning-line odds of 15-1.
Sir Winston finished well to be second in the Peter Pan-G3 at Belmont Park in his last start, so we know he likes the track. And we still can't forget the big but mostly unnoticed rally he made in the Tampa Bay Derby-G2 in his third start back. He finished fourth in that race, five lengths behind winner Tacitus, but he did show some run. He would need a serious pace to run at, but at 12-1 on the morning line he is definitely worth a look in all exotic wagers.
Intrepid Heart made his third-lifetime start and first stakes start in the Peter Pan and stumbled badly at the break before being hard-ridden from the turn home to finish third, 4 ¾-lengths behind Sir Winston. He likes to be close to the pace and gets blinkers on for the Belmont, so expect him to show speed, but what's he going to do when a horse like War of Will latches on to him? Hall of Famer jockey John Velazquez sticks with him his second start at Belmont Park and was also aboard for earlier wins at Oaklawn Park and Keeneland.
The race sets up with Joevia, Intrepid Heart and Spinoff on or near the front end early, with War of Will and Tax right behind them. The next group will include Tacitus and Bourbon War followed by deep closers Everfast, Master Fencer and Sir Winston.
While War of Will could go to the lead by himself if he really pushed the gas early, we're thinking he'll utilize his press and pounce strategy and jump on the tiring leaders some time on the turn. If he times it perfectly and catches them at the right moment, he could go right on by. If not, and he gets into a bid battle, that will cost him late. He does have enough pedigree to get the distance, but either way, the Belmont stretch is long, and he may have a tough time holding on to the wire.
Tacitus has been training well, he has the trainer, jockey and pedigree, and he should be just gearing up when War of Will is taking on the speedsters. He should take over somewhere between early to mid-stretch. War of Will then has to hold off Sir Winston, Master Fencer and maybe Tax for the Belmont Exacta. The bottom slots in the Belmont Trifecta and Superfecta are wide open.
Tacitus to win.
How to Bet on Horses
Read our Race Betting Guide to get insight on all of the types of wagering options in horse racing. Dig deeper below to get tips on the most popular exotic wagers with winning strategies provided by expert Kenneth Strong.