Belmont Stakes Picks, Analysis, and Top Contenders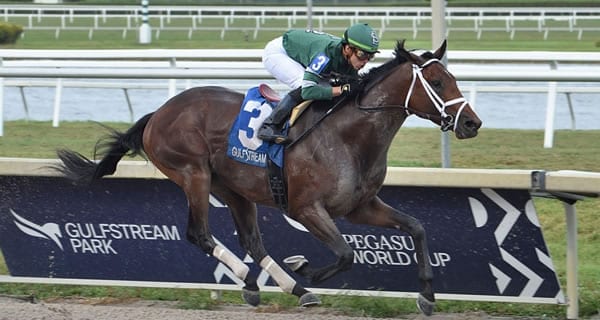 Tiz the Law should outclass field in shortened Belmont Stakes
Race: Belmont Stakes-G1, Belmont Park, Race 10, Saturday, June 20
Age: 3-Year-Olds Distance: 1 1/8-miles. Surface: Dirt. Purse: $1 Million
2020 Belmont Stakes Top Picks
Tiz the Law
Dr Post
Sole Volante
Belmont Stakes Analysis
This is just weird. A Belmont Stakes shortened from 1 1/2 -miles to 1 1/8-miles and run before the Kentucky Derby-G1? Without Bob Baffert? And where are all the top 3-year-olds?
Nowhere to be found. Or maybe there just isn't any.
In the absence of any star runners, Florida Derby-G1 winner simply looks too good for this bunch. Listed at 6/5 on the morning line, he has the perfect running style to get just the right trip, and we don't have to worry about him getting the 1.5 -miles anymore, as the race has been shortened to 1 1/8-miles, and he's already proven he can run that far.
Conditioned by capable trainer Barclay Tagg and slated to be ridden by one of the top New York jockeys in Manny Franco, Tiz the Law has only lost once in his life, and that fact doesn't seem likely to change here. Sure, he hasn't run since winning the Florida Derby on March 28, so he's giving a little fitness edge away to a few runners in here, but he's already proven he can win off the layoff. All he needs is a good trip, and he should get it.
This is a little bit of a rider's race, however, with numerous horses that have a similar running style. Tap It to Win, and Pneumatic look like the speed, and they could be pressed by Modernist and Fore Left, with Dr Post, Max Player, and Tiz the Law sitting right behind them. Sole Volante, Farmington Road, and Jungle Runner are the deep closers, but Jungle Runner is way off form.
ALERT! BET THE BELMONT STAKES FOR FREE BY CASHING IN ON A 100% REAL CASH BONUS OFFER WHERE YOU CAN DEPOSIT $100, $200 OR $300 AND GET THAT MATCHING AMOUNT ADDED TO YOUR ACCOUNT! THIS IS NOT A PIECE OF GARBAGE MATCH PLAY BONUS! THIS IS REAL CASH! DEPOSIT $300 AND GET $300 EXTRA FREE! TODAY ONLY! CLICK HERE TO TAKE ADVANTAGE OF THIS KILLER OFFER!
We can't go against Tiz the Law on top, so we'll be trying to hit the exacta using the best rider in the country right now, Irad Ortiz Jr. aboard Dr Post, who is listed at 5-1 on the morning line. Dr Post has won two in a row, including the $75,000 Unbridled Stakes in his last going 1 1/16-miles at Gulfstream Park on April 25, and he won that one the hard way.
The other jockeys in the Unbridled Stakes did everything possible to try to beat Ortiz and Dr Post in that race, pinning them between horses and drifting in and out into them in the stretch, but both the horse and rider showed excellent heart and tenacity to get through the mess and win with something left late. He's just our kind of horse.
Sole Volante will be the exacta choice for many, and he could very well be there late. If he gets a dream trip behind an all-out duel on the big sweeping turn at Belmont, he could go rolling by late as he did in his last after stalking from well-back of a vicious duel. Listed at 5-1 on the morning line, The Sam F Davis-G3 winner makes his second start off the layoff and is the logical choice for the runner-up spot in the exacta.
Tap It to Win looks like the inside speed, and he might gun it early and try to steal it. He should have company from Pneumatic, but he has won two allowance races in a row on the front end. He has decent numbers, so if he does manage to slip away early, he might be able to steal it. Still, at 6-1 on the morning line, we're not buying.
Max Player hasn't run since winning the Withers Stakes-G3 at Aqueduct on February 1. He has been training well, and like Sole Volante, he could come flying home late, but his numbers are a little below the top rung in here. He'd need to improve and be fit and ready at the same time, but he's certainly not to be discounted entirely at nice morning-line odds of 15-1. With the right trip…
Modernist has Hall of Fame trainer Bill Mott in his corner, and he will probably make his move on the turn if he's good enough. He comes off a third-place finish in the Louisiana Derby-G2 on March 21, and his numbers are also a cut below the best in here, but Mott can never be discounted.
Farmington Road made a move in the Arkansas Derby-G1 on May 2 before flattening out behind runaway winner Nadal, who would have been first or second choice in today's race. If he gets some pace to run at, he could come closing late, but he too has lower numbers than the best in here.
Fore Left is a tough horse to figure out. He hasn't run since winning the UAE 2,000 Guineas-G3 going a mile on the other side of the planet on February 6. His previous numbers were too low to beat these, and he really has quite a bit to prove here.
Pneumatic will likely force the pace after breaking from post 10, but he will have his hooves full with Tap It to Win. He battled on the front end in the Matt Wynn-G3 at Churchill Downs going 1 1/16-miles on May 23 before succumbing late, and unless he clears early, he is likely to do the same here.
We'll take Tiz the Law to win if we can get the morning-line price of 6/5 or better on him. Otherwise, we'll take a shot on Dr Post and our favorite rider at a nice price. We'll probably bet a little on Dr Post regardless, just on the heart factor. The exacta play is Tiz the Law over Dr Post and Sole Volante, and we'll use Dr Post on top on some smaller exacta tickets while combing all three in the trifecta and taking them to the board in the Belmont Superfecta.
Go Dr Post!
Bet on Horses Using Your Credit Card
Win, place, and show, exactas, trifectas, superfectas and more! Plus grab a 50% deposit bonus!