Kentucky Derby Picks – 2020 Race Analysis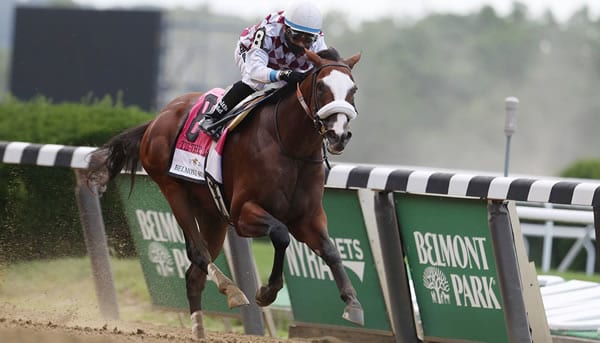 Tiz the Law, the horse to beat in 2020 Kentucky Derby, Baffert horses the value plays
Kentucky Derby Picks, Analysis, and Top Contenders
Kentucky Derby-G1
Track: Churchill Downs
Race: 14
Date: Saturday, September 5, 2020
Age: 3-Year-Olds
Distance: 1 1/4-miles.
Surface: Dirt. Purse: $3 Million
2020 Kentucky Derby Picks
Tiz the Law
Authentic
Thousand Words
Honor A. P.
Ny Traffic
Kentucky Derby Analysis
It seems weird to be writing about a Kentucky Derby in September, with no fans, but that's the crazy world we live in these days. Even nuttier is the fact that 12 of the 18 entrants in this year's Derby are over 30-1 and only three are single-digit odds, led by logical favorite Tiz The Law.
If Tiz the Law loses, someone is going to make a lot of money. If he runs out of the top four, bring your wheelbarrow, the Derby Superfecta could pay six figures. But is that even possible?
Tiz the Law has been superbly managed by trainer Barclay Tagg, and his last race was an absolute smasher, as he romped in the Travers Stakes-G1 at Saratoga. And prior to that, he won the Belmont Stakes in a romp. And prior to that he… the list just goes on and on. Romp. Romp. Romp. Tiz the Law is six for seven, Manny Franco has been aboard him for his last seven races, he's one of the better jockeys in the race, and trainer Tagg has won the Kentucky Derby before, in 2003 with Funny Cide. Is there any way Tiz the Law can be beaten?
Maybe.
Bet Win, Place, or Show plus exacta, trifecta and other exotics at
Bovada
Tiz the Law's only loss came at Churchill Downs on a sloppy track as a 2-year-old in the Kentucky Jockey Club Stakes-G2. He's a much better horse now, but there is a slight chance of rain at Churchill Downs on Derby Day, and anytime there are 18 horses in a race, especially the Kentucky Derby, there is always a chance of trouble. Remember last year, when the best horse, Maximum Security won and was disqualified for interference.
If that race were run in any other country, his number would have stayed up based on different international rules. Yeah, he caused a foul, that was clear. But it was also clear that he was the best horse in the race. The point being, anything can and does happen in the Kentucky Derby.
Tiz the Law does have to face some better horses and trainers, this time. Bob Baffert, who has won the Derby five times, saddles third choice Authentic (8-1) and Thousand Words (15-1). John Shirreffs, who showcased his world-class talents with the mighty Zenyatta, has second choice Honor A. P. (5-1). Hall of Famer Bill Mott, who won last year's Derby with Country House (65-1) via the DQ, recently took over the training of longshot
South Bend (50-1), who makes his second start for Mott in the Derby.
Sharp horseman Juan Avila has entered King Guillermo (20-1). Todd Pletcher, who won the Derby with Always Dreaming (2017) and Super Saver (2010), has the unseasoned but talented Money Moves (30-1) in the race. Steve Asmussen will try and improve Max Player (30-1) enough to make up for two third-place finishes in a row behind Tiz the Law. And Patrick Biancone, whose career highlight among many was training super mare All Along, has Sole Volante in the race.
These are top horsemen, with good horses. Just not as good as Tiz the Law. At least at this point. Tiz the Law was thought to be beatable once because his Beyer Speed Figures were similar to other good 3-year-olds at around the 100 mark. But in his last start in the Travers Stakes-G1, he ran a 109 Beyer Speed Figure (and it looked like a 109), which means his best competition in the Derby would have to improve by anywhere from two to five lengths to beat him in a perfectly run race. Of course, that never happens in the Kentucky Derby.
The 1/14-mile race sets up with one of the two Baffert horses, Authentic or Thousand Words, on the lead early, and one of them could open up. Authentic has only lost once after a slow break, and that was to fellow Derby entrant Honor A.P., who recently lost to Baffert's other horse, Thousand Words, in the Shared Belief Stakes at Del Mar.
Either one of the Baffert horses could be considered the class speed of the race, but it's unclear whether either will go the distance. On an uncontested lead, however, either horse would likely be very tough at juicy odds. And early in his career, Thousand Words also exhibited some extreme heart in both the Los Alamitos Futurity-G2 and the R B Lewis-G3. The last thing Baffert wants is for his two horses to duel in the Derby, but that could happen.
Tiz the Law drew wide post 17, but he has tactical speed, so as long as he breaks decently, he should sit right behind one or both of the Baffert horses. Honor A.P. will be right with him. Ny Traffic, Storm the Court, Money Moves, King Guillermo, and Attachment Rate could also get nice trips just back of the speed. Of course, none of these trips will be any good if one of the Baffert horses jumps out to a long lead and slows down the pace, with all the pressers bumping into each other jockeying for position behind them.
Sitting further back in the field will be Finnick the Fierce, Max Player, Enforceable, Major Fed, South Bend, Mr. Big News, Necker Island, Sole Volante, and Winning Impression. All will have to work out a trip in a crowded field, and a few of these will simply be outclassed.
The value plays in the field would appear to be both Baffert horses as the potential lone speeds. The logical play based on current form would be Tiz the Law, but how can you bet a 3/5 shot in the Kentucky Derby. That's just a terrible bet value-wise. A better bet would be to wheel him to the board in the Kentucky Derby Superfecta with five or six longshots and hope he finishes third or fourth.
We'll pick Tiz the Law on top but bet both Baffert horses to win at nice odds. We'll also wheel both Baffert horses first and second in our Derby Exactas, Trifectas, Superfectas, and Super Hi-5s, with the horses conditioned by the top trainers in the race, which include not only Tiz the Law, but also in no specific order, John Shirreffs with Honor A.P., Steve Asmussen with Max Player, Juan Avila with King Guillermo, Bill Mott with South Bend, Todd Pletcher with Money Moves and Patrick Biancone with Sole Volante. We'll also throw in Ny Traffic, who was beaten only a nose by Authentic in the Haskell Stakes-G1, and Attachment Rate, with trainer Dale Romans.
Seems like a lot of horses, but this is, after all, the Kentucky Derby, and a ton of money will be bet on impossible combinations. We want that money.
If our horses win, we'll be looking at a great payoff. If Tiz the Law wins, we get to watch a good horse who was impossible to bet on at 3/5. Either way, we'll feel good about it.
And you should too.
Want to bet on the Kentucky Derby but don't really understand horse betting all that well? Check out Ken Strong's award winning article on how to bet on horse racing.
How to Bet on Horses
Read our Race Betting Guide to get insight on all of the types of wagering options in horse racing. Dig deeper below to get tips on the most popular exotic wagers with winning strategies provided by expert Kenneth Strong.