Preakness Stakes Picks 2019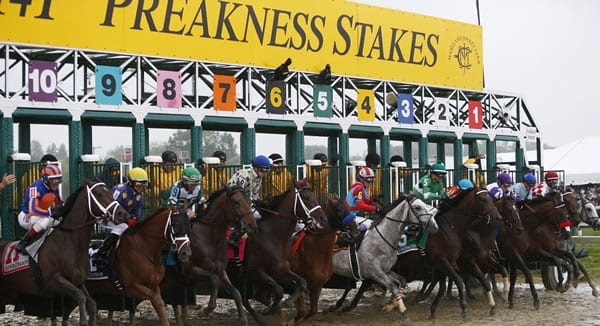 War of Will looks like class speed of 144th Preakness Stakes
Event: Preakness Stakes-G1, Pimlico
When: Race 13, Saturday, May 18, 2019
Age: 3-Year-Olds
Distance: 1 3/16-miles.
Surface: Dirt. Purse: $1.5 Million
2019 Preakness Stakes Picks
War of Will
Alwaysmining
Owendale
Improbable
Preakness Stakes Longshots: Bourbon War, Bodexpress
2019 Preakness Stakes Entries
No. Horse (ML Odds) Jockey Trainer
1. War of Will (4-1) T. Gafflione, M. Casse
2. Bourbon War (12-1) I. Ortiz, M. Hennig
3. Warrior's Charge (12-1) J. Castellano, B. Cox
4. Improbable (5/2) M. Smith, B. Baffert
5. Owendale (10-1) F. Geroux, B. Cox
6. Market King (30-1) J. Court, W. Lukas
7. Alwaysmining (8-1) D. Centeno, K. Rubley
8. Signalman (30-1) B. Hernandez, K. McPeek
9. Bodexpress (20-1) J. Velazquez, G. Delgado
10. Everfast (50-1) J. Rosario, D. Romans
11. Laughing Fox (20-1) R. Santana Jr, S. Asmussen
12. Anothertwistafate (6-1) J. Ortiz, B. Wright
13. Win Win Win (15-1) J. Pimental, M. Trombetta
2019 Preakness Stakes Analysis
War of Will looks like the horse to beat in the 144th running of the Preakness Stakes-G1 at Pimlico this Saturday, but he wasn't rated highly enough to be the morning-line favorite. That honor went to Improbable, which is fine with us. We think War of Will is the better horse.
Unless you've been living on another planet, you already know War of Will took the worst of it in the Kentucky Derby-G1 a few weeks ago, but we expected him to come up short in that race regardless, and he did.
War of Will broke like a bullet in the Kentucky Derby and was strangled inside behind the front runners for most of the race before coming off the rail midway through the final turn and trying to make himself some room. And just when he thought he'd found some room in late turn, front running winner Maximum Security (who was later disqualified), drifted out into his path. That caused War of Will to steady and lose a little momentum, but he quickly regained his composure and drew up alongside Maximum Security. War of Will took his best shot at Maximum Security and ran out of gas late, fading to finish eighth (placed seventh).
War of Will was a short horse for the Derby, and both trainer Mark Casse and jockey Tyler Gaffalione knew it, which was probably part of the reason why they didn't lodge a claim of foul in the Derby. War of Will figured to run out of air after taking a bad step out of the gate and getting nothing out of his previous race in the Louisiana Derby-G1, but he should be fit and ready to roll now.
We're expecting War of Will to regain the form he showed before the Louisiana Derby when he won both the LeComte-G2 and Risen Star Stakes-G2 from just off the pace. A big, strong, athletic horse, War of Will was impressive in both those races, and a similar effort is expected in Saturday's Preakness. He drew the rail for the Preakness, just as he did in the Kentucky Derby, but the field is much smaller for the Preakness, and he should be able to find room this time. And that's only if he doesn't make the lead by himself, which he could very well do. He's also both fast, and game.
Improbable is the morning-line favorite based on the strength of his fifth-place finish in the Kentucky Derby, where he was only beaten 3 ¼-lengths as the favorite, but he also had every shot at winning that race and seemed to hang late for the second time in a row. In his race previous to the Kentucky Derby, the Arkansas Derby-G1, he had every shot at beating Omaha Beach and couldn't get by that one.
Improbable's trainer Bob Baffert has won the Preakness seven times. He's tied with R. W. Walden for most victories in this race, so he knows how to win it. But he also said that the secret to winning the Preakness was bringing the best horse. In this case, we don't think he has the best horse.
This year's Kentucky Derby was probably tougher than it looked, but Improbable still seemed to lack a late punch, and he might not even want to run the mile and three-sixteenths of the Preakness. He does, however, get a rider switch from Irad Ortiz Jr. to Mike Smith, who won the Preakness and the Triple Crown last year aboard Justify.
Ortiz moves back to Bourbon War for the Preakness, and he'll need to find the race he ran in the Fountain of Youth Stakes-G2, finishing a strong second beaten three-quarters of a length by Kentucky Derby third-place (placed second) finisher Code of Honor. Bourbon War came back to run a lackluster fourth behind Maximum Security after letting Maximum Security set a snail's pace under no pressure, but Code of Honor didn't fare much better in the same race. Bourbon War fits with this bunch if he wants to run this far. He also gets blinkers on, which should have him closer to the leaders than usual.
The most notable rider switch in this year's Preakness belongs to maiden Bodexpress, who gets a switch from Chris Landeros to Hall of Famer John Velazquez after finishing a troubled 14th in the Kentucky Derby. He was about done by the time he felt the aftereffects of the drifting out Maximum Security in the Derby, but he did finish second to that one in the Florida Derby-G1 after tracking a slow pace. He also defeated both Bourbon War and Code of Honor in the Florida Derby. Bodexpress might be this year's Preakness sleeper on the rider switch.
The most interesting horse in this year's Preakness is Alwaysmining, who comes into the race on a six-race winning streak, the last five of which have been minor stakes at Laurel. He had a trainer switch to Kelly Rubley as a 2-year-old and went on his streak one race later after a seventh-place finish over yielding turf in the $100,000 Laurel Futurity.
In the third race of his win streak, Alwaysmining defeated fellow Preakness entrant Win Win Win, who was tenth (placed ninth) in the Kentucky Derby. His best numbers put him close with these, and he doesn't need the lead to win. He also likes to be ridden. When you watch his replays, the more enthusiasm regular jockey Daniel Centeno puts into his ride, the faster this horse goes, and he recently worked a bullet. He'll now get his class test.
Rounding out the 2019 Preakness field are Warrior's Charge, Owendale, Signalman, Everfast, Market King, Laughing Fox, Anothertwistafate and Win Win Win.
Warrior's Charge has won two in a row at Oaklawn Park including a Maiden Special Weight and an N1X allowance going 1 1/16-miles, recording a 97 Beyer Speed Figure in the latter. He's another who is close on numbers and now gets a class test. Top jockey Javier Castellano takes over in the saddle from Florent Geroux, who sticks with Owendale after riding that one to victory in the Lexington Stakes-G3. Owendale runs best rallying from back in the pack, and he would not be a surprise in here if a fast and contested pace develops, which it very well could.
Anothertwistafate finished second in the Lexington Stakes, but his trouble in that race didn't appear to be as bad as some are making it out to be. We thought he ran exceptionally well when beaten a neck in the Sunland Derby-G3 two starts ago after being forced to wait, but he actually had less trouble in the Lexington and just didn't look like the same horse we saw at Sunland.
Laughing Fox was beaten 7 3/4-lengths in the Arkansas Derby-G1 by Omaha Beach and was 6 3/4-lengths behind Improbable in that race. He came back to win a minor stakes at Oaklawn in his last going 1 1/8-miles, but he looks like a lower Preakness superfecta rung horse here at best. The same could be said for Win Win Win, who really had no excuse when finishing tenth in the Kentucky Derby. Signalman was third behind Win Win Win in the Bluegrass Stakes-G2 in his last start and also looks a notch below the best in this year's Preakness. A fast pace would help his chances.
Market King finished eleventh beaten 37 ¼-lengths in the Bluegrass Stakes after being close early. He looks overmatched in here, as does Everfast, who was beaten 10 ¼-lengths in the Pat Day Mile at Churchill Downs in his last start and ninth beaten 15 lengths in the Florida Derby two starts ago.
This year's Preakness Stakes sets up with War of Will, Warrior's Charge and Alwaysmining on or near the lead followed closely by Improbable, Anothertwisafate, Bodexpress, and Market King, with Signalman, Bourbon War, Owendale, Laughing Fox, Win Win Win and Everfast back early. Bourbon War could be closer than usual with blinkers on
War of Will looks like the class speed of the race and should take care of the other pace players. He'll then have to turn back Improbable, Alwaysmining and Bodexpress and save enough to hold off Bourbon War and Owendale. We think he'll do just that.
War of Will, to win.
How to Bet on Horses
Read our Race Betting Guide to get insight on all of the types of wagering options in horse racing. Dig deeper below to get tips on the most popular exotic wagers with winning strategies provided by expert Kenneth Strong.