San Vicente Stakes Picks – Race Analysis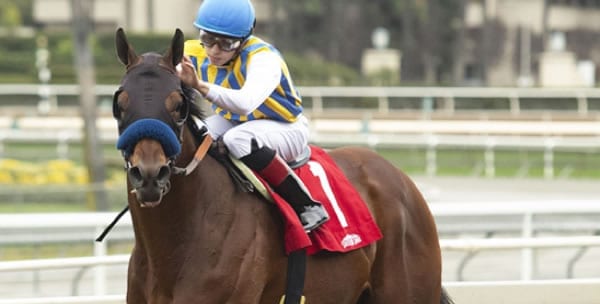 San Vicente Stakes Picks, Analysis, and Top Contenders
Breeders' Cup Juvenile winner Storm the Court makes 2020 debut in San Vicente.
San Vicente-G2, Santa Anita, Race 7, Sunday, February 9, 2020 Age: 3-Year-Olds Distance: 7 Furlongs. Surface: Dirt. Purse: $200,000
2020 San Vicente Stakes Picks
Storm the Court
Nadal
Fast Enough
San Vicente Stakes Analysis
In what could be the most exciting Kentucky Derby prep run so far this year, the horse that stunned the crowd with a game 46-1 win in the Breeders' Cup Juvenile-G1 last year makes his 3-year-old debut on Sunday in the San Vicente-G3 at Santa Anita.
And he might not be the favorite.
Trainer Bob Baffert has entered a sizzler named Nadal in the San Vicente, and he could very well be favored at post time. The son of the Breeders' Cup Classic-G1 winner Blame dueled through a sizzling pace and drew away to win his first and only lifetime start on January 19, going 6.5 -furlongs at Santa Anita. He was rewarded with a 98 Beyer Speed Figure for his big win, which is by far the best figure in this field. If Nadal improves off his debut, he might be impossible to catch.
Storm the Court makes his first start since winning the Juvenile on November 1 at Santa Anita, and while he might not have a figure to match Nadal at this point, he is a proven fighter under pressure. He doesn't need the lead to win either. In his debut last year, he dueled early, dropped back, and came back on to win. So he can fire fresh, and he's also a natural router, which is one of our favorite angles when a horse is making their first start back off a layoff. While trainer Peter Eurton is only seven percent off a layoff of more than 60 days, Storm the Court might just run through his training.
So we've got the fit, talented and possible lone speed Nadal against the class, heart, and ability to fire fresh of Storm the Court. On paper, it looks like a perfect match, but we do have four more horses in the San Vicente that could have a say in the outcome.
Ra'ad is the second entry in here for trainer Bob Baffert, who has won this race nine times. He came from four lengths back to break his maiden in his second start going six furlongs at Los Alamitos on December 7 and will likely use the same approach here. His numbers are much lower, but Baffert trained horses do improve quickly if they've got the talent.
Party Town broke his maiden in his second lifetime start last year going five furlongs on the turf at Santa Anita and came back two starts later to finish second in the Zia Park Juvenile after dueling through fast fractions. He hasn't run since that November 27 race, he's moving up in class, and his speed is likely to be negated by the assumed high-class speed of Nadal.
Ginobili also broke his maiden in his second start last year, going six furlongs at Del Mar and earned an 83 Beyer Speed Figure. He then came back on short rest to finish fourth in the Del Mar Futurity-G1 and rounded out his season with another fourth-place finish as the favorite in the $100,000 Speakeasy Stakes going five furlongs on the turf at Santa Anita on October 6. He makes his first start off the layoff for trainer Richard Baltas, who is 17 percent off this kind of layoff, and he should get a good pressing trip from the outside post. Ginobili has some talent, and he's a bit of a sleeper in here. If he improves as a 3-year-old and gets a duel to stalk, who knows.
Our longshot pick in the San Vicente has to be Fast Enough. The son of Eddington is a perfect 2-for-2 and comes into the race off a rallying neck win in the restricted $200,000 California Cup Derby going 1 1/16-miles at Santa Anita on January 18. He was wide on both turns in that race and accomplished the victory while coming off a 7.5 -month layoff. It's difficult to discern if he'll go backward or forward off that race, but if he does the latter and gets a fast pace, he could come flying home late and nip them all at the wire.
The top two look dominant in here, with Nadal trying to sneak away early and steal the race and Storm the Court seeking to catch him and battle him into submission in the stretch. Both will be a short price, and crazy things always seem to happen in short fields, so we wouldn't blame you if you looked elsewhere for value. And whether you bet this race or not, you need to watch it.
The 2020 Kentucky Derby winner might just be in here.
How to Bet on Horses
Read our Race Betting Guide to get insight on all of the types of wagering options in horse racing. Dig deeper below to get tips on the most popular exotic wagers with winning strategies provided by expert Kenneth Strong.