Unveiling Top Picks for This Saturday's Awesome Again Stakes at Santa Anita Park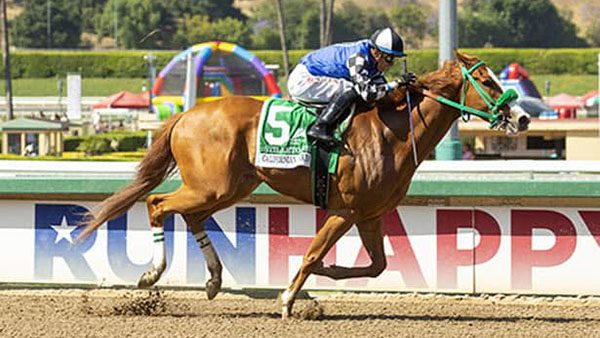 :This Saturday promises a thrill-packed day at Santa Anita Park, featuring four highly-anticipated graded stakes events. The day's crowning race is none other than the Grade 1 Awesome Again Stakes, a contest spanning 1 1/8 miles on dirt and designed for thoroughbreds aged three and up. With a $300,000 prize purse up for grabs, the stakes couldn't be higher.
Other Race Highlights
Before we delve into the Awesome Again Stakes, let's not overlook the Grade 2 Santa Anita Sprint Championship. This six-furlong dash has drawn attention, particularly because of CZ Rocket. The nine-year-old gelding, trained by Peter Miller, is the frontrunner, thanks to his impressive 7.85 rating from Horse Racing Nation.
Awesome Again Stakes – Saturday, Sept. 30
Win: Stiletto Boy
Starting from the outermost gate No. 9, Stiletto Boy comes into the race as a Santa Anita Park favorite. His spectacular victory in the Grade 1 Santa Anita Handicap earlier this year stamps him as a serious contender. Guided by trainer Ed Moger Jr. and jockey Kent Desormeaux, Stiletto Boy is the horse to beat, boasting an 8.15 HRN rating and consistently high speed figures.
Place: Slow Down Andy
This four-year-old colt has a remarkable track record, including placements in the Grade 2 San Diego Handicap and the Grade 1 Pacific Classic. A product of Doug O'Neil's training, Slow Down Andy exhibits excellent endurance, a quality he no doubt inherited from his sire, Nyquist. With an HRN rating of 6.63 and commendable speed figures in his recent races, he's a strong contender for the place position.
Show: Bye Bye Bobby
Coming in with a series of solid performances, including placings in the Grade 2 Pat O'Brien Stakes and Grade 3 Cougar II Handicap, Bye Bye Bobby is not to be overlooked. Trained by the reputable Todd Pletcher and sired by Quality Road, this four-year-old colt has a 4.67 HRN rating. His ability to consistently finish among the top three positions makes him a horse to watch in the Awesome Again Stakes.
Whether you're a seasoned bettor or a casual fan, this Saturday's lineup at Santa Anita Park promises a day full of action, suspense, and exhilarating finishes. Will the favorites take the day, or will an underdog rise to the occasion? There's only one way to find out: Don't miss the 2023 Awesome Again Stakes this Saturday!