American League MVP Award Odds & Picks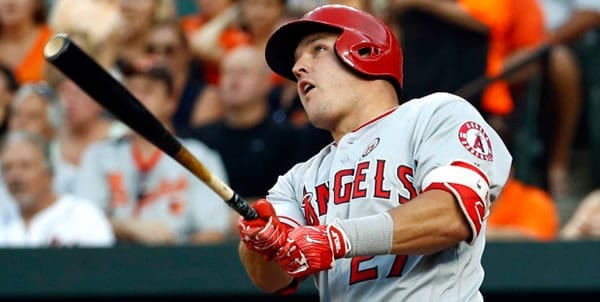 We've addressed the unknown commodities in both leagues, so let's turn our attention to the proven players for the MVP awards. The Rookie of the Year award might be harder to pick, but I prefer betting it to the MVP because it's far more objective than the MVP.
Why is that? It's because the Rookie of the Year goes to the best rookie, regardless of how much they meant to their team. The MVP, however, stands for the most valuable player, not the most outstanding player, and value is one of the most subjective things in sports. For example, if I were a voter, Mike Trout's name wouldn't have been anywhere near my ballot, because the Angels went 72-90, and I personally believe that if your team misses the playoffs, that should disqualify you from MVP consideration. (If I did have a vote in the American League last year, I would have given the award to the Yankees' DJ LeMahieu.) Even though Trout had an incredible season last year, the Angels finished 35 games out of first place, so his season wasn't that valuable to Anaheim. But another person might look at Trout's 45 home runs, 104 runs batted in and 1.083 OPS and conclude that Trout was an incredibly valuable player, and it's not his fault that he played on a lousy team.
My point is that with the MVP award, you're trying to figure out what's most valuable to the voters, and that's a difficult thing to do. That's why you'll never catch me throwing much money at this bet because it's just too subjective of a wager for my liking. But quite a few people love to root for one specific player for a season, especially if a guy is on their favorite team or their fantasy team. It's a lot more fun to root for Francisco Lindor to put up big numbers for your fantasy team if you've got some skin in the game based on him winning the MVP award at the end of the year.
So with this bet, your goal should be to have fun just as much as it should be to try to make money. You're choosing to follow a player for an entire year, so you should pick a player or two who you're going to enjoy watching whenever they come to the plate and has a reasonable shot at winning this subjective contest. Here are a few of your best options in the American League!
Mike Trout, Los Angeles Angels, +140
Yes, he's here again as the favorite, and he certainly should be the favorite, considering that the voters completely overlooked that he missed the final three weeks of the season. Besides that, he didn't play a meaningful baseball game after Aug. 9, when the Angels completed an eight-game losing streak that left them under the .500 mark, where they stayed for the remainder of the season. And yet the writers still thought that he should be the AL MVP because of his absurdly high WAR numbers, which shows that the baseball writers have fully embraced sabermetrics and that names play a real role in this process.
That's both a good thing and a bad thing for Trout because while voters are inclined to give Trout the benefit of the doubt even if his team stinks, they also do not want to give a player consecutive MVP awards unless they're so dominant that they have no other choice. There's a reason that Miguel Cabrera and Frank Thomas are the only American Leaguers to win the MVP in consecutive seasons in the past 50 years. That means that Trout is going to have to be even more dominant than he's been in the past to overcome the recency bias. That's a tough task to accomplish, given that his team is likely to be better than it has been in past seasons.
There's also the fact that Trout has had some trouble staying healthy in recent years. Over the past three seasons, Trout has missed 98 games, and while voters forgave him for that this time around, there's no way they'll have time to forgive him for missing a tenth or more of the season if things get compressed into 100 games or less. One injury would likely be enough to sink Trout, and given his recent history, I don't want to take that risk at such low value. I'm looking elsewhere.
Aaron Judge, +1200, New York Yankees
Everything that we just said about Trout's injuries goes double for Judge, who has missed 110 games in the past two years, which has prevented him from building on his superb rookie campaign. But in a shortened season, he's now had extra time to get himself fully healthy after suffering a rib fracture last year. Could that be the difference that allows him to finally win an MVP award?
It's tough to say. I don't love the idea of investing in a player who's going to break down, but it's a lot easier to take that risk at 12-to-1 than it is at Trout's price. There's also the possibility of how this shortened schedule might break down. MLB might choose to keep teams within the division as much as possible, and if they do, that will give Judge plenty of games against the rebuilding Red Sox, the young but not there yet Blue Jays and the utterly pathetic Orioles. In this season, the competition that you play against can have an even more substantial effect than usual, and the Yankees play in a division where only two squads are legitimate contenders, and one of the two is themselves.
There's another factor working in Judge's favor this year: the Astros' scandal. In 2017, Judge was runner-up to Jose Altuve of Houston for the AL MVP, an award that many baseball fans now consider tainted given how the Astros were stealing signs. Given that many people believe that Judge should have won the award anyway, he might garner some sympathy votes as a make-up call for 2017 if he's a genuine contender this season. This is where the subjectivity can both be exploited and be very frustrating, and it adds up to a real opportunity with Judge. If he stays healthy, he represents fantastic value.
THERE ARE LITERALLY 25+ REASONS TO DUMP YOUR BOOKIE AND START MAKING YOUR BETS AT 5DIMES SPORTSBOOK! SEE WHY HERE: 5DIMES REVIEW
Francisco Lindor, Cleveland Indians, +1200
The value of this bet depends on how much you believe in the Indians and their playoff window. If you think the Indians have a real chance to contend for the AL pennant, Lindor is fantastic value. Pretty much the only way that Cleveland is going to beat out Minnesota and win the AL Central is if Lindor lifts the offense up to the level of the pitching, which he's more than capable of doing. Lindor can hit for power, gets on base regularly, steals bases, and led baseball in runs scored in 2018. He's also an excellent defensive shortstop, which is huge on a team like Cleveland, which doesn't put up a lot of runs and relies on run prevention to win games.
Where can this go wrong? Lindor is the constant subject of trade rumors, which could mean that he gets traded out of the league entirely if the Indians' best suitors come from the National League. There's virtually no chance that Lindor wins the award if he gets traded out of the American League, so that's a real worry (although you'd likely have a "voided bet" in that situation). If he gets traded within the American League, such as to Oakland or the Yankees, his chances will improve, but he'd be working against history, as no player has ever been traded and won the MVP in the same season.
If Lindor can stick around northeastern Ohio and make the Indians contenders, he's an excellent choice to win this award. But this is going to be tough because Lindor is going to have to have an outstanding season in a brief period of time to earn this one.
Alex Bregman, Houston Astros, +1500
If this were an objective bet, Alex Bregman wouldn't be sitting at 15-to-1 odds. But because it's so subjective, there's little reason to think that Bregman has a real chance at the award unless he's so dominant that baseball writers cannot ignore his accomplishments, simply because of the team he plays for.
Regardless of your feelings on the Astros' scandal, most writers were offended that Houston showed little to no remorse for stealing signs, and many of these writers have long memories. Remember, these are often the kind of voters who have been petty enough to refuse to throw a vote for the Hall of Fame to a sure-fire first-ballot choice simply because "if Babe Ruth wasn't a unanimous selection, then nobody should be a unanimous selection." So, they're certainly not above refusing to throw an MVP vote to an Astro player as punishment for the scandal.
Will that happen? It's tough to say. Bregman's OPS numbers are incredible in large part because he plays in a park that is built for doubles and whacks plenty of them, topping 37 in each of his past three seasons. He also walks more than he strikes out, an increasingly valued metric, and he hit 41 homers last season and seems ready for even more.
But the hard reality is that there is no way some of these writers are going to vote for Bregman or any of his teammates unless they prove so dominant that there's no other option. Bregman's going to have an excellent season, but the deck is stacked against him. Look elsewhere.
Gerrit Cole, New York Yankees, +5000
A pitcher winning the AL MVP is hard. It has happened once in the past 28 years, and it was only because Justin Verlander was simply dominant in 2011 that it occurred. It's the subjectivity again, as many writers believe that there's just no way a player who goes out once every five days can ever reach the level of someone who plays every day.
If any pitcher can do it, it's Cole, because if he doesn't, the Yankees probably aren't winning the AL East. In case you haven't noticed, New York's pitching is kind of in shambles at the moment. The Yankees won't have Luis Severino or James Paxton, and that means Cole and Masahiro Tanaka have to essentially be the entire rotation for the Bronx Bombers. And Cole's got to do that while adjusting to New York, which is very different from anywhere that he's ever pitched his home games. More than one Yankee free agent has thought he was ready to handle New York, only to find out that it takes time to adjust to the pressure of pinstripes.
If Cole can be Cole, he'll deserve any MVP votes he gets, because that'll allow the Yankees to overcome a rough part of the season and still be themselves for the playoffs. But it's a tough slog.
Josh Donaldson, Minnesota Twins, +2500
Here's another player who's with a new team, and unlike Cole, Donaldson has a real shot at winning this. First, he's moving to Minnesota, which features far less pressure than New York. Second, he's playing every day and should be a welcome addition to a Twins lineup that was already homer-happy last season and should be even stronger this year. Third, he's in a position to make a real difference for a team that won 101 games last year and could be even better this year. (Of course, the Twins might not actually get to PLAY 100 games this year, but that's beyond the point.)
The point is that Donaldson brings plenty to the table as a free agent, and he's won this award before back in 2013. He knows what it takes to do the job, and he's going far too low at 25-to-1 right now.
Dan's Pick to Win the AL MVP
I don't see any real benefit to betting on Trout. The money value is just not there for what could go wrong. Plus, he's going to be constantly compared to what the did the season before. Even if I wasn't a playoff snob about this (and I openly admit I am), the chances of Trout winning back-to-back AL MVP awards are rather low.
Instead, I want either Judge or Donaldson. Both come with their flaws, but both play for good teams that need them to have strong years in order to get to the postseason. (For the record, I would also like DJ LeMahieu at +6000, but last year made it clear that he's not likely to get real consideration for the award). Judge and Donaldson are both big enough names to get writers' attention, and they're both talented enough to put together a great abbreviated season and win the prize.
Yes, Judge could get hurt. Yes, Donaldson could show signs of age or struggle to adjust to Minnesota. But those are gambles worth taking at their prices. I'm not going to bet it myself because of the subjectivity, but if you like this bet, I think throwing a couple of bucks on both of these players is a worthwhile gamble. Bet your AL MVP pick for FREE by taking advantage of a HUGE 50% real cash bonus on your first deposit of $100 to $2000 at one of the web's biggest and best baseball betting sites: Betnow!