Atlanta Braves vs. LA Dodgers Pick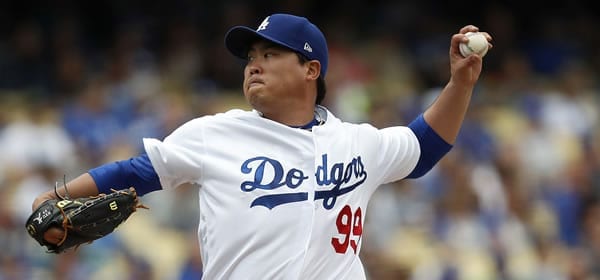 Atlanta Braves (18-17) at Los Angeles Dodgers (23-14)
Starting Pitchers: Max Fried (4-1, 2.11 ERA, 0.99 WHIP) vs. Hyun-Jin Ryu (3-1, 2.55 ERA, 0.91 WHIP)
When: Tuesday, May 7, 2019
Where: Dodger Stadium, Los Angeles
Opening Line: ATL +138/LAD -149
Line at Time of Print: (11:30AM ET) ATL +131/LAD -149
Runline: Braves +1.5 (-166)/Dodgers -1.5 (+146) (5Dimes)
Total: 7.5
Bend But Don't Break
To date, Max Fried has done a nice job of keeping runs off the scoreboard, even though he's not exactly keeping runners off the base paths as of late. His low WHIP comes from the fact that he seldom walks batters and started the year with a few relief appearances that saw him allow just three base runners in 7.2 innings. In his past four starts, he's put a 7 in the other team's hit column on three occasions, but only Colorado managed to touch him for more than two runs.
So, good news, right? Not against this team. The one other flaw in Fried's performances as of late has been his tendency to give up the big fly. In his past three starts, he's surrendered 18 hits. Four of them have left the yard completely, which led to the only run in his most recent start against San Diego. That's a very serious concern against the Dodgers, who rank second in the National League in home runs. Even though they've cooled a tad from their torrid start, they're still averaging better than a homer a game, which could be devastating for Fried.
Don't Run, Don't Walk
 Walks don't happen against Hyun-Jin Ryu. Only two batters have managed to work out a free pass all season against the Dodgers lefty, who hasn't allowed a walk to any of the past 56 hitters he's faced, a string that covers his past two starts and goes back to his final inning against Milwaukee on April 20. With those lack of mistakes have come a lack of runs from the Dodgers' opponents. Only 10 runs have scored against Ryu this year, and of those, six came directly off one swing via the home run. That's not as big of an issue for him as it is for Fried, as Atlanta is only in the middle of the pack for home runs this season.
The Patient Ones Will Endure
 Patience has been the name of the game for both of these teams, as they're more than willing to wait out their opponent and get the right pitch. The Dodgers lead all of baseball in walks with 157, and the Braves rank fourth with 143. This is a case of strength on strength, as neither pitcher is known for falling behind hitters or putting men on without making them earn it. Whichever team is able to successfully wait out the other — if that even happens — will have a major advantage.
Home Sweet Home
Playing in a pitcher's park like Dodger Stadium usually results in an edge for the home team, and that's certainly proven true for the Dodgers, who are off to a fantastic start when playing in Hollywood. Los Angeles is 13-4 at home this season, and after beating the Braves to start their series on Monday, L.A. is riding an eight-game winning streak at Dodger Stadium. Atlanta, however, is no slouch on the road, as the Braves have won six of their past 10 away from Georgia.
The Historicals
These teams met in the NLDS a year ago, and Los Angeles claimed a 3-1 series victory in part because of its ability to hold serve at home. Not only have the Dodgers axed the Braves in each of Atlanta's past two trips to the postseason, but Los Angeles has owned Atlanta when the teams have met at Dodger Stadium, winning seven of the teams' past eight meetings in L.A.
Betting Trends
The Dodgers are 5-1 in their past six games against a team with a winning record.
The Braves are 4-1 in their past five after giving up 5 or more runs in their most recent game.
The Dodgers are 4-0 in Ryu's past four home starts against a team with a winning record.
The under is 6-1 in the Braves' past seven road games against a left-handed starter.
The over is 6-1 in Ryu's past seven home starts.
Weather Report
The temperature is supposed to be 59 degrees for first pitch, a relatively cool night in Southern California.
Dan's pick
This feels like a very low-scoring game to me, given the pitchers and the stadium for this contest. I can't see either Ryu or Fried getting hit very hard given what they've shown this season, and all the patience in the world won't work against two guys who consistently throw strikes. Ryu has been the better pitcher this season, and he's got the advantage of pitching at home in this matchup. Given how well the Dodgers have played at Dodger Stadium this year, it seems like a foolish risk to gamble on the Braves on the road with Ryu on the mound, so I'll eat the chalk here and take Los Angeles.
Who else wants $60 of FREE member picks & predictions?