Atlanta Braves vs. San Diego Padres Predictions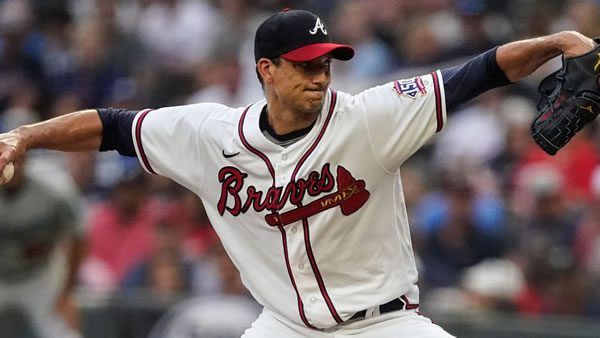 Atlanta Braves (3-4) vs. San Diego Padres (4-3)
When: 8:10 p.m., Thursday, April 14
Where: Petco Park, San Diego
Moneyline: ATL -110/SD -110
Runline: Braves +1.5/Padres -1.5
Total: 8
Starting Pitchers: Charlie Morton (1-0, 3.38 ERA, 0.56 WHIP) vs. Joe Musgrove (0-0, 3.00 ERA, 0.83 WHIP)
Struggling to Adjust
The world champions might have said they can get along fine without Freddie Freeman, but so far, the results really aren't suggesting that's accurate. The Braves are off to a 3-4 start, mainly because they haven't really shown any consistency at the plate. Atlanta is statistically averaging almost five runs a game, but the Braves bunched 16 runs into one game against the Nationals, leaving them averaging a mere three runs a game over the rest of the season.
In their past five games, Atlanta hasn't managed to score more than three runs, despite playing its first two series at home and facing a pair of supposed lesser opponents in Cincinnati and Washington. If the Braves can't get the bats going on a more consistent basis, this is going to get worse before it gets better.
Awesome in April
A year ago, Joe Musgrove's second start of the season was the first no-hitter in San Diego's history, as he fanned 10 and came one batter shy of a perfect game. That probably isn't going to happen again this time, but Musgrove has looked outstanding in April so far in his time in San Diego, as he recorded a 1.24 ERA last April and picked up where he left off by holding Arizona to two earned runs in six innings last time out.
Musgrove has done a fine job of going deep into games, as 27 of his 32 starts have seen him pitch at least five innings. With the Padres' bullpen having a hard time hitting the strike zone at this point in the year, Musgrove is going to have to pitch his normal good game in order to get the Padres back on track after two losses to San Francisco.
Free Passes
On one hand, the Padres are doing a good job of holding opponents to a low batting average, as they've let their opponents hit just .206 in the first seven games of the season. On the other, the Padres have been their own worst enemy by averaging just over four walks per game. It hadn't hurt them in the series with Arizona, but against San Francisco, the Padres' problems came back to haunt them with a pair of defeats.
With baserunners getting more and more rare in the era of home runs and strikeouts, a team that gives up a lot of walks is a team that's asking to get beat. San Diego's pitching staff is doing a great job on balls that get put in play, but giving a team free baserunners is just asking for trouble. Musgrove has avoided that problem so far by not walking anyone, but whether that extends to the bullpen in this game is a question mark.
Betting Trends
The Braves are 4-0 in their past four games following an off day.
The Braves are 11-3 in their past 14 games against the National League West.
The Padres are 3-14 in their past 17 series openers.
The Padres are 1-5 in their past six home games.
The under is 4-0 in the Braves' past four games following an off day.
The under is 6-1-2 in the Braves' past nine games against a right-handed starter.
The under is 5-0 in the Padres' past five games after a loss.
The under is 5-2 in the Padres' past seven games overall.
The under is 5-2 in the past seven matchups in San Diego.
The Braves have won six straight matchups in San Diego.
Weather Report
The weather is expected to be a perfect 66 degrees at first pitch in San Diego, with winds pushing out to right field at nine miles per hour.
Dan's pick
Both teams are struggling right now, as both have lost two of their past three contests because of their issues at the plate and the Padres' problems with walks. To me, that makes the under the top play on the board, as neither team is putting up much in the way of offense at the moment.
With Charlie Morton and Joe Musgrove both recording a WHIP under 1, don't expect to see a lot of offense in this game. That doesn't favor either team, but what does favor Atlanta is its history against the Padres at Petco Park. This is the time for Atlanta to start getting healthy against a team that's giving up too many free chances; give me the Braves.
MLB Betting Guide
New to betting on baseball? We've got you covered! Our comprehensive how to bet on baseball article explains all the different types of wagers offered at the sportsbooks including money lines, over/unders, run lines, parlays and more! Also get tips and strategies to increase your odds of beating the bookies!