Baseball Picks: Boston Red Sox at New York Mets 7/30/20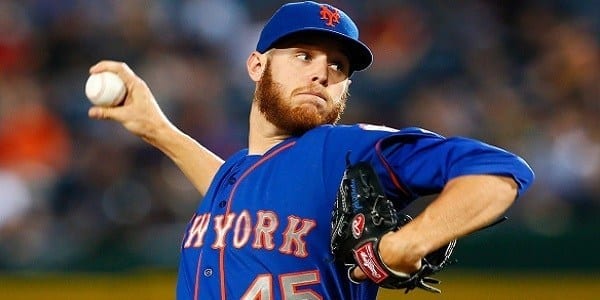 Boston Red Sox (2-4) at New York Mets (3-3)
When: 7:30 p.m., Thursday, July 30
Where: Citi Field, New York
TV: FOX
Moneyline: BOS +130/NYM -143
Runline: Red Sox +1.5/Mets -1.5
Total: 9.5
Save money on every bet: Dimeline Sportsbooks - Underdogs pay MORE!
Starting Pitchers: Martin Perez (0-1, 7.20 ERA, 1.60 WHIP) vs. Steven Matz (0-0, 1.50 ERA, 0.50 WHIP)
Bullpen Blues
If you're betting on this game's total, expect most of the runs to come in the latter half of the game. Even with the possibility of no bottom of the ninth, there's a higher chance of runs in the last four innings than the first five because of how bad these bullpens have been. Case in point, the Mets threw Jacob deGrom for his second start on Wednesday and has happened many times last year, New York's bullpen couldn't hang on to a lead for him. DeGrom didn't pitch as well as he did in the opener against Atlanta, but he pitched well, holding the Red Sox to two runs through six innings. Then Boston quickly tied the game in the seventh and broke it open in the eighth, getting four runs off the Mets' beleaguered bullpen.
Things weren't exactly sanguine in the Boston bullpen, either. The Red Sox had no success with their opener strategy and nearly allowed the Mets back into the game by allowing New York to score in both the eighth and ninth inning before leaving the bases loaded. In short, this is precisely the type of situation to live bet if at all possible. If the starters put up a few zeroes early on and cause that total to drop, pounce on it and take advantage of both teams' biggest weakness.
FREE CASH IS GOOD CASH! DEPOSIT $100 AND GET $100 FREE! DEPOSIT $200 AND GET $200 FREE! DEPOSIT $300 AND GET $300 FREE! LIMITED TIME ONLY AT MYBOOKIE!
Hitting Games
It's safe to say that the hitting slump the Mets found themselves in during the opening weekend was because of Atlanta's excellent pitching as opposed to their own bats. Either that or the Red Sox pitching staff is a total mess, as New York has racked up 36 hits in three games against the Red Sox for a team average of .307 against Boston pitching. They also showed that they could hit Boston pitching either at Fenway Park or at Citi Field, as they banged out 15 hits and nearly stole the game at the end because their offense stepped up.
That's terrible news for one Martin Perez, who has never exactly excelled at keeping runs off the board. In his past two seasons with Texas and Minnesota, he finished with an ERA over 5, which is a big reason either of those teams no longer employs him. He was pretty mediocre — at best — against Baltimore in his season opener, allowing six hits and four runs in five innings of work and allowing the Orioles to race to an easy win. New York has a much more powerful offense than Baltimore, and if Perez hasn't gotten himself settled down, the Mets could be on their way to another big night.
Hard-Done Decision
Matz, by contrast, deserved much better from his opening start. The Mets' hurler was brilliant against Atlanta, striking out seven and allowing just two hits in six innings of work. But once again, the Mets' shaky bullpen left a starting pitcher out to dry, as New York couldn't hold the small lead its hitters had built against Atlanta pitching. Matz should get much more run support this time around, so if he's anywhere close to as good as he was against the Braves, he should be on track to get his first win of the year.
Given the pitching matchup, I think there's plenty of reason to take the Mets to lead after five innings at even money. New York is hitting the ball well in this matchup, and Matz should become stronger with a little run support to his name. I wouldn't touch the total of 5.5 for the first five innings, as Perez is a wild card, but I think you can count on Matz here.
Betting Trends
The Red Sox are 1-5 in their past six games following a win.
The Red Sox are 1-4 in their past five as a road underdog.
The Mets are 6-1 in their previous seven games following a loss.
The Mets are 4-1 in their past five against the AL East.
The under is 5-2 in the Mets' past seven home games.
The over is 7-0-1 in the Red Sox's previous eight road games.
The under 4-1-1 in the teams' past six meetings.
Weather Report
The evening will be a warm one in Queens, with temperatures at around 84 degrees at the first pitch.
Dan's pick
There's a lot of reasons to be high on the Mets here. They're hitting well in this series, and they've got the better pitching as a whole. The primary concern is the bullpen, but the Red Sox have that same problem, and the Mets are better hitters.
I feel far more confident in the Mets in the first five innings, but I think they've got enough overall to get the win behind Matz and an offense that's playing pretty well at the moment. Considering that New York won the first two games comfortably, I'd look at taking the Mets on the run line. Where are you betting bases this season? Does your book offer discounted odds? Imagine how much money you's save with Walmart style pricing. Paying less is smart! Same product, less cost! Dump your over-priced bookie TODAY and start getting paid the maximum for less at 5Dimes Sportsbook!