Chicago White Sox vs. Baltimore Orioles Pick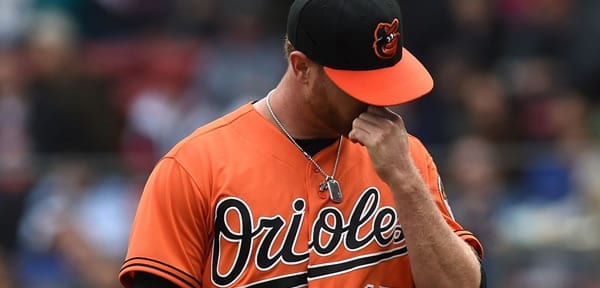 Time: 7:05 PM ET
Where: Oriole Park at Camden Yards. Baltimore, Maryland.
Listed Pitchers: Shields (CHW) & Ortiz (BAL)
TV: MASN
Moneyline: CHW (-114) / BAL (-106)
Total: 9.5
Betting on sports brings us to the opener of a three-game set at Camden Yards between the lowly Chicago White Sox and Baltimore Orioles. Indeed, I don't think anybody could possibly care about this dud of a matchup unless they've got some dough on the line. After some careful analysis, it appears that one team has an exploitable edge here which might result in some money finding its way into your pocket. This is the fifth meeting of seven slated for the regular season between these struggling American League ball clubs. As of now, the series is knotted at two games apiece but the White Sox have outscored the O's 19-15 thru five decisions.
White Sox Snap Seven-game Skid
Wednesday night's 4-2 win at Kansas City snapped a seven-game streak of futility for the White Sox. During that poor stretch, Chicago was outscored 46-16 by their opposition. Thursday was a travel day for the White Sox, so they should be refreshed and rejuvenated heading into the three-game set thru the weekend at Camden Yards. Tonight's game should be fine, but it's worth noting the Saturday and Sunday contests might be interrupted due to Hurricane Florence crashing the coast. Certainly, it's worth monitoring thru the weekend.
Overall, the White Sox are a disappointing 57-89 (.390) on the season. They're in fourth place in the very soft AL Central Division Standings, and rank in the bottom part of the entire League in runs scored (600 – 24th), runs allowed (758 – 26th) and run-differential (-158 – 27th). Chicago's accrued a 29-42 (.408) mark on the road so far this year.
O's finally earn a "W"
The Baltimore Orioles are a god-awful baseball team, but even the worst teams win a few. Last night's 5-3 win over the surging Oakland A's validates that notion. With the win, the O's snapped a six-game slide in which they were outscored by opponents 50-14. Baltimore's had a trend of stinking up the joint all season long, and they've maintained it rather well. Despite the stellar win last night, the O's have still lost ten of their last 12 decisions.
At 42-104 (.288) on the season, Baltimore owns the worst record in MLB. They're also worst in the League in runs allowed (811) and run-differential (-250). The O's offense has knocked in 561 runs this year, which ranks 27th of 30 MLB clubs. It appears that Baltimore is playing a lot of unknown minor-leaguers, allowing some younger talent an opportunity to showcase their stuff. Honestly, it can't get too much worse for Buck Showalter's locker room. Inside the confines of Camden Yards, the Orioles have compiled a 25-46 (.352) record thus far.
Experience vs. Youth
Veteran right-hander James Shields (6-16, 4.58 ERA & 1.31 WHIP) is still dealing at 36 years old in his 13th year of Major League Baseball. Shields has faced Baltimore once already this season, receiving a no-decision in a Chicago 3-2 win on May 22nd. The savvy vet allowed just two earned runs on five hits across seven solid frames. Shields recorded five strikeouts and allowed two walks. It appears that the old-timer by MLB standards has been quite pitiful on the road this year. In 13 road starts, Shields is 1-8 with a 5.89 ERA and 1.45 WHIP. Shields has no shortage of experience against the Orioles in his career. The righty has started 29 games versus Baltimore, going 11-8 with a 3.99 ERA and 1.28 WHIP. In 14 career starts at Camden Yards, Shields is 7-2 with a 4.04 ERA and 1.26 WHIP.
Getting the nod for the hometown O's is rookie right-hander Luis Ortiz. Friday night's start will be the first of Ortiz's young MLB career. On September 7th at Tampa Bay, Ortiz pitched two-thirds of an inning in relief. The game was a 14-2 shellacking at the hands of the Rays, and Ortiz's appearance didn't go too well either. He allowed three earned runs on three hits and gave up two walks. Consequently, Ortiz boasts a whopping 40.50 ERA and 7.50 WHIP in the Majors thus far. In six starts for AAA-Norfolk this year, Ortiz is 2-1 with a 3.75 ERA and 1.35 WHIP.
Where's the value?
I'm going with experience over youth in this one, despite James Shields's struggles on the road this season. Shields has been a proven starter in this League for many years while Ortiz is a young, unproven commodity that's a deer in the headlights versus Major League talent. It doesn't hurt that Shields has an exceptional track-record at Camden Yards over many years either. With the line at -114 for the White Sox, they'd need to win this one 53.3% of the time to make betting on them profitable. According to my calculations, Chicago has a 61.9% chance to win this game
at Camden Yards Friday night. Consequently, we have an 8.6% edge against the number riding with the road team. The Chicago White Sox -114 is the prudent play here.