Cubs at Cards Total & Moneyline Pick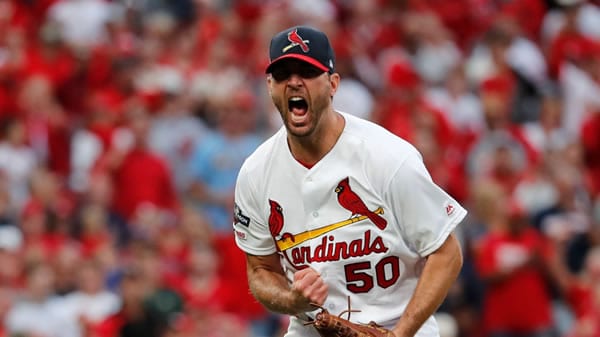 Chicago Cubs (23-22) vs. St. Louis Cardinals (26-19)
When: 7 p.m.
Where: Busch Stadium, St. Louis
Moneyline: CHC +120/STL -130 (BetNow - Home of the 100% bonus up to $1000!)
Runline: Cubs +1.5/Cardinals -1.5
Total: 8.5
Starting Pitchers: Zach Davies (2-2, 5.58 ERA, 1.76 WHIP) vs. Adam Wainwright (2-4, 4.63 ERA, 1.35 WHIP)
All That's Left
Adam Wainwright has had an excellent career, but it's clear that he's running out of pitches in his arm. In 2021, there have been a few moments where greatness is still there, but catch him on the wrong day, and you might end up with the opposing team putting up five runs or more before Wainwright walks off the mound.
The good news for St. Louis is that so far, those wrong days have mostly been limited to either road starts or situations where the Cardinals have been able to bail Wainwright out of a jam. The one time that neither of those were true came in early April in a 6-0 loss to Washington, which saw Wainwright battle through five innings. However, his other home starts saw the Cardinals battle back against the Mets to earn a win in one start, while Wainwright gave up just three earned runs in the other three starts combined.
In a situation like this, it might be best to live bet this one, as Wainwright is capable of the extremes at both ends of the spectrum. If he's on, he could even go the distance, something he has already done this season. If he doesn't have it, things could get ugly.
Turning the Corner
Zach Davies got off to a slow start to 2021, but May has been his month as well as an excellent month for bettors who like the under. So far, Davies has taken the ball four times in May and has seen his team come out on the winning side of the ledger three times. Davies certainly wasn't responsible in the one loss, as he held Cleveland to just one earned run in 5.1 innings of what became a 2-1 defeat.
The one problem Davies has had in May is that his run support has pretty much dried up this month. In his final two April starts, the Cubs gave him a ton of help, scoring a combined 23 runs in two games. (The Cubs being the Cubs, they managed to score 16 of those in one game and lost the other one.) In four Davies starts in May, Chicago's offense has a combined 13 runs. Not surprisingly, the under has gone 3-0-1 in May with Davies getting the ball.
Looks Can Be Deceiving
The box score from Friday's game says that the Cubs smashed the Cardinals by a 12-3 count, earning the win in the first meeting of the season between the ancient rivals. The box score doesn't tell you unless you do some digging that the Cardinals were actually very much in the game for seven innings, trailing by just 4-3 at the end of seven. At that point, the bullpen blew up for St. Louis, and the Cardinals' pitchers couldn't find home plate with directions from Interstate 70. St. Louis walked in two runs, and everything that ended up over the plate in that fateful inning ended up getting smashed for a base hit.
Interestingly enough, both sides feel like things could have gone better in that inning than they did. The Cubs could have done more had they not run themselves out of the inning by trying to stretch to get an extra-base on two occasions. Meanwhile, the Cardinals could have had themselves out of that inning with only one run of damage if they'd simply turned a fielder's choice into at least one out instead of making an error.
Take out that one inning, and these teams have played each other to a 5-5 stalemate in the first two matchups of the season. That speaks to how evenly matched these teams are, and it would surprise almost nobody to see this game come down to the wire again.
Betting Trends
The Cubs are 1-5 in their past six Sunday games.
The Cubs are 6-13 in their past 19 road games.
The Cardinals have won five straight when favored at home.
The Cardinals are 3-8 in their past 11 games against a team that's above .500.
The under is 6-2 in the Cubs' past eight games against a right-handed starter.
The under is 7-2-1 in the third game of the Cardinals' past ten series.
The under is 6-1-1 in the past eight meetings.
The Cubs have won five of seven in St. Louis.
Weather Report
The wind is heading in the right direction, going toward the foul pole in left field, but at four miles per hour, it won't make much of a difference on an 85-degree night in St. Louis.
Dan's Pick
The main worry I have in this game is what I'm going to get from Wainwright. I have a reasonably good idea of what's likely to come from Davies, as he's been very consistent over the past four outings. But with Wainwright, you're equally likely to get a dominating performance or a rough outing.
With what these teams have been doing in recent games, the bet I want most is the under. For the result, I trust Davies a bit more than Wainwright at the moment, so I'll take a shot with the underdog and go for the Cubs for my moneyline pick.