Houston Astros vs. San Diego Padres Pick 9/4/21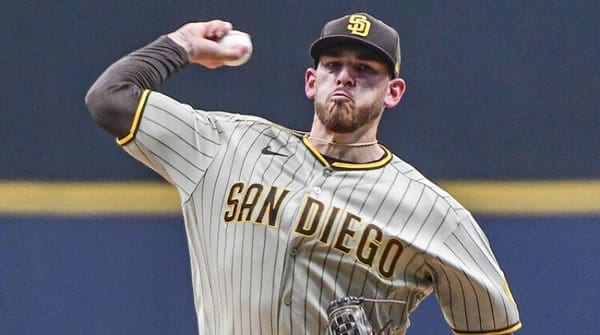 Houston Astros (79-55) vs. San Diego Padres (71-64)
When: 9:45 p.m., Saturday, September 4
Where: Petco Park, San Diego
Moneyline: HOU +100/SD -120 (BetAnySports - Bet on football games at -105 odds!)
Runline: Astros +1.5/Padres -1.5
Total: 7.5
Starting Pitchers: Framber Valdez (9-4, 2.91 ERA, 1.22 WHIP) vs. Joe Musgrove (9-8, 2.85 ERA, 0.99 WHIP)
Hunter and Hunted
This is a pressure situation for both teams, but for entirely different reasons. The Astros are the team trying to stay on top of their division, looking to avoid losing ground to both the Athletics and the Mariners. With a 5.5 game lead on Oakland and Seattle close behind, the Astros are still in good shape but cannot afford any slip-ups, especially with the Mariners' remaining schedule. San Diego, on the other hand, finds itself trying to make up ground.
The Padres were supposed to be right there with the Dodgers all season long, but they've lost their lead and now find themselves staring up at Cincinnati for the final spot in the NL postseason. Instead of being right there with Los Angeles, the Padres are 14 games back of the Dodgers and 15 behind the Giants, leaving them in a tight spot with time quickly running out. Whichever team responds best to that kind of pressure will have a big advantage here.
Hometown Hero
Just as his team is infinitely more comfortable at Petco Park, San Diego native Joe Musgrove has proven to be a lot more effective at home than he has on the road. He hasn't seen a lot of success in wins and losses, as the bullpen hasn't always been the most reliable and has left Musgrove with more than a few no-decisions in there, despite a brilliant start.
The big key for Musgrove will be actually missing bats, as he's not the kind of pitcher who does well when he pitches to contact. When Musgrove faced Arizona in August, he ended up on the wrong end of a 7-0 score, largely because he only struck out four hitters and got whacked for ten hits and six earned runs. When Musgrove is missing bats, the Padres are in great shape, but when he doesn't see his strikeout numbers hit around eight or nine K's, he's likely going to struggle to find success. The problem, of course, is that the Astros aren't likely to let him get to that number: Houston has the lowest strikeout total in baseball.
How Long Can He Last?
The big question with Framber Valdez is how long he's going to hold up. The Astros' pitcher has already thrown 35 more innings than he did in 2019 and 2020 (granted, 2020 was a short season), and there's a big question about whether the increased workload will overwhelm him as the season gets into its toughest portion.
So far, he's holding up pretty well, as he's gone under the total in four of his past five starts. However, he's just 2-2 in that stretch, and the only wins the Astros have with him on the hill were over Colorado at home (and the Rockies are basically a Double-A team on the road) and Texas, which is terrible no matter where it plays its games. Valdez only has one start in his past six, in which he's given up more than three runs, and he's facing a lineup that hasn't really lived up to its potential this season. If he's got enough juice in the tank, this could be a relatively low-scoring game.
More Picks: Get Mann's Notre Dame vs. Florida State Predictions >>>
Betting Trends
The Astros are 5-1 in their past six against a right-handed starter.
The Astros are 4-1 in their past five against the NL West.
The Padres are 11-5 in their past 16 against the AL West.
The Padres are 5-11 in their past 16 as a favorite.
The under is 3-0-1 in the Astros' past four games.
The under is 4-1-1 in the Astros' past six interleague games.
The over is 7-0-1 in the Padres' past eight against an above .500 team.
The over is 3-1-1 in the Padres' past five overall.
The Astros are 2-5 in their past seven meetings.
The over is 3-0-1 in the teams' past four meetings.
Weather Report
It should be a warm, cloudy day in San Diego, with temperatures hitting 80 degrees and wind blowing in from left field.
Dan's Pick
I don't really love either team's situation. Valdez could have problems with the workload, and Musgrove is only really effective when he's able to get hitters to actually strikeout. The Astros don't really do that, so there's not a lot of reason to back the Padres.
I'm worried about Valdez, but I'm taking the Astros here. Be sure to check out or Week 1 college football picks!