Houston Astros vs. Washington Nationals Pick – Game 3 Analysis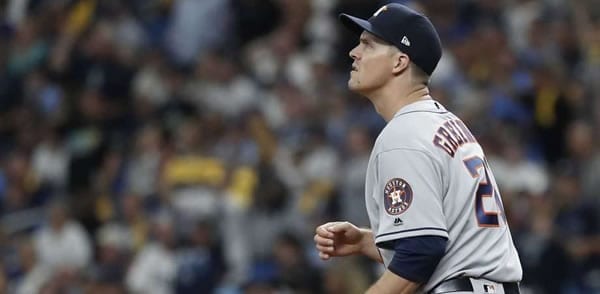 Houston Astros (114-61) vs. Washington Nationals (102-71)
When: 8:08 p.m., Friday, October 25
Where: Nationals Park, Washington
TV: FOX
Moneyline: HOU -135/WSH +125(Best odds)
Runline: Astros -1.5/Nationals +1.5
Total: 7.5
Starting Pitchers: Zack Greinke (18-5, 2.93 ERA, 0.98 WHIP regular season; 0-2, 6.43 ERA, 1.43 WHIP postseason) vs. Anibal Sanchez (11-8, 3.85 ERA, 1.27 WHIP regular season; 1-0, 0.71 ERA, 0.63 WHIP postseason)
Waking the Demon
The Astros thought that Zack Greinke was going to be the third ace in a rotation that included Gerrit Cole and Justin Verlander, but it hasn't worked out that way. Those old postseason demons have returned with a vengeance for Greinke, who has been very hittable this postseason and sports an ERA that's a full run higher than his regular-season numbers.
Greinke has long been known as one of the smartest pitchers in baseball, but he's also battled social anxiety in the past and has been known to get flustered in tough situations. With the way the Nationals have been hitting and the way that Greinke has been struggling in the playoffs, this appears to be a situation where Washington could jump on the Astros early, and there's no guarantee that Houston can come back against the Nats' pitching.
Playing It Coy
Dave Martinez chose not to name a Game 3 starter until after Game 2, reasoning that Patrick Corbin might not be available to pitch until Game 4 if the Nats had to use him out of the bullpen in Houston. Well, they had to use him in Game 1, meaning that Corbin wouldn't be able to get more than three days' rest before taking the mound. The Nats now plan to go with Sanchez, which worked beautifully in the NLCS win over St. Louis.
However, Corbin remains available should something go wrong with Sanchez, and the Nats need to change pitchers. Washington has gone to great lengths to protect its bullpen, and that's not likely to change here.
Decades Past
In the movie Major League, legendary announcer Bob Uecker makes a joke about "Die Hard Night — free admission to anyone who was actually alive the last time the (Cleveland) Indians won the pennant." Considering that movie came out in 1989, that streak was only 35 years, a brief length of time compared to how long Washington has waited for a World Series game.
The Fall Classic hasn't been played in our nation's capital since the New York Giants bested the Washington Senators on Oct. 7, 1933. That's a span of more than 86 years, a wait that's only been made worse by the fact that since that game, Washington has cycled through three baseball stadiums, watched two baseball teams leave town (Minnesota and Texas) and saw both of them play in the World Series (and the Twins actually win three of them). Sure, the Baltimore Orioles have been around, but as a Virginia native, I can tell you that those 54 miles from the Woodrow Wilson Bridge to Baltimore feel more like 300, and the Orioles haven't been in the World Series since 1983 anyway.
The point is, for most Washingtonians and Northern Virginians, this is the first time they've ever seen a World Series in person, which means Nationals Park is likely to be a powder keg of emotion. If the home team can give the faithful a reason to cheer early on, it could spur the Nats on and create a rough situation for Greinke.
Betting Trends
The Nationals are have won eight straight playoff games.
The Nationals have won 38 of their past 53 home games.
The Astros are 5-2 in Greinke's past seven road starts.
The Astros were 1-4 in their past five when the opponent scored five or more runs in its most recent game.
The Nationals have won 21 of their past 26 against the Astros.
The over is 4-1 in the Nationals' past five games following an off day.
The over is 5-1 in the Astros' past six against the NL East.
Weather Report
This is going to be a cool but enjoyable night for fall baseball, with temperatures set to be at 59 degrees at first pitch.
Dan's pick
Growing up in Virginia in the 1990s meant an understanding that baseball was likely never going to return to your part of the country. At the time, there hadn't been a game played in Washington since 1972, and with the Orioles around and claiming that Washington was their territory, there didn't seem like any reason to think baseball would ever come back to the District or enter Virginia.
All of that changed on Sept. 29, 2004, when then-Washington mayor Anthony Williams announced that "there will be baseball in Washington next year!" with the relocation of the Montreal Expos. Many people in Virginia and the District became Nationals fans that day, and for those people, this is the baseball game that they've waited 15 years to see, ever since they allowed themselves to hope again.
And I'm supposed to believe that Zack Greinke is going to walk into that situation, slay his postseason demons and ruin this moment for 41,000 Nationals fans?
Not a chance. Give me the Nats.
STOP LOSING TODAY! START WINNING WITH DOC'S TEAM OF PROFESSIONALS! GET A FREE NO STRINGS ATTACHED $60 FOR THIS WEEKEND'S GAMES!