[et_pb_dcsbcm_divi_breadcrumbs_module hide_homebreadcrumb="off" homebreadcrumbtext="Home" separator="sep-raquo" hide_currentbreadcrumb="off" homebreadcrumborientation="left" _builder_version="3.8″ fontsbreadcrumbs_font="Lato||||||||" fontsbreadcrumbs_text_color="#000000″ fontsbreadcrumbs_font_size="15px" fontsbreadcrumbs_line_height="16px" fontsseperator_font="||||||||" fontsbreadcrumblinks_font="||||||||" fontsbreadcrumblinks_text_color="#2567cf" custom_margin="25px|||" custom_margin_phone="30px|||" custom_margin_last_edited="off|desktop" custom_css_main_element="font-family: Helvetica Regular;" global_module="3641″ saved_tabs="all"][/et_pb_dcsbcm_divi_breadcrumbs_module]
MLB Pick: LA Dodgers vs SF Giants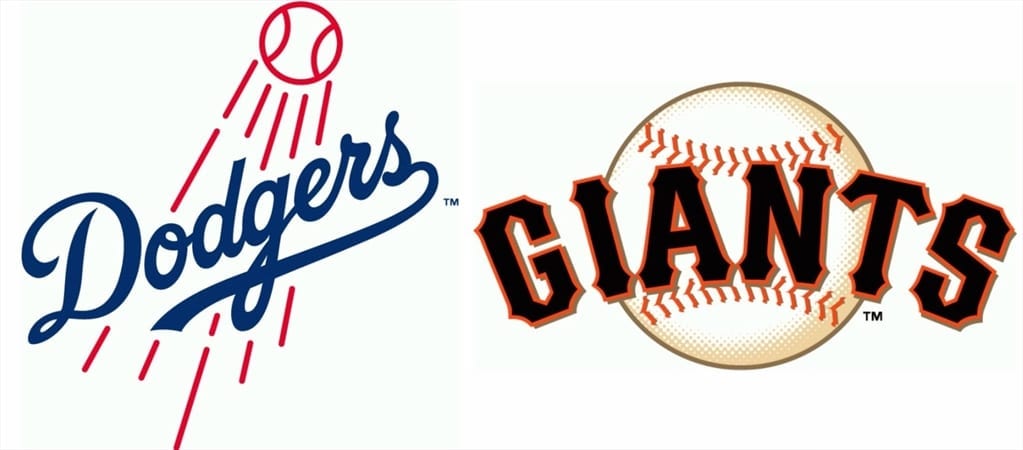 The premier West Coast baseball rivalry resumes when the Dodgers and Giants open a three-game series Monday night at Chavez Ravine (10:10 ET). How are we playing this contest with our daily free MLB picks?
MLB Betting Line
Monday's MLB betting odds opened Los Angeles and Clay Kershaw at around -190 over San Francisco and Madison Bumgarner, with an over/under of 7 runs. Early betting action then bumped the Dodgers about a nickel, to the -195 range.
LA could also be found getting around +105 giving the run and a half on the MLB run line.
Monday Set-Up
The Giants just split four games at home with Pittsburgh over the weekend, winning Sunday's series finale 4-3. So San Francisco is 0-1-2 over its last three series and 3-6 over its last nine games.
The Dodgers, meanwhile, just dropped three of four games in Colorado over the weekend, falling Sunday 4-3. So LA is 0-2-2 over its last four series and 5-9 over its last 14 games.
Big-picture, at 64-55 the Dodgers trail division-leading Arizona by one game in the NL West, while at 59-60 the Giants sit six games back. Los Angeles also trails Milwaukee and Philadelphia by two games in the National League wild-card race, with San Francisco seven games back.
The Giants lead this season series seven games to six.
Monday's Mound Match-Up
Lefty Kershaw (5-5, 2.58), by our strict standards, is 12/17 on quality starts this season, and working on a run of seven in a row. Last Wednesday he gave up two runs and six hits through six innings against Oakland, although he also only struck out one batter. And over his last four starts he's allowed just six earned runs through 25 2/3 innings (2.10 ERA). On the season the Dodgers are 8-9 with Kershaw, with the unders going 9-8.
In two starts this year against the Giants Kershaw held them to two runs and 14 hits through 13 innings, with 13 strikeouts. Los Angeles split those two games, and both games played under the totals.
Fellow southpaw Bumgarner (4-4, 2.69) is 7/12 on quality starts this year, and three outs away from being three for his last three. Last Tuesday he held Houston scoreless on five hits through seven innings, although San Francisco eventually lost that game 2-1. And over his last three starts he's allowed just three ER through 20 innings (1.35 ERA). On the year the Giants are 5-7 with Bumgarner, with unders going 8-3.
In one start this year against Los Angeles Bumgarner gave up three runs and five hits, including a couple of homers, through six innings of a 3-1 San Francisco defeat.
We're calling this match-up of two of the best lefties in the game a wash.
Monday's Batting Splits
San Francisco ranks 14th in the Majors this season against left-handed pitching with a .249 team batting average, 20th with a .313 team OBP and 22nd with a .384 team slugging percentage.
Los Angeles ranks 28th against lefties with a .226 BA, 22nd with a .309 OBP and 23rd with a .382 slugging percentage.
We'll give the Giants a slight edge in the splits with the sticks for Monday, but it's close.
The Bullpens
The San Francisco bullpen ranks eighth in the ML with a 3.64 ERA and 10th with a 1.25 WHIP.
The Dodgers pen ranks 14th in ERA at 3.92 and ninth in WHIP at 1.25. But this unit also just lost closer Kenley Jansen to the DL as he deals with a health issue. LA missed him both Saturday and Sunday, as the bullpen gave up the winning runs in both games.
We gotta give the Giants the edge in the comparison of the bullpens.
Totals Report
Unders are 29-28 in games played at Dodger Stadium this year, which are averaging 8.2 total runs per.
Unders are also 8-5 in SF-LA games this season.
The Giants get two of our handicapping check-marks for this game and they're getting a nice fat underdog price. We're going with the value in this spot and will bet San Francisco.
<div class="widget105"><!-- [et_pb_line_break_holder] --><h4 class="parlays">Best Parlays</h4><!-- [et_pb_line_break_holder] --><!-- [et_pb_line_break_holder] --><table id="parlay"><!-- [et_pb_line_break_holder] --> <tr><!-- [et_pb_line_break_holder] --> <th><span class="team"></span></th><!-- [et_pb_line_break_holder] --> <th>2 Team Parlay</th><!-- [et_pb_line_break_holder] --> <th>3 Team Parlay</th><!-- [et_pb_line_break_holder] --> <th>4 Team Parlay</th><!-- [et_pb_line_break_holder] --> </tr><!-- [et_pb_line_break_holder] --> <tr><!-- [et_pb_line_break_holder] --> <td><a href="https://affiliates.sportbet.com/tracking/Affiliate.aspx?idBook=2&mediaTypeID=220&AffUrlID=80&LandingPageID=55"><img src="https://www.predictem.com/wp-content/uploads/2018/06/sportbet-sm.png"></a></td><!-- [et_pb_line_break_holder] --> <td>2.74 to 1</td><!-- [et_pb_line_break_holder] --> <td>6.24 to 1</td><!-- [et_pb_line_break_holder] --> <td>13 to 1</td><!-- [et_pb_line_break_holder] --> </tr><!-- [et_pb_line_break_holder] --> <tr><!-- [et_pb_line_break_holder] --> <td><a href="https://record.bettingpartners.com/_5vfuDOH_H2wWPf2JTsWUjGNd7ZgqdRLk/1/"><img src="https://www.predictem.com/wp-content/uploads/2018/06/bovada_sm.png"></a></td><!-- [et_pb_line_break_holder] --> <td>2.64 to 1</td><!-- [et_pb_line_break_holder] --> <td>6 to 1</td><!-- [et_pb_line_break_holder] --> <td>12.3 to 1</td><!-- [et_pb_line_break_holder] --> </tr><!-- [et_pb_line_break_holder] --> <tr><!-- [et_pb_line_break_holder] --> <td><a href="https://record.webpartners.co/_jGZUKO3JWgwmunhzcKAZ62Nd7ZgqdRLk/1/"><img src="https://www.predictem.com/wp-content/uploads/2018/06/mybookie-sm.png"></a></td><!-- [et_pb_line_break_holder] --> <td>2.64 to 1</td><!-- [et_pb_line_break_holder] --> <td>6 to 1</td><!-- [et_pb_line_break_holder] --> <td>12 to 1</td><!-- [et_pb_line_break_holder] --> </tr><!-- [et_pb_line_break_holder] --></table><!-- [et_pb_line_break_holder] --><div class="widget-footer"><a href="https://www.predictem.com/best-sportsbooks/parlays-odds/">See all Sportsbook Parlays</a></div><!-- [et_pb_line_break_holder] --></div><!-- [et_pb_line_break_holder] --><!-- [et_pb_line_break_holder] --><!-- [et_pb_line_break_holder] --><style><!-- [et_pb_line_break_holder] --> #parlay {border-collapse: collapse;<!-- [et_pb_line_break_holder] --> width: 100%; border: 0px;<!-- [et_pb_line_break_holder] --> font-size: 14px!important;}<!-- [et_pb_line_break_holder] --> #parlay td, #parlay th {<!-- [et_pb_line_break_holder] --> border: 0px;<!-- [et_pb_line_break_holder] --> padding: 8px;<!-- [et_pb_line_break_holder] --> text-align: left;}<!-- [et_pb_line_break_holder] --> #parlay th {<!-- [et_pb_line_break_holder] --> padding-top: 5px;<!-- [et_pb_line_break_holder] --> padding-bottom: 5px;<!-- [et_pb_line_break_holder] --> font-weight: bold;<!-- [et_pb_line_break_holder] --> line-height: 14px;<!-- [et_pb_line_break_holder] --> text-align: center;<!-- [et_pb_line_break_holder] --> color: #000;}<!-- [et_pb_line_break_holder] --> #parlay tr {border-bottom: 1px solid #edeef0;}<!-- [et_pb_line_break_holder] --> .team {font-size: 16px;}<!-- [et_pb_line_break_holder] --></style>
<h4 class="widgettitle">More NFL Picks</h4><!-- [et_pb_line_break_holder] -->