Los Angeles Dodgers at Boston Red Sox Pick 7/14/19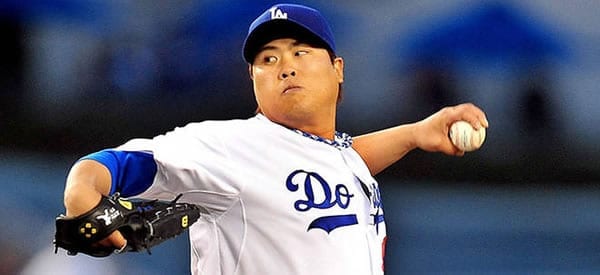 Los Angeles Dodgers (61-33) at Boston Red Sox (50-42)
When: 7 p.m., Sunday, July 14
Where: Fenway Park, Boston
Moneyline: LAD -110/BOS -110 (Bovada)
Runline: Dodgers +1.5 -210 /Red Sox -1.5 +175
Total: 9
Starting Pitchers: Hyun-Jin Ryu (10-2, 1.73 ERA, 0.91 WHIP) vs. David Price (7-2, 3.24 ERA, 1.14 WHIP)
Imaginary Road Issues
On one hand, Hyun-Jin Ryu has pitched fantastically all season long. He's an All-Star pitcher with an excellent ERA and WHIP, and with 99 strikeouts this season, he often gets the job done without even needing help from his excellent defense. More often than not, when Ryu goes to the mound, good things happen for the Dodgers.
But in his past two starts on the road, the Dodgers have left with a loss. One of them wasn't Ryu's fault in any form, as he held the Angels silent other than a solo home run in a 5-3 loss in Anaheim. But in the other, his most recent start on the road, Ryu got bombed by the Rockies, giving up nine hits and seven runs in just four innings of a 13-9 loss in Denver.
The question here is how to interpret Ryu's performance in Colorado as compared with the rest of his dominant season. On the one hand, it's jarring to see such a stat line in his most recent road start as he goes into a game at Fenway Park. On the other, Coors Field can chew up and spit out even the best of pitchers because of how different it is from every other atmosphere in the major leagues.
Unlike most Dodgers pitchers, Ryu didn't have a Triple-A season to learn how to pitch at altitude in trips to Albuquerque and Salt Lake City, which might be why he has never thrown well at Coors Field. In four trips to Denver, Ryu has taken the loss every time and has never made it out of the fifth inning. The chances are that this was just Ryu struggling in the one park where he doesn't know how to pitch effectively, as opposed to a trend.
The Price of Scarcity
Runs don't go on the board often against David Price either. Other than one ugly start against Texas on June 13, Price has been dominant for the past two months, as he's not given up more than two runs in a start in nine of his previous 10 trips to the mound, with the one disaster against Texas — which the Sox still came back to win — serving as his lone blemish.
What's made Price so dominant as of late is the fact that it's been pretty scarce for hitters to actually touch him when he's pitching well. During his starts in June and July, he's recorded no fewer than six strikeouts in five of his seven trips to the mound. The two exceptions were Texas, where he got pounded, and Minnesota, where he gave up just a run, but the Sox still ended up with a loss when the bullpen couldn't build on Price's work in a defeat. When he's on, the Red Sox are tough to do much of anything against.
The Historicals
The series is a rematch of the World Series from last year, but so far, each game has been one-way traffic for the winning side. The Dodgers did break their interleague slump by beating the Red Sox on Saturday, breaking through after failing to win either game at Fenway last year and losing the opener in Boston in this series. In fact, the Dodgers' win Saturday was just their second-ever victory over the Red Sox in Boston, as they'd lost five of their previous six in interleague play and are 0-5 in Boston in the World Series.
Betting Trends
The Dodgers are 8-2 in Ryu's last ten starts following a quality start.
The Dodgers are 3-15 in Ryu's past 18 starts against a team under .500.
The Red Sox have won Price's past five starts in a series' third game.
The over has won five straight following a Red Sox loss.
The under is 5-1 in Price's past five Sunday starts.
The under is 4-0 in Ryu's past four interleague starts.
Weather Report
Sunday evening looks perfect for baseball in Boston, with the temperature set at 75 degrees at first pitch.
Dan's pick
The teams have split their two meetings so far this year, and neither game was particularly close. Boston won the opener 8-1, and Los Angeles bounced back with an 11-2 rout of Boston on Saturday, putting the Dodgers ahead 12-10 on the aggregate for the series. This game will likely be the lowest-scoring of the three, given the pitchers involved.
Given the quality of the teams involved and that they're both sending great pitchers to the mound, I have a hard time making a pick here. Ryu has been the slightly better pitcher, but Price has faced better hitters. However, Ryu has an advantage here in that he doesn't have to worry about hitting in this game, allowing the Dodgers to stick with him as long as they wish. In a matchup that is this much a coin flip, that is the edge I'm going with in taking the Dodgers
Take the Dodgers -110
STOP LOSING TODAY! START WINNING WITH DOC'S TEAM OF PROFESSIONALS! GET A FREE NO STRINGS ATTACHED $60 FOR THIS WEEKEND'S GAMES!