Mets vs. Angels Moneyline Bet 6/11/22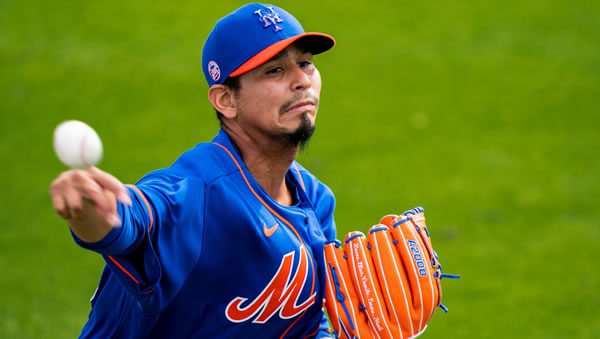 New York Mets (39-21) vs. Los Angeles Angels (28-32)
When: 10:07 p.m., Saturday, June 11
Where: Angel Stadium, Anaheim, Calif.
Moneyline: NYM -135/LAA +115 (Everygame - Check out their 200% bonus on your deposit of only $25!)
Runline: Mets -1.5/Angels +1.5
Total: 8.5
Starting Pitchers: Carlos Carrasco (7-1, 3.52 ERA, 1.16 WHIP) vs. Michael Lorenzen (5-3, 3.69 ERA, 1.14 WHIP)
Oasis in a Desert
The Angels did finally break their two-week losing streak with a win over Boston, but they quickly went right back to their losing ways against the Mets, dropping their opener in this series to make it a 1-15 stretch. Adding more data doesn't exactly help matters; the Angels are a mere 4-19 over the past 3.5 weeks of action, and they've seen themselves fall from a surefire contender for the AL West to a full nine games back of the Astros.
The one saving grace that the Angels have at this point is that the rest of the West has also struggled outside of southeast Texas, so there is still some hope that the Angels can turn things around when they start facing Oakland, Texas, and Seattle. Then again, the Angels have played two of those teams in this stretch and were 3-5 against the Athletics and Rangers. Unless this team can turn things around in the next month or two, it's highly likely that they're going to manage to waste yet another year of Mike Trout's career. Trout is about to be on the wrong side of 30 and has been with the Angels since 2011, yet has just one playoff hit in his career and no postseason wins. This year was supposed to be different, but it's proving to be the same old stuff as always from Los Anaheim, and the firing of Joe Maddon likely means things will get worse before they get better.
Lapping the Field
On the other side of the coin, the Mets keep putting distance between themselves and the NL East, despite the Braves and Phillies both doing all they can to try to make it into a battle. Both Atlanta and Philadelphia haven't lost in more than a week, yet the Mets still carry a 6.5-game lead on the Braves as well as the best record in the National League.
What makes the Mets effective is a rather simple combination: They miss bats when they're on the mound, and they don't miss when they're at the plate. With 539 strikeouts to their name, only the Brewers and Braves have a higher strikeout total than the Mets' pitchers. On the other side of the equation, nobody can match the Mets in terms of batting average (.264) or RBIs (292). The Mets have long been a team that only had one or the other, but now they've got both working for them and have a genuine chance to be something special.
RED-HOT (8-0 LAST 8) BIG AL's MLB ELITE INFO

Al McMordie goes for his 9TH WINNER IN A ROW today after cashing the Phillies over the Braves yesterday. And Big Al's also 14-4 his last 18, and 75-47 his last 122 MLB. Here, pick up Big Al's Major League Baseball Elite Info Winner out of a sweet 11-1, 92% situation. Get on it!
Going Long Distance
Michael Lorenzen is a somewhat familiar face to a few Mets hitters, as they managed to see him for a few pitches in relief in 2021 and in 2019 when Lorenzen was with Cincinnati. However, they didn't get much of a look at him, as the Reds only ever used Lorenzen as a middle reliever or setup man when they had him. The Angels believe he's a starter and are willing to let him pitch out of problems, so he will get at least one and probably two turns through the lineup in this game.
So far, the experiment has worked out fine for Anaheim, but the most recent start has to be a reason to worry. Sure, Lorenzen managed nine strikeouts the last time he took the mound, but he also walked five guys and gave up five runs because of control issues. Against a team like the Mets, you can't afford to give them free chances.
More Picks: Colorado at San Diego Top Bet >>>
Betting Trends
The Mets are 4-1 in their past five Saturday games.
The Mets are 4-1 in their past five games as a road favorite.
The Angels are 2-6 in their past eight Saturday games.
The Angels are 3-14 in their past 17 games against a right-handed starter.
The over is 5-1 in the Mets' past six games as a favorite.
The over is 6-1 in the Mets' past seven games against a team with a losing record.
The over is 5-0-1 in the Angels' past six games against the NL East.
The over is 8-3 in the Angels' past 11 games as a home underdog.
The over is 10-2-4 in the teams' past 16 meetings.
The over is 5-0-2 in the teams' past seven meetings in Anaheim.
Weather Report
With clear skies and 74-degree temperatures, this should be a perfect night to play baseball. Wind could help the over, as wind will blow at nine miles per hour to straightaway center.
Dan's pick
The Angels might have finally gotten a win two nights ago, but this is still a team that has been a mess for a month and is showing no signs of turning things around any time soon. There's a chance they could pull a Phillies and make themselves a contender again, but I think the Angels were much better off with Joe Maddon and will continue to struggle moving forward.
At this value, I'm backing the Mets. Bet your MLB picks for FREE this weekend by taking advantage of a 100% real cash bonus up to $500 at Betnow Sportsbook!
MLB Betting Guide
New to betting on baseball? We've got you covered! Our comprehensive how to bet on baseball article explains all the different types of wagers offered at the sportsbooks including money lines, over/unders, run lines, parlays and more! Also get tips and strategies to increase your odds of beating the bookies!