MLB Picks: Pittsburgh Pirates vs. St. Louis Cardinals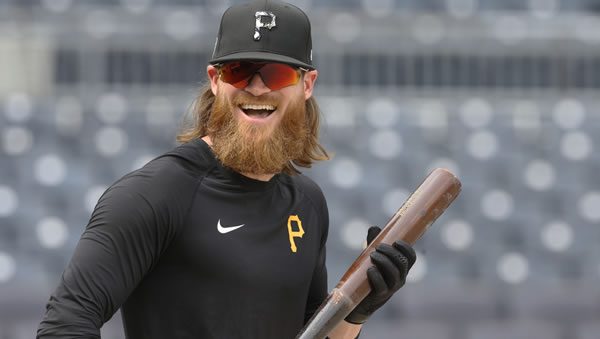 Pittsburgh Pirates (43-79) vs. St. Louis Cardinals (62-59)
When: 7:15 p.m., Saturday, August 21
Where: Busch Stadium, St. Louis
Moneyline: PIT +180/STL -215 (Bookmaker)
Runline: Pirates +1.5/Cardinals -1.5
Total: 9
Starting Pitchers: Dillon Peters (0-1, 1.93 ERA, 1.71 WHIP) vs. J.A. Happ (7-6, 6.03 ERA, 1.50 WHIP)
Contender or Pretender?
The Cardinals certainly haven't been lacking for chances to get back into this race, considering the Padres keep botching their opportunities to secure the second wild card. St. Louis certainly isn't going to win the NL Central, but the Redbirds are just 3.5 games out of the second wild card, and if they have Jack Flaherty and Adam Wainwright available to pitch in that one-game shootout, they're the one team that could absolutely scare the heck out of the Dodgers in such a situation.
But whether the Cardinals can get there is another matter entirely. All year long, St. Louis has taken two steps forward and then two steps back, as opposed to either gaining ground the way the Reds have or falling apart entirely like the Cubs. The Cardinals refused to cash in their chips at the trade deadline, so they still think they're in this race, and with three games in hand on both Cincinnati and San Diego, there's reason to believe that. But the Cardinals kicked away a golden opportunity on Friday against Mitch Keller, and with Pittsburgh 20 games out of the race, these are the kinds of games that St. Louis can't afford to concede if they're going to be in this race. The Cardinals are down to 41 games left to make up the deficit, and if they can't take both of the remaining weekend games at home against the Pirates, it's difficult to see them doing that.
More Picks: Get Dan's New York City vs. New York Red Bulls Odds & Predictions
Battling to the End
Say this for the Pirates: at least they still care. The Pirates are very deficient in talent at the moment, but they're proving to be a thorn in the side of some good teams and a solid play on the runline more often than not. Pittsburgh has won just two of its last ten contests, but if you've played the Pirates on the runline in that stretch, you've cashed six out of those ten games.
Considering that all of those games were against the Cardinals, Brewers, and Dodgers, that's actually a pretty solid showing for a young team. The other thing to know about the Pirates is that while they don't do much at the plate, they've also been stepping it up in terms of run prevention. Pittsburgh's team ERA is an ugly 5.05, but the Pirates have a helpful tendency (helpful to bettors, at least) to allow opponents to bunch their runs into one bad day rather than spread them out over the course of multiple games.
In their past three series, the Pirates have had one game that saw them give up six or more runs to their opponent, but the rest of the series didn't see them concede more than four in a game. Given that the Pirates rarely score more than four themselves (six straight games with four or less), that's led to several unders cashing. The under is 5-0-1 in the Buccos' past six games, and the Pirates' young pitchers are starting to suggest that they're a group you can trust, as long as JT Brubaker isn't on the mound.
Set Him Free
Moving from Minnesota to St. Louis seems to have been a tonic for J.A. Happ, who has responded by turning in three excellent starts for his new team. It's almost always easier on a pitcher to go from a struggling side to a team that's at least close to contending. It's an even bigger bonus when you get to move from the American League to the National League and can enjoy the almost-free out that comes in the ninth spot in the lineup.
Happ hadn't pitched in the NL since 2015 before the trade, but he's found it to his liking, as he held Atlanta to two runs in his first start and has given up just one run in his past 11.2 innings of work. Granted, those came against Kansas City and Pittsburgh, so Happ wasn't exactly dealing with a murderer's row of lineups, but it's still a far cry than when the Tigers tagged him for a combined 16 runs in two appearances in July. The Cardinals offer better fielders than the Twins, and Happ looks like a solid option right now.
Betting Trends
The Pirates are 20-45 in their past 65 games overall.
The Pirates are 13-40 in their last 53 against the NL Central.
The Cardinals are 7-3 in their past ten games overall.
The Cardinals are 1-4 in their previous five home games.
The under is 4-0-1 in the Pirates' past five road games.
The under is 5-0-1 in the Pirates' last six games as an underdog.
The under is 6-2 in the Cardinals' past eight Saturday games.
The under is 5-1 in the Cardinals' previous six games as a favorite.
The Cardinals are 40-17 in their past 57 matchups.
The Pirates have won four of the last five matchups in St. Louis.
The under is 4-1-2 in the past seven meetings.
Weather Report
The Midwest is just not pleasant right now. It's going to be 86 degrees at the first pitch, with humidity pushing that to 96 and wind blowing at seven miles per hour toward first base.
Dan's Pick
The value is just not there with St. Louis right now. The Cardinals haven't exactly been taking advantage of their chances, and the Pirates are playing well enough to avoid getting blown out in most of their recent contests. Pittsburgh might not win this one, but there's enough value in how they're playing that I can see them adding another one-run defeat to their name.
My best bet is the under, but for the game itself, I'll back the Pirates +1.5. Where are you betting on football this season? Does your online sportsbook or bookie let you bet on games (both sides and totals!) at -105 instead of -110? Not likely! Imagine how much cash you'd save laying $5 less per $100 you're trying to win! It adds up to THOUSANDS of dollars over the years! Quit pissing away your hard earned loot and start saving by betting at reduced juice at BetAnySports! We've advertised them for 10+ years with not one complaint from our readers! Click here to start saving money today!