New York Mets vs. Washington Nationals Pick 4/1/20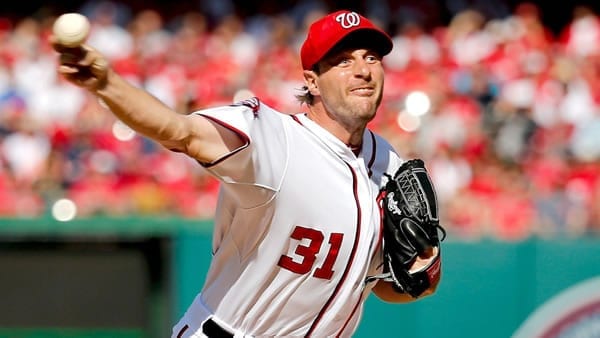 New York Mets (0-0) vs. Washington Nationals (0-0)
When: 7 p.m., Thursday, April 1
Where: Nationals Park, Washington
Moneyline: NYM -222/WAS +190
Ruline: Mets -1.5/Nats +1.5 Bet on games at reduced odds ALL SEASON long at BetAnySports!
Total: 6.5
Starting Pitchers: Jacob deGrom (0-0, 0.00 ERA, 0.00 WHIP) vs. Max Scherzer (0-0, 0.00 ERA, 0.00 WHIP)
New Beginnings
These teams badly want to get off to a good start this season, as neither was particularly satisfied by the way last season ended. Both teams finished with a losing record inside their division and watched as the Marlins managed to steal their spot in the playoffs in the expanded format, a rather shocking outcome for both of these squads. The Mets have spent heavily in the offseason and expect big things for themselves this year as they attempt to chase down Atlanta, while the Nationals believe that they're going to be a lot better than they showed last season.
However, Washington does have a history of starting slow, and there are real questions around whether the Nationals have a lineup that can compete in the NL East. This could be a tough place for the Nats to start proving they're closer to 2019 than 2020.
Run Prevention Problems
Both teams really have to step it up on defense and from their bullpens, because both defenses gave away a fair amount of games last season. In a 60-game season, both teams topped 300 runs allowed, which is an average of just over five per game. If you can do the math, you know that's far too many to be a competitive ball club in a tough division unless you've got an incredible offense. The Mets can definitely hit, but if their bullpen can't protect leads, they're not going to go anywhere.
Aging Out
Is Max Scherzer still the same pitcher that he's been? Scherzer has been one of the game's best at making bats miss, but he also started to miss the plate a little in 2020, as he posted his highest walk rate in years in the shortened season. Scherzer will turn 37 this season, and there's only so long that a strikeout pitcher can go before he loses the ability to dominate at the plate. Scherzer is 3-3 against the Mets since joining the Nationals, so this could be a tough test for him.
Reputation Precedes Him
Have you heard about Jacob deGrom and his ability to cash the under? Well, so has Vegas, and they've adjusted accordingly. Plus, the Mets have learned how to hit in the past couple seasons, which has sent their totals a lot higher than they used to be back in 2019. Last year, the over cashed in eight of DeGrom's 12 starts, in large part because the over was never set higher than 8.5 when deGrom pitched (and in that game, the Mets more than doubled the over by themselves by blasting Toronto 18-1). The total is still expecting a low number, as they've set this one at 6.5. However, the concern is the Nationals, as Washington plated just seven runs against the Mets last year in three Scherzer starts.
STOP WASTING MONEY! START BETTING AT DISCOUNTED ODDS AT BAS SPORTSBOOK!
Betting Trends
The Nationals are 7-1 in their past eight as an underdog.
The Nationals are 6-1 in their past seven against a right-handed starter.
The Mets are 2-5 in their past seven series openers.
The Mets are 1-5 in their past six as a road favorite.
The over is 4-1 in the teams' past five meetings.
The over is 4-0 in the Nationals' past four against a right-handed starter.
Weather Report
This won't be a great night for baseball in Washington, as temperatures are expected to hit 40 degrees with winds of 15 miles per hour heading northwest, toward the first-base line.
Dan's pick
The Mets are favored here, but with how these teams tend to play close games, I don't know if I want to take the gamble on them and their bullpen. My best recommendation here is to wait until one side gets a lead and pushes the runline in the other direction, then bet the other team to keep the game close. These teams played 10 times last season, and six of them resulted in a game decided by one or two runs. Kick your season off right by taking advantage of a 100% REAL CASH bonus on your first deposit of $50 to $1000 at BetNow Sportsbook!