Philadelphia Phillies vs. Boston Red Sox Pick 8/21/19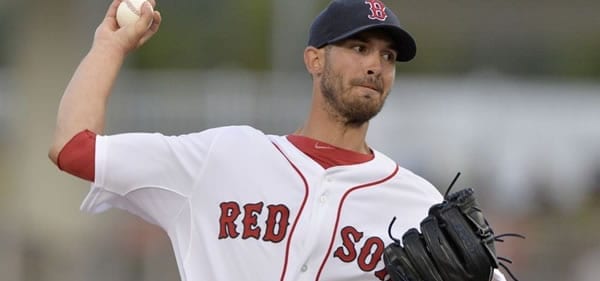 Philadelphia Phillies (65-60) vs. Boston Red Sox (67-60)
When: 7 p.m., Wednesday, August 21
Where: Fenway Park, Boston
Moneyline: PHI +155/BOS -170 (BetNow)
Runline: Phils +1.5/Red Sox -1.5
Total: 12
Starting Pitchers: Drew Smyly (2-6, 7.09 ERA, 1.66 WHIP) vs. Rick Porcello (11-9, 5.49 ERA, 1.41 WHIP)

No Reason to Smyle
Switching Drew Smyly over to the National League seemed like a great thing at first, as the former Texas Ranger was fantastic in his first two starts with Philadelphia, holding Pittsburgh to one run on four hits and shutting out San Francisco. Since then, things have headed in the wrong direction for Smyly, getting hit hard in each of his past three starts. Giving up five runs to the punchless White Sox was enough of a concern, but Smyly has been rocked in each of his past three starts to suggest that this isn't the only issue.
In fact, Smyly has failed to make it past the sixth inning in eight of his past 10, with the lone exceptions being his first two games in a Phillies uniform.
More Picks: Arizona Wildcats at Hawaii Rainbow Warriors Pick
Home Cooking
Whether it's by design or by a weird quirk in the schedule, six of Porcello's last seven starts have taken place in Fenway Park, with the only exception being Baltimore. In fact, of the eight starts that Porcello has made since the Red Sox returned home from London, only the game at Baltimore has come on a mound that he's never called his, as his one other road start was at Detroit, where he spent the first six seasons of his career.
What all those home starts haven't done is help Porcello establish a measure of consistency. Instead, it's been the same situation of bouncing back and forth between looking sharp and struggling badly. Against the Orioles in his most recent start, he was in fine form, giving up just one earned run and four hits in six innings. But here's the bad news: he's been unable to sustain success all season long. Since May 5, when he last pieced together a pair of quality starts, every time he's been the winning pitcher and held the opposition to three runs or less, he's pitched lousy his next game, giving up at least four runs in the process.
Desperate Measures
There's no sugarcoating it. This has to be the time when the Phillies get hot. If they don't, they're going to be watching the playoffs from home. After this series, they've got Miami and Pittsburgh before starting their final home series of the season with the blazing-hot Mets, which can either make or break the season for the Phils. Meanwhile, the Red Sox are going through a bizarre part of their schedule where they've gone off into interleague play, meaning that they've got a chance to make up ground against teams that are well out of their playoff race and have little reason to care about spoiling things for them. Whichever team can use their situation to create more desperation will benefit.
The Historicals
When Major League Baseball paired geographical rivals for interleague play, a lot of their choices made sense, such as Yankees-Mets, Cubs-White Sox and Orioles-Nationals. However, in the case of the Phillies and Red Sox, both of their natural geographical rivals (the Pirates and the Yankees, respectively), play in the same league they do, leaving no natural fit and instead of an awkward shoehorn. That's what's happened here, where the teams will play each other again for a two-game series in Philadelphia before the year is over. The Phillies have won two of three in Boston, but before that, they had lost six straight to the Sox in Massachusetts.
Betting Trends
The Phillies have won five straight interleague road games.
The Phillies have won four of Smyly's past five starts.
The Red Sox are 2-10 in their past 12 against a team above .500.
The Red Sox have lost five straight home games to teams above .500.
The under is 9-1 in the Phillies' past 10 Wednesday games.
The under is 4-1 in the Red Sox's last five home games.
Weather Report
The evening should be comfortable, with the temperature projected to be 71 degrees at first pitch.
Dan's pick
I hate this pitching matchup and feel like it's a coin flip either way. Given that Porcello's history says the bad version of Porcello is going to show up, I really don't want to take the Red Sox here. It'd be one thing if I were getting plus money with this bet, but there's no way I'm willing to lay the juice here with a pitcher struggling like this.
So I'm going to take a shot with the Phillies here. Philadelphia needs to have this game more and should be the more desperate team in this matchup. Plus, for whatever reason, the Phillies seem to hit better when Smyly is on the mound. I'm not sure if that's because they know Smyly will struggle or if Charlie Manuel has helped make them better, but it's been happening often enough for me to take a shot here with Philadelphia. Give me the Phillies in a matchup I don't love, but only one side has any value in.
Take the Phillies +155