Season Win Bets – AL East Predictions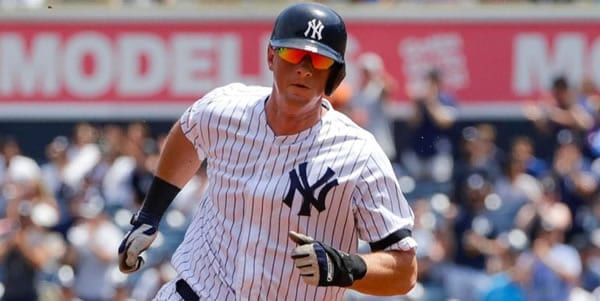 While we've been focused mostly on college basketball (and some of us on the NBA, NHL, and XFL) for our bets as of late, spring training games have begun, and baseball season will be underway next month. We've already gone in on some options for World Series bets, but there's money to be made in regards to every team this year by making a bet on their win total for the season.
Personally, I love "win total bets" because it allows you to root for or against a team for one season and gives you a reason to care every time they play. I've personally got a bet on the Cincinnati Reds this season just be-cause all of their games are televised at my home in Indiana, and if I'm going to have their games on during the summer, I want to get some skin in the game.
Note: Our favorite place to bet on team win lines is Mybookie who is offering the best net bonus of all of our recommended betting shops. (Deposit $300 get $300 FREE).
But today, we're not going to be talking about the Reds. We're going to be talking about the AL East and the prospects of the five teams in that division. In case you need a refresh, that's the Baltimore Orioles, the Bos-ton Red Sox, the New York Yankees, the Tampa Bay Rays and the Toronto Blue Jays. We'll get to the other di-visions later, but we're grouping these teams by division for a good reason: baseball has the most division-heavy schedule in any sport. In hockey, you'll play every team in the league at least twice, leaving less than 30 games inside your division. In basketball, you'll play even fewer games in your division.
Not so in baseball, where you play 76 out of 162 games against your own division. That's five short of being half of your entire schedule, so how you do against those four other teams makes a huge difference in how you'll do concerning your overall record. For example, the Minnesota Twins became a 101-win ball club last season. How did they do it? By going 41-16 against the Tigers, White Sox, and Royals, three of the worst teams in baseball. Minnesota was a solid 60-45 against everyone else, so beating up on those three teams wasn't the only reason, but it sure didn't hurt.
So when you pick a team to go over or under, you also want to look at their closest competition. We'll be sure to take a deep dive into those factors throughout this piece, so let's get started.
Baltimore Orioles: 56.5 wins
Here's how bad things have been in Birdland: the Orioles hitting this meager total would actually be an im-provement on the past two years. Baltimore won 47 games in 2018 and 54 games in 2019. To put that in per-spective, the Yankees won 103 games last year alone, meaning that Baltimore's two-year win total would only have been good enough for a wild card last year.
The real problem is that there's just not much here. Remember how the Astros built themselves into a con-tender by losing over 100 games three years in a row and then bringing the young players they attained up to the majors? Yeah, the Orioles are kind of still at the beginning of that part of the plan. Baltimore just isn't ready to play at the major league level, and it still plays in the toughest division in baseball. Not only are the two richest teams in the American League, the Yankees and Red Sox, residents of this division, but it's also home to what might be the smartest team in baseball in the Rays. The Orioles went 16-41 against them last season, and the Yankees and Rays both look like they're going to be even better. The Red Sox might be stand-ing still, but the Blue Jays aren't, and Baltimore went 8-11 against them last season. If the Orioles again lose 52 games against the AL East, they'd be just under halfway to hitting the under on this number.
To avoid it, Baltimore has to get better pitching. The Orioles were last in ERA with a number of 5.57, and that's a product of life in the AL East, which is home to two of the highest-scoring offenses in baseball. Unfortu-nately for Baltimore's chances, there really isn't a good rotation to speak of. The Orioles chose to go for play-ers who might be able to help them in 2022 or 2023 by plucking Brandon Bailey and Michael Rucker in the Rule 5 draft (minor leaguers who must remain on the Orioles' roster all year or be returned to their old teams). While they'll get every chance to contribute, the reality is that these are AAA-caliber pitchers at this point in their careers. John Means is MLB-quality, but there is no depth behind the Baltimore ace. When a pitcher like Asher Wojciechowski is your No. 3 starter, that's a sign your team isn't going very far that season.
Baltimore's bats, however, aren't quite so weak. Trey Mancini and Renato Nunez both hit 30 home runs last season, and both can be counted on to drive in runs when they get the chance. But with no Jonathan Villar in the lineup, the Orioles lose a solid hitter who made up for his defensive mistakes at second base with his bat. It seems crazy with how low this number is, but I think the Orioles will find a way to stumble under this low bar. I will take the Under.
Boston Red Sox: 84.5 wins
The Red Sox weren't very pleased about the way their season ended up last season, but it seems like Boston is heading in the wrong direction after sending Mookie Betts and David Price out of Massachusetts. The Red Sox can go on about how they're still trying for a quality campaign in 2020, but I'll be shocked if Boston is a se-rious threat in 2020. I think the Red Sox are trying to get themselves to 2021 and 2022 when they should have some talented younger players like Jeter Downs and Connor Wong ready to make an impact at the major league level. However, the pitching is going to be a real question mark. Chris Sale is as good as it gets when he manages to miss bats, but when he doesn't miss at-bats, he's been eminently hittable. Beyond him, with Price in Los Angeles, there isn't a ton of depth on the mound.
In order for Boston to threaten its win total, it's going to have to put runs on the board and beat up on the lesser teams on its schedule. That could be a real problem because there's only one Baltimore in this division. Unfortunately for the Red Sox, Toronto is moving in the right direction and isn't likely to lose many scoring contests when it faces a team that isn't adept at keeping runs off the scoreboard. If Nathan Eovaldi continues to struggle with his health and Martin Perez doesn't improve on a below-average second-half performance that plagued him last year in Minnesota, the Red Sox could struggle here.
Personally, I don't really love the Sox this year. I think they're in a tough spot with the Yankees and the Rays both clearly in win-now mode and the Blue Jays making some good moves to make themselves a contender in the not-too-distant future. I think the Red Sox will have a tough time getting to 85 wins this season and could even find themselves slipping to fourth behind the Blue Jays. Boston will bounce back in 2021, but in 2020, I've got to take the Under.
New York Yankees: 101.5 wins
There's no other way to say it: the year is a failure in the Bronx if Aaron Boone doesn't finish it covered in champagne. After getting close the past few years but falling to Houston, the Yankees opened the wallet for Gerrit Cole, simultaneously strengthening themselves and weakening the Astros. The one concern for New York is whether Cole is more Mike Mussina or Randy Johnson. Both Mussina and Johnson were great pitchers and worthy Hall of Famers, but only Mussina was able to adjust to pitching in New York. Mussina got stronger as a Yankee and took an already great career and made it a Hall of Fame career because of his work in pin-stripes. Johnson, on the other hand, could never adjust and made New York more of a blip on an otherwise Hall-worthy resume. Cole has never pitched in a market with as much pressure as the Bronx. Pitching for Pittsburgh and Houston, neither of which is an intense baseball city. Not the case with New York, which is as intense as it gets. How Cole handles the pressure will go a long way in determining how well the Yankees can manage the expectations.
Beyond the rotation, New York should be in great shape with its lineup. Didi Gregorius was deemed expend-able in large part because of the emergence of D.J. LeMahieu, who can now play his natural position of sec-ond base with Gleyber Torres at shortstop. If the Yankees can keep Giancarlo Stanton and Aaron Judge healthy, this team should be the top of the American League, and that means that they're going to need to amass a large collection of wins to make themselves the top overall seed. The presence of the Rays should also be a benefit to the Yankees hitting their number. Even though Tampa Bay projects to be an outstanding team and should give the Yankees problems head-to-head, New York will not be able to let its foot off the gas as the season goes on. The Yankees will likely have no choice but to push past 100 wins to stay ahead of the Rays, and that's just where the bet lies. I want the Over here.
Tampa Bay Rays: 91.5 wins
The secret's out: Tampa Bay has an excellent young team — again. The Rays have an outstanding top of the rotation in Blake Snell, Charlie Morton, and Tyler Glasnow, and they were a 96-win team even with Glasnow and Snell spending time on the DL last season. It helps that Tampa Bay really doesn't need all of its starters to stay healthy because the Rays have perfected the opener strategy, which limits the number of games where opponents are going to be facing off against a pitcher who isn't a top hurler.
To get to their target, Tampa Bay is going to need to get quality pitching and take advantage of its games against lesser competition. The Rays were just 12-7 against Baltimore last season, and they did no better than 4-2 against Seattle, the White Sox, Detroit or Kansas City, leaving several wins on the table. Tampa Bay looks to be better than it was a season ago because of its rotation and having a stronger lineup will make a big dif-ference as far as improving the Rays' previously weak offense. Tampa Bay relied too heavily on pitching last season, scoring less than five runs per game. That has to improve if Tampa Bay is going to make a run at the Yankees.
As for the total, I like the Rays to finish second in this division. The Orioles are rather awful, the Blue Jays are still a year away from really competing, and the Red Sox sent Mookie Betts away, which could hurt them in their chase to catch Tampa Bay. The Rays are looking like they could be the only serious contender to the Yan-kees in the AL East, and if that's the case, you have to think that they're going to make a run at the postsea-son.
That means a lot of wins, and this number is manageable for Tampa Bay to reach. If Tampa Bay doesn't get at least 92 wins, it won't be in the playoffs, and that would be a major flop for this group. I will definitely take the Over with the Rays.
Toronto Blue Jays: 74.5 wins
Tampa Bay's got an excellent young team that's ready to win now. Toronto's got an excellent young team that's going to be ready to win in a year or two, most likely two. That makes for an interesting betting situa-tion, as the Blue Jays probably aren't going to have a shot at the playoffs to shoot for (especially not with the Yankees and Rays in this division) but could still have reason to hope for something at the end of the season. With so many young players, the Jays want to get themselves on a winning path for the future, and the easiest way to do that is to give Bo Bichette, Vladimir Guerrero Jr., and Cavan Biggio something tangible to shoot for.
Most likely, I think the Blue Jays' goal is going to be 82 wins. Toronto has had three consecutive losing sea-sons, and a winning record would go a long way in showing that they are genuinely on the right track and ready to contend in 2022. Plus, the Blue Jays have a real opportunity to take a step forward with Boston in the midst of a retooling season and Baltimore still in the abyss of a lengthy rebuild. What will make or break this Blue Jays squad will be the pitchers who weren't in Ontario last year: Hyun-Jin Ryu and Chase Anderson at the top of the rotation and Nate Pearson at the back. Pearson will likely begin the year at Triple-A Buffalo, but with the Blue Jays unlikely to reach the playoffs, look for him to be brought up to Toronto around June as the Jays look to get their youthful core as much experience as possible.
Toronto isn't trying to win this year, but the Blue Jays have enough talent that they should be able to pull off a step forward or two. I expect the Jays to flirt with .500 throughout the season, and that will be plenty good enough to hit their number so that I will take the Over with Toronto.
Get $60 of FREE member picks & predictions
(NO commitments. NO Credit Card. NO Salesman.)