[et_pb_dcsbcm_divi_breadcrumbs_module hide_homebreadcrumb="off" homebreadcrumbtext="Home" separator="sep-raquo" hide_currentbreadcrumb="off" homebreadcrumborientation="left" _builder_version="3.8″ fontsbreadcrumbs_font="Lato||||||||" fontsbreadcrumbs_text_color="#000000″ fontsbreadcrumbs_font_size="15px" fontsbreadcrumbs_line_height="16px" fontsseperator_font="||||||||" fontsbreadcrumblinks_font="||||||||" fontsbreadcrumblinks_text_color="#2567cf" custom_margin="25px|||" custom_margin_phone="30px|||" custom_margin_last_edited="off|desktop" custom_css_main_element="font-family: Helvetica Regular;" global_module="3641″ saved_tabs="all"][/et_pb_dcsbcm_divi_breadcrumbs_module]
Seattle Mariners vs Houston Astros Pick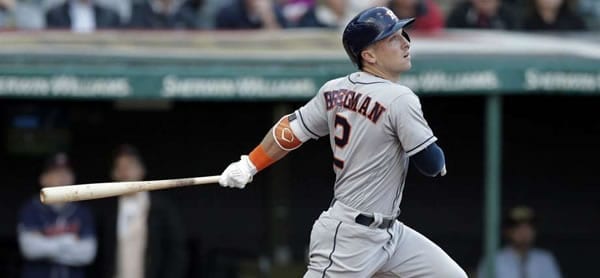 Seattle Mariners @ Houston Astros (8/9/18)
Time: 8:10 PM ET
Where: Minute Maid Park. Houston, Texas.
Listed Pitchers: Paxton (SEA) & Verlander (HOU)
TV: ROOT – Northwest
Moneyline: SEA (+140) / HOU (-150) ( GTbets )
Over/Under: 7 -105 ( 5Dimes )
Minute Maid Park plays host to an American League West battle Thursday night, when the Seattle Mariners come to town to face divisional foe Houston. This will be the first of a four-game set to be played thru the weekend and the 10th meeting of 19 slated between these two clubs for the Regular Season. The Astros lead the series 6-3 thru nine games, outscoring Seattle 42-25. Seattle has struggled recently and they're losing ground in the highly competitive American League Wild Card race. Houston's banged up right now, but they've managed to continue racking up W's which is a testament to their incredible depth. Thursday night's clash figures to be a phenomenal duel between two fantastic pitchers: Paxton and Verlander.
M's mired by L's
The Seattle Mariners got clocked in back-to-back games at Texas (11-4 & 11-7) the past two days, and they've lost seven of their past ten decisions. Throughout the stretch of futility, the Mariners have been outscored 61-34. Marco Gonzales (12-7, 3.79 ERA & 1.20 WHIP) was tagged for seven runs on 12 hits in five innings at Globe Life Park in Arlington, Texas Wednesday afternoon. It was Gonzales's second straight loss, giving him an 8.25 ERA and 1.58 WHIP over his past two decisions. Catcher Mike Zunino (.210 AVG, 16 HR, 36 RBI & .265 OBP) did his part with two homers in the 11-7 loss to Texas. Zunino had quite the series, going 5 for 8 (.625) with three home runs and three RBI in two games.
Overall, Seattle's accrued a 65-50 (.565) record this season. They're currently in third place in the AL West and have fallen 2.5 games behind division-rival Oakland for the second and final AL Wild Card spot. The Mariners boast a -29 run differential (19th MLB), which is puzzling for a team that's 15 games north of .500. Perhaps their recent struggles can be chalked up to regression to the mean, for a team that was just outperforming their actual abilities. Having allowed 508 runs thus far, Seattle's middle of the road pitching staff is going to be a problem coming down the home stretch. On the road, the M's are 29-26 (.527) this season.
Even injuries can't stop the 'Stros
Houston had a travel day Wednesday which means they should be fresh and ready to rumble Thursday night at Minute Maid Park. Winners in back-to-back games at San Francisco (3-1 & 2-1), the 'Stros have now won six of their past seven decisions. During the seven-game stretch, Houston's outscored opponents 36-11. The reigning World Series Champions are doing this all without four key starters who're on the disabled-list: Jose Altuve (.329 AVG, 9 HR, 46 RBI & .392 OBP), Carlos Correa (.268 AVG, 13 HR, 49 RBI & .352 OBP), Brian McCann (.206 AVG, 5 HR, 17 RBI & .283 OBP) and George Springer (.250 AVG, 19 HR, 58 RBI & .335 OBP).
At 73-42 (.635), the Astros are in first place in the American League West. Houston's 5.5 games ahead of Oakland and eight ahead of Seattle in the Standings. The 'Stros own the second-best record in baseball behind only the Boston Red Sox. Houston's offense has accumulated 569 runs (4th AL), while their pitching staff has limited opponents to a league-best 367 runs. Their +202 run-differential is ranked number one in MLB. In their home ballpark, the Astros are 32-24 (.571) so far this season.
Paxton vs. Verlander
Thursday night's game will be James Paxton's fourth start this year against Houston. The lefty has been Houston's bugaboo, winning all three starts against the 'Stros while posting a 0.89 ERA and 0.94 WHIP. Overall, Paxton's 9-5 wwith a 3.51 ERA and 1.07 WHIP this season. Paxton's two complete-game performances leads the America League. He's fifth in the AL in strikeouts with 170 and seventh in WHIP (1.07). However, Paxton's stumbled a tad recently. In his last four starts, he's gone 1-3 with a 4.25 ERA and 1.08 WHIP. Paxton's started 11 road games this year, accruing a 4-2 record with a 3.85 ERA and 1.16 WHIP.
World Series Champion and 2011 MVP Justin Verlander is slated to take the hill for the 'Stros. The ageless right-hander is putting together another brilliant year, amassing an 11-6 record with a 2.19 ERA and 0.88 WHIP. Verlander ranks second in the AL in: innings pitched (156.1), ERA (2.19) and WHIP (0.88). His 204 punch-outs is third-best amongst American League arms. In his last three starts, Verlander's gone 2-1 with a 1.48 ERA and 1.21 WHIP. This year at Minute Maid Park, Verlander's 2-4 in 13 starts with a 2.57 ERA and 0.82 WHIP. In 24 career starts versus Seattle, Verlander's 12-8 with a 3.02 ERA and 1.12 WHIP.
Where's the value?
This game has a lot of variables. Seattle's played like a non-playoff team lately, while Houston's missing nearly half of their starting lineup. The Astros aren't as dominant at home as they're on the road and they're facing a pitcher that has completely shut them down all year in Paxton. This game could go either way, but one thing we know is that two outstanding pitchers will be facing-off here. The under is 2-0-1 in Paxton's three starts against Houston this year. Verlander and Paxton have been superb, while Seattle's offense has faded in recent weeks. The 'Stros laundry-list of injuries definitely puts a damper on their potent offense too. Expect the pitchers to put on a show in a low-scoring grind of a game Thursday night. There's a 66.7% chance the total will be under 7, which is being offered at a -127 price at most books right now. So, to make betting on the under profitable it'd have to be less than seven 55.9% of the time. As you can see, that means we have a 10.8% edge against the number which is plenty enough for my taste. In Paxton and Verlander we trust. The under is the prudent play in this American League West clash.
<div class="widget105"><!-- [et_pb_line_break_holder] --><h4 class="baseball">Baseball Sportsbooks</h4><!-- [et_pb_line_break_holder] --><table id="dimeline"><!-- [et_pb_line_break_holder] --> <tr><!-- [et_pb_line_break_holder] --> <th></th><!-- [et_pb_line_break_holder] --> <th width="110px">10¢ to:</th><!-- [et_pb_line_break_holder] --> <th width="110px">20¢ to:</th><!-- [et_pb_line_break_holder] --> </tr><!-- [et_pb_line_break_holder] --> <tr><!-- [et_pb_line_break_holder] --> <td><div class="col1"><a href="https://record.commission.bz/_BhTQDVOVie23_O3IiMN7EWNd7ZgqdRLk/1/"><!-- [et_pb_line_break_holder] --> <img src="https://www.predictem.com/wp-content/uploads/2018/06/SportsBettingDark.png" width="150" alt="SportsBetting" /></a><!-- [et_pb_line_break_holder] --> </div></td><!-- [et_pb_line_break_holder] --> <td>-200</td><!-- [et_pb_line_break_holder] --> <td>-279</td><!-- [et_pb_line_break_holder] --> </tr><!-- [et_pb_line_break_holder] --> <tr><!-- [et_pb_line_break_holder] --> <td><div class="col1"><a href="https://www.predictem.com/betting-sites/heritage-sportsbook/"><img src="https://www.predictem.com/wp-content/uploads/2018/06/heritage-xs.png" width="150" alt="Heritage" /></a></div></td><!-- [et_pb_line_break_holder] --> <td>-200</td><!-- [et_pb_line_break_holder] --> <td>-240</td><!-- [et_pb_line_break_holder] --> </tr><!-- [et_pb_line_break_holder] --> <tr><!-- [et_pb_line_break_holder] --> <td><div class="col1"><a href="https://affiliates.5dimes.eu/tracking/Affiliate.aspx?idBook=1&mediaTypeID=220&AffUrlID=80&LandingPageID=2"><img src="https://www.predictem.com/wp-content/uploads/2018/06/5Dimes_sm.png" width="150" alt="5Dimes" /></a></div></td><!-- [et_pb_line_break_holder] --> <td>-195</td><!-- [et_pb_line_break_holder] --> <td>-266</td><!-- [et_pb_line_break_holder] --> </tr><!-- [et_pb_line_break_holder] --></table> <!-- [et_pb_line_break_holder] --><div class="widget-footer"><a href="https://www.predictem.com/best-sportsbooks/mlb-dimeline/">See all Dimeline Sportsbooks</a></div><!-- [et_pb_line_break_holder] --></div><!-- [et_pb_line_break_holder] --><!-- [et_pb_line_break_holder] --><style><!-- [et_pb_line_break_holder] --> #dimeline {border: 0px;}<!-- [et_pb_line_break_holder] --> #dimeline th{color:#000;}<!-- [et_pb_line_break_holder] --> #dimeline td{padding: 2px; text-align: center;}<!-- [et_pb_line_break_holder] --> #dimeline td, #dimeline th{padding: 8px 2px; text-align: center;border-bottom: 1px solid #bbb;}<!-- [et_pb_line_break_holder] --> .img-hover {border: 1px solid #fff; padding:5px}<!-- [et_pb_line_break_holder] --> .img-hover:hover {background: #edeef0; border: 1px solid #008156; margin-top:1px; padding:5px}<!-- [et_pb_line_break_holder] --></style>
<div style="width:340px; margin: 0 auto;"><!-- [et_pb_line_break_holder] --> <a class="twitter-timeline" data-width="340" data-height="500" data-link-color="#008156" href="https://twitter.com/PredictemPicks?ref_src=twsrc%5Etfw">Tweets by PredictemPicks</a> <script async src="https://platform.twitter.com/widgets.js" charset="utf-8"></script><!-- [et_pb_line_break_holder] --></div>