Toronto Blue Jays vs. Boston Red Sox Pick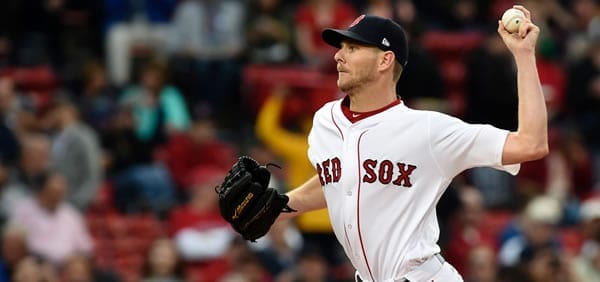 Toronto Blue Jays (27-48) at Boston Red Sox (41-35)
When: 7 p.m., Friday, June 21
Where: Fenway Park, Boston
Moneyline: TOR +290/BOS -340 (MyBookie)
Runline: Jays +1.5/Sox -1.5
Total: 8.5
Starting Pitchers: Trent Thornton (2-5, 4.36 ERA, 1.40 WHIP) vs. Chris Sale (3-7, 3.49 ERA, 0.97 WHIP)
Support Welcomed
See what happens when Chris Sale actually gets some offense behind him? Sale has been perhaps the most snakebit pitcher this year, as Boston hasn't given him much of anything in the way of run support to back up his strong efforts. Prior to June, Sale was 1-7, despite allowing more than four runs in a start on just one occasion. But in his past two road starts against Kansas City and Baltimore, Sale's dominance was finally rewarded. Against the Royals, Sale went the distance in an 8-0, 12-strikeout performance, and he was almost as strong in a 7-2 in over the Orioles where he struck out 10.
In fact, missing bats has been a Sale specialty, as he's fanned at least 10 hitters in eight of his past nine appearances. But because the Red Sox haven't been able to produce much of anything in the way of offense for Sale, the Red Sox are just 5-4 in that stretch. The plus side for Boston is that when they do give Sale support, the Red Sox are rewarded: since April 16, five runs have been enough for Boston to win in every game that Sale has pitched.
STOP LOSING TODAY! START WINNING WITH DOC'S TEAM OF PROFESSIONALS! GET A FREE NO STRINGS ATTACHED $60 FOR THIS WEEKEND'S GAMES!
Big Game Hunter
Trent Thornton hasn't been great this year, but he hasn't been bad either, and he's saved his best for when the Blue Jays face one of the stronger teams in the American League. Case in point, his most recent game against Houston saw him scatter six hits without giving up a run to the powerful Astros, as the Blue Jays blew to a 12-0 win against what's normally one of the best squads in the game. Against the Yankees, Thornton wasn't as sharp, but he got the job done well enough to give the Jays a chance to win, and the Jays did exactly that, winning 11-7 over New York at home.
Can he keep it up against Boston? Past performances say that it's possible, but it's going to be a challenge. Against lesser teams, such as Baltimore and San Diego, Thornton has pitched decently, if not spectacularly. In both games, he held his opponents to three earned runs, but with the Jays' offense unable to make up the deficit, Toronto left each game with a loss.
Patience Is a Virtue
One of Thornton's biggest weaknesses as a pitcher is his tendency to walk batters. In his past five starts, he's put three batters on each time, and he's had a few games where he's walked five hitters. He's gotten away with it for the most part, but there's very real reason to doubt that he can do the same against Boston.
Why? The Red Sox are as patient as it gets at the plate. Boston leads all of baseball in walks with 302, making it very likely that the Red Sox will wait Thornton out and pounce on a mistake. Given his tendency to put batters on, if the mistake comes with runners on, the game could turn into a blowout on one swing.
The Historicals
These teams don't play low-scoring affairs. In six meetings this year, the Red Sox lead the series 4 to 2, and every game has seen at least 10 runs cross the plate. The most recent meetings were the two lowest-scoring games of the year between the two, but they ended at 6-5 for the Red Sox and 8-2 for Boston, suggesting that at least one team is going to find a way to solve its pitching opponent.
Betting Trends
The Blue Jays have lost their past four Friday games.
The Red Sox have won seven of their past eight.
Boston is 4-1 in its past five against its AL East rivals.
The Blue Jays have won four of Thornton's past five starts on grass.
The over is 7-1-1 in the Blue Jays' past nine games.
The over is 4-0 in Sale's past four starts on at least five days' rest.
Weather Report
At 62 degrees, this will be an excellent night for baseball in Boston.
Dan's pick
There's little reason to believe in the Blue Jays here. Toronto has been a horrible team all season long at 21 games under .500, Sale has pitched very well when he's gotten some offense, and in Thornton, the Jays are sending a starter to the mound whose biggest weakness plays right into Boston's hands.
Throw in that this game is at Fenway, and the only real question is whether it's best to take the over or gamble that the Red Sox will cover the run line to make this game worth your while. Honestly, I think it's best to bet the over here given these teams' tendencies to score when facing off against each other. But if you need to bet a winner, go with the Red Sox on the run line to give this game some juice. Or even better, if your casino allows you to pair the over/under with the result, bet the over with the Red Sox on a parlay to give this game a nice return.
TIRED OF YOUR CREDIT CARD NOT WORKING AT SPORTSBOOKS? IT WILL AT MYBOOKIE+ GET a $1000 Free Play!