Toronto Blue Jays vs. LA Angels Pick 8/11/21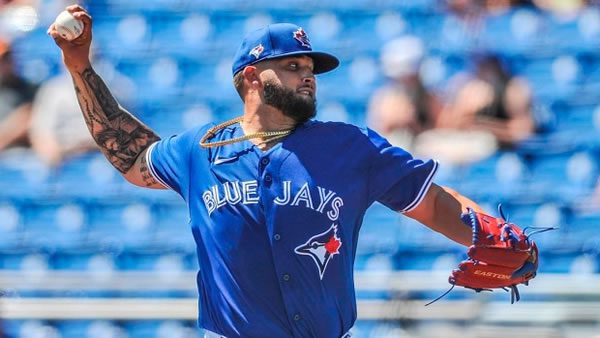 Toronto Blue Jays (61-51) vs. Los Angeles Angels (57-57)
When:
9:40 p.m., Wednesday, August 11
Where:
Angel Stadium, Anaheim, Calif.
Moneyline:
TOR -180/LAA +165
Runline:
Blue Jays -1.5/Angels +1.5
Total:
9.5
(
Risk less per bet
>>> It makes NO sense to overpay for odds!)
Starting Pitchers: Alek Manoah (4-1, 2.58 ERA, 1.01 WHIP) vs. Dylan Bundy (2-8, 6.14 ERA, 1.36 WHIP)
Regression Past the Mean
One of the things the 60-game sprint did last season was it gave us some questionable stats at the end of the season, so much so that it's often been better to just ignore them and look at their most recent numbers over a full season. Dylan Bundy is a classic example, as he posted a 3.29 ERA last year in his first season with the Angels, nearly a full run better than his previous career-high.
But the number was inflated by getting to face off against only the West in a 60-game sprint because not only was he pitching in a small sample size, but the AL West was awful in 2020, as Oakland was the only team that even played .500 baseball. This year, Bundy is seeing the hitters in the AL East and Central again, and they've pounded him with a vengeance. His ERA is almost three runs higher than it was in 2020, and it's really been a problem at home, where he's got an ERA of 6.75. He pitched better in his most recent start, but it also brings an asterisk because it was against Texas, and at this point, the Rangers look more like a Triple-A team.
Light-Hitting Halos
When the Angels are involved, you always have to account for Shohei Ohtani doing something at the dish. But other than that, there really isn't much in the Angels' lineup that can hurt you, given that Mike Trout is out of action.As such, going under on the Angels has proven a viable strategy as of late. Los Anaheim has been held to three runs or less in nine of its last 12 outings, and once again, two of the exceptions get a Texas-sized asterisk. This really isn't a heavy-hitting team, and it's one that leaves a lot of chances on the basepaths. Bundy's most recent start showed several of the Angels' problems: they managed to bring home five runs, but they also left 17 men on the basepaths in a game that could have been a true rout. It didn't end up hurting them because the Rangers never responded, but against a better team, those wasted chances can really hurt.
More Picks: NASCAR's Verizon 200 at the Brickyard Race Analysis & Predictions
Learning to Travel
Alek Manoah is showing signs of becoming an excellent pitcher and a fixture in the Blue Jays rotation. The young Jays look like they could contend in the AL East for quite a while, and that possibility is becoming more of a reality as their pitching staff starts to catch up to their hitters.
However, Manoah has to get settled down on the road because his past two trips away from home haven't gone particularly well. He did strike out nine against the Rays at the Trop, but he also only made it through 3.2 innings, and Tampa Bay took a 7-1 decision. Beyond that, he had real problems at Camden Yards, but the offense bailed him out by blasting the Orioles for ten runs after he gave up five to Baltimore in just 3.1 innings of work.
Manoah hasn't been completely helpless away from "home" (technically, every game but one could be considered an away start for him, as the Blue Jays only got to enter Canada in August), as his previous three starts yielded a combined ten hits and two runs in wins over the White Sox and Yankees and a 2-1 loss to Boston. But the consistency hasn't been there yet away from home, a trademark of a young pitcher.
Betting Trends
The Blue Jays are 5-1 in their past six against a team with a winning record.
The Blue Jays are 4-1 in their past five against the AL West.
The Angels are 1-5 in their past six against a team with a winning record.
The Angels are 2-6 in their past eight against a right-handed starter.
The under is 5-1 in the Blue Jays' past six road games.
The under is 9-3 in the Blue Jays' past 12 games after a win.
The under is 5-2 in the Angels' past seven games overall.
The under is 9-4 in the Angels' past 13 games against a right-handed starter.
The Angels are 6-2 in the past eight meetings in Anaheim.
The under is 5-2 in the past seven meetings in Anaheim.
Weather Report
It's going to be fairly comfortable in Southern California, as temperatures are set to hit 81 degrees with a mild breeze of eight miles per hour blowing to straight center field.
Dan's Pick
The Angels aren't scoring many runs right now, and they're a team that tends to beat the teams they should beat while losing to the teams that are at or above their level. Toronto is surging at the moment, having just pulled itself to only 2.5 games back of Boston, and the Jays should be able to ride Manoah and the offense to a fine performance here.
I'll take the Jays to get the win and do it on the run line. Bet your MLB picks FREE this week by taking advantage of a 100% bonus on your first deposit of $100 to $300 at MyBookie Sportsbook! (Must use bonus code PREDICT100).