MLB Pick: Washington Nationals at Chicago Cubs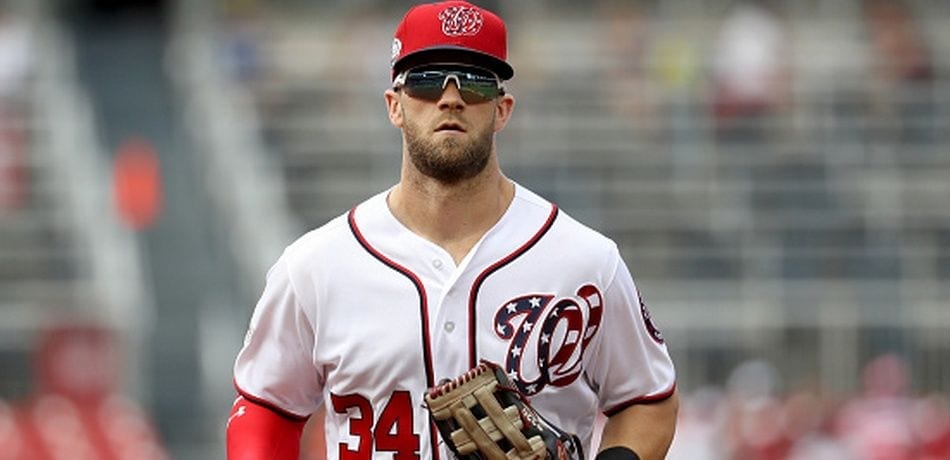 Washington Nationals @ Chicago Cubs (8/11/18)
Time: 4:05 PM ET
Where: Wrigley Field. Chicago, Illinois.
Listed Pitchers: Roark (WSH) & Lester (CHC)
TV: FS1
Moneyline: WSH (+120 @ 5dimes Sportsbook) / CHC (-125 @ Sportsbetting.ag )
Saturday's late-afternoon game between the Washington Nationals and Chicago Cubs is the second game of a three-game set at Wrigley Field. The Cubs took game one last afternoon in a tight 3-2 contest. This game will be the second of seven meetings between these two National League clubs on the season. The series finale will be on ESPN at 8 o'clock Sunday night, with Scherzer and Hamels facing off.
Cubbies fight back to take Game #1
Washington's shoe-in Rookie of the Year winner, Juan Soto (.309 AVG, 14 HR, 41 RBI & .428 OBP) got the scoring under way with an RBI-single in the top of the first inning Friday afternoon. Then, Adam Eaton (.302 AVG, 3 HR, 20 RBI & .386 OBP) tacked on another run with an RBI-single of his own in the top of the second to give the Nats a 2-0 lead at Wrigley Field. The lead would last until the bottom of the sixth inning, when Jason Heyward (.281 AVG, 7 HR, 48 RBI & .346 OBP) knotted things up with a two RBI-single for the Cubbies. Lastly, Anthony Rizzo (.264 AVG, 17 HR, 75 RBI & .362 OBP) drew an RBI-walk off Greg Holland in the bottom of the seventh which proved to be the winning run for the hometown team. Washington's Jeremy Hellickson (5-2, 3.54 ERA & 1.07 WHIP) earned a no-decision despite having a no-hitter thru 5 2/3 innings, while Chicago's Kyle Hendricks (8-9, 4.02 ERA & 1.21 WHIP) had the same fate. Hendricks struck out five and allowed two earned runs on eight hits over six frames. Chicago's Steve Cishek (3-1, 1.87 ERA & 1.02 WHIP) was credited with the win and Pedro Strop (2.68 ERA & 1.06 WHIP) earned his ninth save of the year. Washington reliever Sammy Solis (1-2, 4.72 ERA & 1.37 WHIP) gave up a run on two hits in one-third of an inning to take the loss for the visitors.
How're they doing?
With the loss, Washington's fallen to 59-57 (.509) overall. Consequently, the Nationals are in third place in the National League East Standings. In order to secure a third straight Division crown, the Nats have some work to do down the stretch. They're six games behind NL East leader Philadelphia with just 46 games left in the Regular Season. The playoffs are in question for the Nats as well, as they're five games behind Atlanta for the second and final NL Wild Card spot. A lot of people are counting the Nationals out, but they've got the pitching and winning pedigree in the locker room to make a comeback here if they can get rolling expeditiously. Washington's scored 529 runs (5th NL) and allowed 463 (3rd NL). Their +66 run differential is fifth-best in the National League. On the road, the Nats are .500 (29-29) thus far. However, Washington's 4-1 in their last five versus NL Central teams and 4-1 in their last five versus left-handed starting pitchers. In their last ten games, the Nationals are 7-3.
Chicago increased its lead in the NL Central with Friday's win over Washington to 2.5 games over Milwaukee. At 67-48 (.583), the Cubbies own the best record in the National League and fourth-best overall in MLB. The Cubs are 36-21 (.632) at home, which is the second-best home record in the NL. Their prolific offense has scored 568 runs this season, which is ranked number one in the NL. Pitching has been a slight weakness for the Cubs as they've allowed 471 runs (6th NL) thus far. Chicago's +97 run differential is second-best in the NL behind the LA Dodgers.
Roark vs. Lester
Red-hot Tanner Roark gets the nod for the Nats in this one. In his last three starts, Roark's 3-0 with a 0.82 ERA and 0.68 WHIP. He's allowed only two runs in his last 22 innings, sporting a breathtaking 20:1 strikeout to walks ratio. Overall, Roark's had a poor year posting a 6-12 record coupled with a 4.21 ERA and 1.28 WHIP. For his career against the Cubs, Roark's 4-2 with a 4.11 ERA and 1.31 WHIP. At Wrigley Field, Roark's 3-1 with a 3.24 ERA and 1.32 WHIP.
Jon Lester (12-4, 3.44 ERA & 1.29 WHIP) is slated to start for the Cubs Saturday. In 12 starts at Wrigley Field this year, Lester's 5-2 with a 3.41 ERA and 1.36 WHIP. He's made eight career starts against the Nationals, posting a 2-1 record with a 2.62 ERA and 1.02 WHIP. In three career starts versus the Nats at Wrigley Field, Lester's 0-1 with a 2.63 ERA and 1.05 WHIP. Lately, Lester's struggled mightily. In his last four starts, Lester's 0-2 with an 8.53 ERA and 1.89 WHIP.
Where's the value?
Under the current circumstances, Washington has a 60% chance to snag a much needed "W" on the road here against the NL's best. Roark's been the best pitcher in the league for his last three starts, which is clearly unsustainable and almost laughable. However, the numbers don't lie. Roark has been brilliant the past few weeks, while Lester has been the opposite of brilliant to say the least. The Nationals are the more desperate team, close to being in dire straits down the home stretch of the season. A mixture of desperation and hot-pitching is enough incentive to back the Nats here. They're a +118 underdog, which means they'd need to win this one 45.9% of the time to make betting on them profitable. Consequently, we have a sizable 14.1% edge against the number by taking them on the money line. As the great Bob Barker said: "The price is right, Happy." Let's buy the desperate dog at the +118 price tag in this one. Pick: Washington Nationals +118