Washington Nationals vs. Houston Astros Pick – Game 2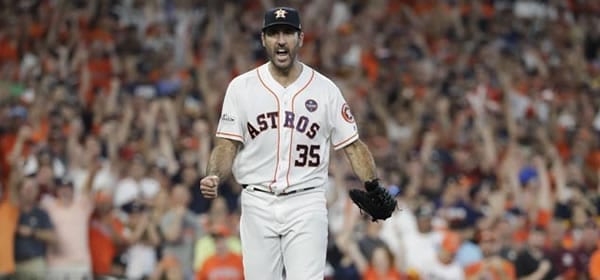 Washington Nationals (101-71) vs. Houston Astros (114-60)
When: 8:08 p.m., Tuesday, October 23
Where: Minute Maid Park, Houston
TV: FOX
Moneyline: WSH +165 / HOU -175 (5Dimes)
Runline: Nationals +1.5/Astros -1.5
Total: 7.5
Starting Pitchers: Stephen Strasburg (18-6, 3.32 ERA, 1.04 WHIP regular season; 3-0, 1.64 ERA, 0.86 WHIP) vs. Justin Verlander (21-6, 2.58 ERA, 0.80 WHIP regular season; 1-2, 3.70 ERA, 1.07 WHIP postseason)
Over Before It Starts?
We're only at the second game of this series, but Houston already finds itself in a must-win situation. With Gerrit Cole already a loser in Game 1 and unable to realistically pitch again until a possible short-rest appearance in Game 4, the Nationals have now taken down one of the Astros' two pocket aces. If Washington can best Justin Verlander as well, that forces Houston to have to win either Zack Greinke's start or a bullpen game just to get the series back to one of their aces. Lose a second game at home, and the Astros face a spot where they've got to win two of three to stay alive.
That begs the question as to where their mental mindset is before this contest. Houston just saw the guy who had been their best pitcher lose a tight duel against Max Scherzerat home, and now the Astros have to pick up and rebuild in a hurry.
The Wait Ends
This is the game that Stephen Strasburg was always meant to pitch when the Nationals drafted him. Washington made several decisions that were based entirely around Strasburg's well-being, even shutting him down and costing themselves a chance at the World Series in 2012. The Nationals players today say they wouldn't be here if they hadn't done that, but there is obviously no way to prove that to be the case. The only thing Strasburg can prove is that he belongs on this big stage now, and he can do that by matching the performance he gave against St. Louis. When the Nationals needed it most, Strasburg was steel, striking out 12 and allowing Washington to best Jack Flaherty, who had been the National League's hottest pitcher for the past two months.
Verlander's been the AL's best pitcher for several years now, so this is a much greater challenge. It's one Strasburg can handle, but it remains a huge task.
More Picks: Thursday's Redskins vs. Vikings Spread Pick
Tired Bullpen
Daniel Hudson isn't supposed to come in before the ninth inning. He's certainly not supposed to come in during the seventh inning to try to save the day after the Nationals' bullpen again made a mistake and nearly allowed George Springer to bring the Astros back into the World Series opener.
The Nationals pulled out Game 1, but it came with a cost. What do the Nats do now that they're going to be down one of their ace relievers in the second contest? Washington wants to keep the bullpen out of this contest, if at all possible. So, that means they have to get a big performance from Strasburg. Look for Houston to execute the same plan it did in Game 1: extend the count. If Houston can limit Strasburg to a mere six innings, that's three non-starter innings that the Astros have to come back from a deficit.
Betting Trends
The Nationals are 10-1 in Strasburg's last 11 starts against AL opposition.
The Nationals have won six straight against the American League.
The Astros are 18-6 in Verlander's last 24 home starts.
The Astros are 6-1 in their past seven games after a playoff loss.
The under is 9-2 in the Nationals' past 11 against the AL West.
The under is 7-1 in Verlander's past eight Wednesday starts.
Weather Report
With temperatures expected to be at 80 degrees, it'll be a game-time decision as to whether to close the roof.
Dan's pick
One thing about the Astros is that they rarely lose back-to-back games, and they're even more unlikely to do that at home. Don't forget that Houston is a great team that knows what it takes to win a World Series, and the Astros will still have a great shot to get the win they need to make this a series again.
As great as Washington and Strasburg have been this year (fun fact: Washington and Strasburg are the two cities on the opposite ends of Interstate 66; why has Strasburg not picked up a nickname like that yet?), Verlander is the Astros' ace for a reason. When he's on, he remains as unhittable as ever. This game will be low-scoring, but the best bet here is on Houston. Because the price is so high, maybe consider the runline, where either team represents a good play, as the Astros are likely to win a tight battle.
Give me the Astros to even the series.
STOP LOSING TODAY! START WINNING WITH DOC'S TEAM OF PROFESSIONALS! GET A FREE NO STRINGS ATTACHED $60 FOR THIS WEEKEND'S GAMES!