1000Bulbs.com 500 Analysis & Picks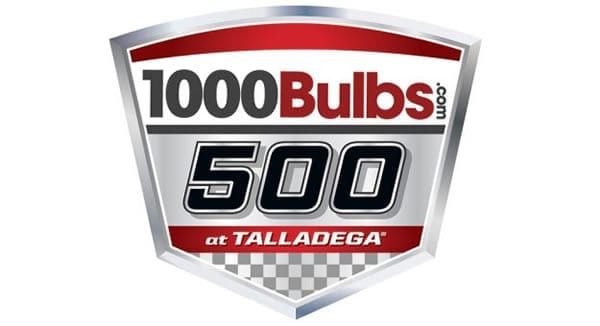 Race: 1000BULBS.COM 500
Date: Sunday October 13, 2019
Track: Talladega Superspeedway
Time: 2:00pm ET
Channel: NBC
What Did We Learn From Last Weekend?
And he did it! Kyle Larson put an end to a 75 race winless streak at the Monster Mile this past Sunday for the track's 100th race! The funny part here is that no one was surprised. Larson has eons of talent but just always fell short in terms of the cars he was given if I'm completely honest. This kid is good. He's had 9 runner up finishes since his last win at Richmond in late 2017. NINE! That's bonkers. Larson earned this win by keeping Martin Truex Jr. at bay and leading 154 total laps for the day. He was only bested in that department by Denny Hamlin, who led a total of 219, but faded later in the race. Larson hit the nail on the head, though, when he told reporters that one of the best things about this win is that he will be one of the only drivers not stressed as they head to Talladega this weekend. When Talladega is on the schedule, no one is safe. Honestly, you never know what is going to play out when we head to those super speedways, and there's generally mass carnage.
There were a few drivers who didn't have much to celebrate after Dover. Both Chase Elliott and Joey Logano suffered early. In fact, Logano's race literally ended before it even started as the rear axle on his No. 22 Ford broke before the race began. Although the team got it replaced, it didn't matter. He ended up over 20 laps down and came home 34th. Chase Elliott suffered even worse when his motor blew just laps into the race. He came in dead last. Right now, that puts Elliott and Logano in the company of Clint Bowyer and Ryan Blaney as the four drivers on the bubble. That's certainly going to be something to consider heading into Talladega. Being that this race is typically a crapshoot, it's going to be even more imperative to run for the win or at least be consistent enough to stay at the front of the pack, which can be a dangerous thing.
Where Are We Headed This Weekend?
Talladega is a race that no one can truly predict. We have quite a few drivers that excel at these super speedways, but on the flip side, we also have that inevitable "big one" that takes out the ones that we were counting on. If we're honest, Aric Almirola is the defending race winner here. That said, Almirola is a good driver, but he's not one that we'd probably put as our number one pick at any given track. That goes to show that you never know what you're going to get here. This place is a 2.66-mile asphalt tri-oval with 33-degree banking in turns 1/2, 32.4 degrees in turn 3, and 32.5 degrees in turn 4. The tri-oval boasts 16.5 degrees of banking, just enough for those drivers to keep their foot to the floor throughout the entire track. It's a track where drafting is king. Drivers need to make sure that they have friends before they are left out to dry and end up laps down due to losing the draft. While tires are very important here, keeping track position can be even more critical. If the drivers can stay with the draft, they are typically able to maintain position, at least on the shorter runs, despite older tires. On the longer runs, those fresh tires are extremely important. Drivers can hash seconds from their lap times with fresher tires and move through the draft. Another key element here are pit road penalties. Namely, speeding on pit road gets the drivers here. Much like every other aspect of this track, pit road is big. There aren't many issues of drivers getting in each other's ways, but it's typically a gaggle trying to get on pit road all at once, leading to someone going just over that pit road speed.
DEPOSIT $100 AND GET A $100 FREE PLAY AT MYBOOKIE!
Odds And Potential Winners
This wild card race is going to be spectacular. When it comes down to picking the winner, I'm not going to sugar coat it. The Penske garage is where it's at. The horsepower is still impressive from that garage. If they can keep axles from snapping before the race starts, they might just have a chance! Actually, I think it's going to be quite the tossup between Keselowski and Logano, but overall, Logano will edge Keselowski in this one. Let's take a look at your potential winners heading into this weekend's restrictor-plate race:
Winner: Joey Logano (8/1)
Middle of the Road: Ryan Newman (30/1)
Dark Horse: Aric Almirola (20/1)
Okay, okay. I know I said that Almirola isn't who we'd likely pick, but this is Talladega. Being that he's the defending champion of this race on top of 7 top10 finishes in his last ten restrictor-plate races overall, he will be a force to be reckoned with. Ryan Newman is also a driver to watch. Neither he nor Almirola has anything to lose being that they are no longer in contention for the championship. All that matters are the wins for them. He's not far behind Almirola with a pretty strong 7 top 10 finishes out of his last 11 restrictor-plate races. Hey, what's to lose with 30-1 odds? You might just make some nice pocket change if Newman is able to take advantage of any of the unpredictable-ness of Talladega. They are all going to be chasing the current odds favorite Joey Logano (8/1), though. Although Logano doesn't necessarily need to win to move on, he's definitely got to have a solid finish. A win is definitely not out of reach at this particular track for him. I think that he will be strong and determined in Sunday's race. I also believe that he will be methodical in his moves to ensure that he doesn't ruin his day. Let's take a look at our championship contenders moving into Sunday's big race.
Martin Truex Jr. (25/1)
Denny Hamlin (12/1)
Kyle Busch (14/1)
Kevin Harvick (14/1)
Kyle Larson (25/1)
Brad Keselowski (7/1)
Alex Bowman (16/1)
William Byron (20/1)
Joey Logano (8/1)
Clint Bowyer (16/1)
Chase Elliott (14/1)
Ryan Blaney (16/1)
Elliott is going to have a lot of work to do this weekend if he plans on moving into the next stage. He is currently sitting 70 points behind Truex Jr. Now, he's got quite a strong record at Talladega, so he will probably be making big moves on Sunday. The question will be, are they smart moves? There are going to be several different strategies implemented if I had to guess as many drivers have different goals moving forward. Some have nothing to lose and just want the win. Some are going for that next stage and need either an unattainable amount of points or a win. Some are simply hanging tight until the next stage because they're already guaranteed a spot. This means that we will see varying strategies throughout the day at Talladega. Some will make off sequence pit stops, but most will likely follow the draft. This weekend is destined to be exciting. Stay tuned for a great afternoon of racing this Sunday at Talladega! Bet the 1000Bulbs for FREE by taking advantage of a generous 50% REAL CASH BONUS at Bovada Sportsbook!