[et_pb_dcsbcm_divi_breadcrumbs_module hide_homebreadcrumb="off" homebreadcrumbtext="Home" separator="sep-raquo" hide_currentbreadcrumb="off" homebreadcrumborientation="left" _builder_version="3.8″ fontsbreadcrumbs_font="Lato||||||||" fontsbreadcrumbs_text_color="#000000″ fontsbreadcrumbs_font_size="15px" fontsbreadcrumbs_line_height="16px" fontsseperator_font="||||||||" fontsbreadcrumblinks_font="||||||||" fontsbreadcrumblinks_text_color="#2567cf" custom_margin="25px|||" custom_margin_phone="30px|||" custom_margin_last_edited="off|desktop" custom_css_main_element="font-family: Helvetica Regular;" global_module="3641″ saved_tabs="all"][/et_pb_dcsbcm_divi_breadcrumbs_module]
Bass Pro Shops NRA Night Race Picks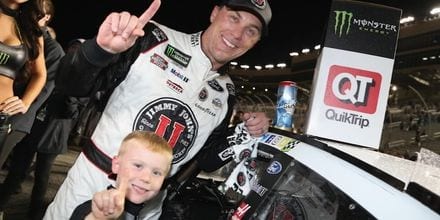 Race: Bass Pro Shops NRA Night Race
Date: Saturday August 18, 2018
Track: Bristol Motor Speedway
Time: 7:30pm ET
TV: NBCSN
by Virginia Vroom, NASCAR Handicapper, Predictem.com
If Kevin Harvick's son isn't one of the cutest things I've seen in a long time, then I don't know what is! As predicted, Harvick took the win at Michigan, his seventh of the season. It's a relatively unprecedented amount of wins, coming only second to two drivers in Cup history, including Kyle Busch. Overall, Harvick has shown that he's not one to mess with. He dominates not only by winning, but also by taking stage points and leading the most laps. He's not just lucky and doesn't just happen to be in the right place at the right time. Harvick's pure dominance is reminiscent of Jimmie Johnson's performance over several years worth of racing. If Harvick stays true to form, there's no one else that really deserves the championship this year.
Michigan proved to be a cake walk for Harvick. He took the checkered flag with over a 3 second gap to runner-up Brad Keselowski. Keselowski was nothing short of pleased with his results, as the team has recently struggled to get the finishes that he thought they deserved. For the Penske team, it was a solid morale booster, but Michigan and the bigger tracks should really be a solid playing ground for that whole garage, as horsepower plays a large role. Perhaps one of the more entertaining portions of a relatively mundane race was the victory celebration, where Harvick's son, Keelan, ran across the track to grab the checkered flag and then proceeded to take the victory lap with his dad around the track. How cool that the kids get to experience something as awesome as that! And how great of Kevin Harvick to keep Keelan involved in all aspects of his life and drive that passion for Keelan. That boy knows what victory smells like before most people can even drive a car!
It'll be interesting to see if Keelan and his dad can pull a repeat performance this weekend as the drivers head to the fastest half mile track around. Bristol is a much different track than most of the short tracks. It's got banking, unlike Martinsville, so the speeds are much faster and the drivers can run maybe a groove more than they can at other short tracks. Bristol is a one-half mile concrete oval, with 26-30 degree banking in the turns and 6-10 degree banking across the straights. It's a track that tends to be tough on tires and requires a lot of skill to maneuver around. A driver must be defensive but aggressive at the same time. Pit strategy is everything here. With the pits being small, drivers and teams must be careful not to overshoot pit boxes and also to whoa up for pit road in time. We see a lot of drivers with pit road penalties here, which can easily make or break it for the win.
The attrition rate for drivers at Bristol tends to run high. Because of its unique configuration in terms of short tracks, Bristol takes a high number of prisoners. Few, if any, end up coming out of this race with a car that doesn't have a donut on the door or some sort of dent or ding in the quarter panels. Overall, the mix of defensive and aggressive driving is a perfect combination for none other than Kyle Busch. He's got Bristol down to a science. With his skills of staying out of trouble here, I think that Bristol will most definitely be a place where he thrives and tries to catch up to Harvick's wins this season. He will have some stiff competition, but Bristol tends to be the Talladega or Daytona of the short track world, where drivers just never know what they're going to be served. Here's a look at your potential winners heading into this Saturday's race:
My Pick to Win: Kyle Busch
Middle of the Road Pick: Kyle Larson
Dark Horse Prediction: Erik Jones
I was debating hard with the dark horse between Erik Jones and Aric Almirola. I went with Jones because he led 260 laps of the last Bristol night race and really had a strong car. Aric Almirola, on the other hand, is becoming a better driver week in and week out with SHR and surely performs well on the short tracks. When it comes down to the nitty-gritty, though, I think that Jones will outdrive Almirola. Kyle Larson took second place here in the Spring race and has led 70 or more laps in his last three races here. I think that Larson has a very solid chance of getting a win here. There's something about Bristol that he's got figured out. He will have to take the win away from Kyle Busch, but I think if it came down to it, we'd see some serious action on the last lap between these two. For Larson, he's looking to get into the Chase. For Busch, he's looking to defend his honor and get back atop Harvick with Chase points.
Here are your current top 16 after last week's race:
Compare odds in real time at lowest margin racing books 5dimes and Sportsbetting.ag 
1. Kyle Busch
2. Kevin Harvick
3. Martin Truex Jr.
4. Kurt Busch
5. Clint Bowyer
6. Joey Logano
7. Brad Keselowski
8. Ryan Blaney
9. Denny Hamlin
10. Kyle Larson
11. Chase Elliott
12. Aric Almirola
13. Erik Jones
14. Jimmie Johnson
15. Alex Bowman
16. Ricky Stenhouse Jr.
The guys at the bottom of that list are still clinging onto Chase hopes, but their time is running short. I still am a little shocked at Jimmie Johnson's struggles this year, but we all know that the Chevy teams have had obstacles to overcome in terms of performance and finding that sweet spot with their cars. That being said, seems like everyone is chasing the Toyotas this year. They are going to be chasing Kyle Busch right on over to victory lane if he has anything to do with it this weekend! Stay tuned for a GREAT Saturday night of racing at Bristol Motor Speedway!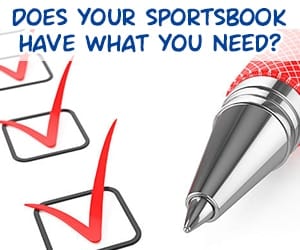 <div class="widget105"><!-- [et_pb_line_break_holder] --><h4 class="parlays">Best Parlays</h4><!-- [et_pb_line_break_holder] --><!-- [et_pb_line_break_holder] --><table id="parlay"><!-- [et_pb_line_break_holder] --> <tr><!-- [et_pb_line_break_holder] --> <th><span class="team"></span></th><!-- [et_pb_line_break_holder] --> <th>2 Team Parlay</th><!-- [et_pb_line_break_holder] --> <th>3 Team Parlay</th><!-- [et_pb_line_break_holder] --> <th>4 Team Parlay</th><!-- [et_pb_line_break_holder] --> </tr><!-- [et_pb_line_break_holder] --> <tr><!-- [et_pb_line_break_holder] --> <td><a href="https://affiliates.sportbet.com/tracking/Affiliate.aspx?idBook=2&mediaTypeID=220&AffUrlID=80&LandingPageID=55"><img src="https://www.predictem.com/wp-content/uploads/2018/06/sportbet-sm.png"></a></td><!-- [et_pb_line_break_holder] --> <td>2.74 to 1</td><!-- [et_pb_line_break_holder] --> <td>6.24 to 1</td><!-- [et_pb_line_break_holder] --> <td>13 to 1</td><!-- [et_pb_line_break_holder] --> </tr><!-- [et_pb_line_break_holder] --> <tr><!-- [et_pb_line_break_holder] --> <td><a href="https://record.bettingpartners.com/_5vfuDOH_H2wWPf2JTsWUjGNd7ZgqdRLk/1/"><img src="https://www.predictem.com/wp-content/uploads/2018/06/bovada_sm.png"></a></td><!-- [et_pb_line_break_holder] --> <td>2.64 to 1</td><!-- [et_pb_line_break_holder] --> <td>6 to 1</td><!-- [et_pb_line_break_holder] --> <td>12.3 to 1</td><!-- [et_pb_line_break_holder] --> </tr><!-- [et_pb_line_break_holder] --> <tr><!-- [et_pb_line_break_holder] --> <td><a href="https://record.webpartners.co/_jGZUKO3JWgwmunhzcKAZ62Nd7ZgqdRLk/1/"><img src="https://www.predictem.com/wp-content/uploads/2018/06/mybookie-sm.png"></a></td><!-- [et_pb_line_break_holder] --> <td>2.64 to 1</td><!-- [et_pb_line_break_holder] --> <td>6 to 1</td><!-- [et_pb_line_break_holder] --> <td>12 to 1</td><!-- [et_pb_line_break_holder] --> </tr><!-- [et_pb_line_break_holder] --></table><!-- [et_pb_line_break_holder] --><div class="widget-footer"><a href="https://www.predictem.com/best-sportsbooks/parlays-odds/">See all Sportsbook Parlays</a></div><!-- [et_pb_line_break_holder] --></div><!-- [et_pb_line_break_holder] --><!-- [et_pb_line_break_holder] --><!-- [et_pb_line_break_holder] --><style><!-- [et_pb_line_break_holder] --> #parlay {border-collapse: collapse;<!-- [et_pb_line_break_holder] --> width: 100%; border: 0px;<!-- [et_pb_line_break_holder] --> font-size: 14px!important;}<!-- [et_pb_line_break_holder] --> #parlay td, #parlay th {<!-- [et_pb_line_break_holder] --> border: 0px;<!-- [et_pb_line_break_holder] --> padding: 8px;<!-- [et_pb_line_break_holder] --> text-align: left;}<!-- [et_pb_line_break_holder] --> #parlay th {<!-- [et_pb_line_break_holder] --> padding-top: 5px;<!-- [et_pb_line_break_holder] --> padding-bottom: 5px;<!-- [et_pb_line_break_holder] --> font-weight: bold;<!-- [et_pb_line_break_holder] --> line-height: 14px;<!-- [et_pb_line_break_holder] --> text-align: center;<!-- [et_pb_line_break_holder] --> color: #000;}<!-- [et_pb_line_break_holder] --> #parlay tr {border-bottom: 1px solid #edeef0;}<!-- [et_pb_line_break_holder] --> .team {font-size: 16px;}<!-- [et_pb_line_break_holder] --></style>
<div style="width:340px; margin: 0 auto;"><!-- [et_pb_line_break_holder] --> <a class="twitter-timeline" data-width="340" data-height="500" data-link-color="#008156" href="https://twitter.com/PredictemPicks?ref_src=twsrc%5Etfw">Tweets by PredictemPicks</a> <script async src="https://platform.twitter.com/widgets.js" charset="utf-8"></script><!-- [et_pb_line_break_holder] --></div>