Blu-Emu Maximum Pain Relief 500 Race Picks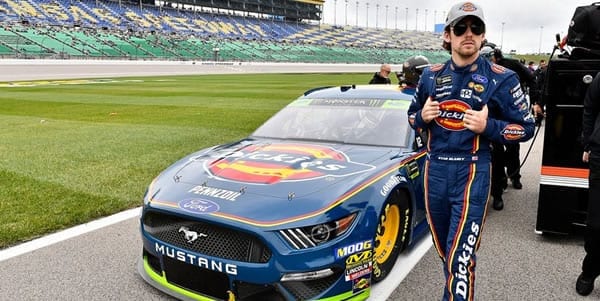 Race: Blu-Emu Maximum Pain Relief 500
Date: Wednesday, June 10, 2020
Track: Martinsville Speedway
Time: 7 pm ET
Channel: FS1
What Did We Learn From Last Weekend?
Well, Kevin Harvick took home the checkered flag after a series of long green flag runs at Atlanta and a dash to the finish for his 2nd victory this season. Overall, it was an excellent day for JGR, with teammates Kyle Busch and Martin Truex Jr. finishing second and third. Truex actually had his first 2 stage wins of the year on Sunday, winning the first and second stages. Unfortunately, he couldn't win the one that mattered the most. Ryan Blaney broke up the JGR train to finish 4th, the best of the Penske team, and the final JGR teammate, Denny Hamlin, who rounded out your top 5 spots. Kurt Busch, Jimmie Johnson, Chase Elliott, Brad Keselowski, and Joey Logano completed your top 10 at Atlanta. For Kurt Busch to have a top 10 after having to start at the rear of the field was impressive, to say the least. Atlanta is a tough track to lose track position on and try to come back. Keselowski had a pit road penalty, so a top 10 was also very respectable considering the circumstances. While Logano was my pick to win, but his team just couldn't get the car adjusted quite right throughout the race. He struggled with handling through a good portion but still came out with a top 10 finish.
Harvick was a favorite to win here, being that this was his first career win in 2001 just three weeks after taking the wheel of Dale Sr.'s car after that fateful Daytona 500. Harvick honored him with a reverse victory lap holding three fingers out of the window. It was a sight to see and one that true NASCAR fans have an appreciation for, regardless of your approval of Harvick winning. It was a nice gesture and definitely brought back memories of the Intimidator himself. Atlanta was a good race. It had only five cautions for 24 laps, so you can imagine why the tires were such an issue. Clint Bowyer struggled with tires shredding and wearing throughout the night, as did several other drivers. It was evident that track position was very important also, with Harvick finishing over 3 seconds ahead of Kyle Busch. If you're wondering, that will not be the case on Wednesday night.
Where Are We Headed This Weekend?
We are heading to Martinsville under the lights this week as the drivers only have a couple of days to breathe before strapping in for a night full of short track excitement. Martinsville is the shortest track on the circuit and one of the most fun to watch in person and on tv. I've been to countless Martinsville races, and let me tell you what; there is action on every single part of the track. The cars have no way to separate, and there is constantly a bid for passing either a competitor or a lap car. That makes it even better. Lap traffic creates a whole extra element these drivers must battle against. With only 800 feet of backstretch and front stretch and only 12 degrees of banking in the turns, it isn't easy to pick up speed and maintain around this place. It tests the drivers' abilities to control their cars and maintain their equipment, most notably their brake systems. With little banking, the drivers can't maintain speed into or out of the corners as they could at Bristol. You'll see minimal full-throttle action at Martinsville, but there's a lot of skill that is required to maneuver successfully around this track. It was fun watching some of the old drivers around this place. Rusty Wallace was notorious for driving with two feet at this track. There was always one foot on the brake and one foot on the throttle. The camera angle showing his foot action was pretty cool to see.
Odds and Value Picks
If I'm honest, I'm going to have to choose a driver that I personally strongly dislike. Denny Hamlin is a heck of a wheelman, but boy, do I dislike his attitude. Regardless, that has no bearing on whether or not he's the best short track driver out there right now. In fact, he's got the best driver rating for short tracks, even better than Kyle Busch, who has only finished outside of the top 5 one time since 2015 at Martinsville. Knowing that fact, you can't discount Busch's charge for a win on Wednesday night. Busch has two wins at this track with the latest coming from the Fall of 2017. Hamlin, on the other hand, has a total of 5 wins at Martinsville. Interesting to note, though, that his latest win is from 2015. Now, while we might consider that being an issue for both drivers, with the Penske drivers being particularly dominant here lately, I think that the way both teams are running so far this year is indicative that either one could easily bring home the win. Hamlin has been a contender in virtually every race run thus far for the win. With his expertise on the short tracks, I think that he will overcome his hump Wednesday night. Here is a quick look at your potential winners:
Favorite: Denny Hamlin (+750). Bet on Denny Hamlin for FREE by taking advantge of a 100% REAL CASH bonus on your first deposit of $100 to $300 at MyBookie! Must use this special activation link to receive the bonus!
Middle of the Road: Clint Bowyer (+1800)
Dark Horse: Ryan Blaney (+1100)
Blaney has been stellar at this track in the past. His last race here, he posted a top 5 finish with a 3rd place finish in both the 1st and 2nd stages. That's nothing to sneeze at. Blaney is proving that he's a force to be reckoned with. This kid could be looking at a win this week if he can stay out of trouble on the track and pit road. Bowyer has a total of 16 top 10s, 6 top 5s, and one win at Martinsville. He's led a total of 572 laps over 28 starts. There's something about this track that really brings out Bowyer's competitive side. Look for him to be lurking in the front of the pack at the end of the race. He'll have to take down Denny Hamlin if he really wants the win. With a total of 1566 laps led, 21 top 10s, 15 top 5s, and five wins, Hamlin is coming in strong. He's looking for the win, and I dare say he's going to take it. Let's see where these guys are standing in the points after Atlanta:
NASCAR Standings
Joey Logano (+1000)
Chase Elliott (+1000)
Brad Keselowski (+500)
Martin Truex Jr. (+600)
Denny Hamlin (+750)
Ryan Blaney (+1100)
Alex Bowman (+3300)
Kyle Busch (+450)
Kurt Busch (+2200)
Aric Almirola (+4000)
Clint Bowyer (+1800)
Jimmie Johnson (+1600)
Austin Dillon (+6000)
Matt DiBenedetto (+6600)
Erik Jones (+3300)Kevin Harvick (+1000)
Jones had a disappointing run at Atlanta and fell two spots. Jimmie Johnson, on the other hand, gained a couple. I imagine he will climb again after this weekend. Johnson is another driver to watch at Martinsville. He's historically been very good here, and this season is not going too badly for him. I think that Martinsville is going to shake up the points a little more than we've seen. There tend to be some unpredictable moments during this race, and ones that involve quite a bit of cars. Tempers fly on these short tracks, as we're well aware. Stay tuned for an awesome night of racing at Martinsville under the lights! Find the largest array of NASCAR betting options as well as discounted odds on ALL sporting events at 5Dimes Sportsbook! Why pay more?