Daytona 500 Picks – Race Odds & Analysis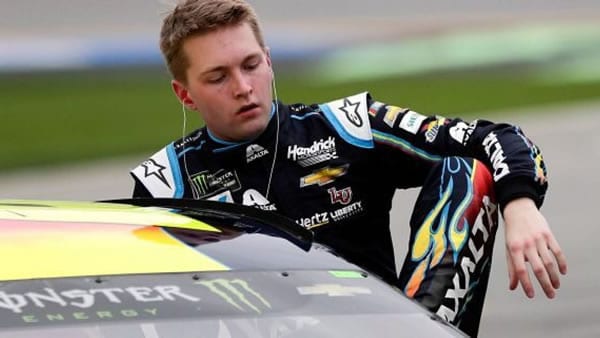 Race: Daytona 500
Date: Sunday, February 14, 2021
Track: Daytona International Speedway
Time: 2:30pm ET
Channel: FOX
WELCOME BACK, NASCAR FANS!
Welcome to the start of the 2021 NASCAR Cup Series season. It kicked off in a pretty exciting way with Kyle Busch accomplishing something he had a heck of a time doing last year, and that was winning! The season started Tuesday night with the running of the Busch Clash on the road course at Daytona for the first time ever. It looked to be a sure bet for either Ryan Blaney or Chase Elliott, both of whom were having very strong nights. Even though Elliott dropped to the rear of the field due to unapproved changes prior to the race, he managed to quickly climb his way back to the front. Unfortunately, Elliott and Blaney made contact in the chicane on the last lap, sending Blaney into the retaining wall. Elliott was able to drive off and still manage a runner-up finish. Blaney was not as fortunate. Kyle Busch saw the opportunity before the wreck even happened, explaining that he just wanted them to wreck long enough for him to drive around, and drive around is just what he did. This is undoubtedly a better beginning to the season for Busch, who struggled in a great fashion last year. Maybe it's his new crew chief, Ben Beshore, but whatever it is, it's working so far.
Joey Logano, Tyler Reddick, and William Byron rounded out the top 5 for the night. A couple of the veterans had some rough starts. Kevin Harvick really struggled in the beginning, having two escapades off track. He suffered with the dirt being kicked onto the track in the first incident and spun out. The second spinout happened due to a very jumbled restart where Ryan Blaney was trying to overcorrect for an error he made in the first turn. Martin Truex Jr. was another driver that made a couple of mistakes. We all had to chuckle a little bit when he skipped the final chicane while trying to rejoin the field and search for the pace car. Even he knew that was his error and apologized to his team for the move. His day was pretty well over after he managed to basically destroy his car after exiting the other chicane, spinning, and hitting the outside retaining wall.
Where Are We Headed This Weekend?
This weekend, we truly start the 2021 points season as the drivers remain at Daytona but race on the oval instead of the road course. This track has been in operation for over 60 years. It's a place rooted deep in NASCAR history and a race that is reveled as one of the greatest to win in all of motorsports. The 500 takes place on this 2.5-mile asphalt tri-oval as the season opener each year. The turns boast 31 degrees of banking, with 18 degrees in the tri-oval and a small 2 degrees of banking on the backstretch. This year, qualifying for the big race will take place at night over the course of Wednesday and Thursday. Wednesday will be the commencement of the single-car qualifying, where the fastest two cars will set the front row. The remainder of the field will be set by the Duels that are run Thursday night. The starting lineup for the Duels is determined by Wednesday night's qualifying speeds. This year, there are 40 open spots just as last year for the race, but there are expected to be 44 teams vying to get in. That being said, there are 36 teams with charters that are guaranteed a starting position in the 500. That leaves eight teams racing for four opens spots, so we'll have to see how that plays out.
Odds and Value Picks
This is going to be a bit of a crapshoot in picking a winner. Any superspeedway turns out that way, quite frankly, as a lot of the top picks are knocked out during the inevitable wrecks. The key to Daytona is getting out front and staying out front. That's really the only guaranteed safe spot unless, of course, you get taken out from behind in some grand push from the lines behind you. The drafts can be a winning or losing move depending on the experience of your drivers. Overall, there are a group of drivers running in the same betting lines in terms of odds heading into this weekend. Obviously, in any race dictated by sheer speed and horsepower, we care going to look strongly at the Penske garage. While Joey Logano and Brad Keselowski are always our frontrunners, Ryan Blaney is coming on strong as well and showed great strength in the Clash on Tuesday night. While it was the road course and not the oval, I think that it's still a testament to the strength of that entire team. I really think that Blaney is going to be someone to watch along with Logano and Keselowski. The Penske garage is looking at a very strong 2021, if you ask me. Aside from that group of drivers, the Gibbs team is looking good as well. With Kyle Busch winning the Clash, there's no doubt that he's already looking at a better season than he had in 2020. Denny Hamlin is likely going to remain the favorite heading into Sunday's race. He's won the last 200 Daytona 500 races. He's also coming off a 6th place finish at the road course. It's certainly not his best finish, but it's still a good start to the season. Let's take a look at your potential winners heading into the first race of the season:
Top Favorite: Kyle Busch - Bet your Daytona 500 predictions FREE by scoring a 100% REAL CASH bonus on your first deposit of $100 to $300 at MyBookie when you use bonus code: PREDICT100 (Must sign up through this link as well!)
Mid-Range Pick: William Byron
Dark Horse: Erik Jones
Look y'all, I love me some Erik Jones. I have to say that getting away from Gibbs might be one of the best things to happen to him. It worked for Logano, so let's see if it has the same effect here. For Jones, he's actually had 3 top 10 finishes in his short career at Daytona, with one of those being a win. He's struggled in the last couple of races, but I really don't think that Gibbs was giving him what he needed to succeed. I truly hope that RPM is able to let him shine. I think that Jones has a lot of talent that hasn't had the opportunity to shine. Let's see if this is his year. William Byron is still earning and learning his place in the Hendrick garage, but I think that his Daytona win in August of last year shows us that he has come a long way. He also has a runner-up finish in 2019. Byron needs to stay out of trouble, utilize his teammates for the draft, and take any Hail Mary attempts that land in his lap. He's got the talent to do it, but he needs to stay out of trouble. Kyle Busch needs to stay out of trouble too. I know I'm straying away from Denny Hamlin as the favorite, but generally, when Kyle Busch starts off the season winning, it's a good indication of what's to follow. This is exactly how he's looking to start his season, and he's overall a strong driver at this track when he's not wrecking. He had a runner-up finish in the 500 back in 2019. Generally, he's either really good or really bad here. There's not much for in-between. I believe that his win in the Clash is going to catapult him into a winning frame of mind. For Kyle, it seems that's all he needs to really take control of a race and pull out a victory. His new crew chief appears to be fitting in well and making some very solid calls. That will undoubtedly push Busch into victory lane when it matters most.
This weekend is shaping up to be a great start to the 2021 season. There are going to be a significant amount of changes, as we saw last year as well. With COVID still putting a damper on normal activities, NASCAR has switched things up to accommodate and make it more interesting for drivers and fans alike. We are going to see the initiation of quite a few more road courses in the schedule, along with dirt track racing at Bristol. But first, we stick with our roots and race the Daytona 500! Stay tuned for an awesome afternoon of racing this Sunday! Have tons of fun this NASCAR season by betting races live-in-progress at the web's best live wagering platform: Bovada Sportsbook! Credit cards work there for deposits and they'll give you a 50% cash bonus too!