Foxwoods Resort Casino 301 Picks – 2020 Race Analysis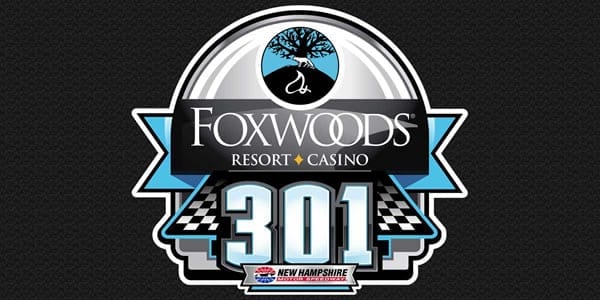 Race: Foxwoods Resort Casino 301
Date: Sunday, August 2, 2020
Track: New Hampshire Motor Speedway
Time: 3 pm ET
Channel: NBCSN
What Did We Learn From Last Weekend?
Last week's race at Kansas saw Denny Hamlin bring home his FIFTH win of the 2020 season. In a late restart in the final stage, Hamlin was able to pass polesitter Kevin Harvick for the win. He also fought hard to hold off second-place Brad Keselowski, even admitting that he didn't know if he had the best car of the race. It didn't seem to matter, as the frontrunners seemed pretty evenly matched. Harvick had a good car, but he only got the pole thanks to a random draw being that NASCAR has eliminated qualifying and practice for the rest of the season. Regardless, Kyle Busch was the stage 1 winner by just a half-second over Denny Hamlin. Keselowski showed strength by winning the second stage over teammate Ryan Blaney. With only 22 laps remaining, the field restarted after John Hunter Nemechek wrecked, leaving Hamlin to run the remaining green flag laps to the checkered flag. Brad Keselowski, Martin Truex Jr., Kevin Harvick, and Erik Jones wrapped up your top 5 spots. Aric Almirola was 6th followed by Cole Custer, Alex Bowman, Kurt Busch, and William Byron for your top 10. Cole Custer had another strong run, coming in at the top of the rookie finishers.
Overall, the race was riddled with weird cautions and circumstances. There was a competition caution at lap 25, and then shortly after restarting, Ricky Stenhouse Jr. had an electrical fire in his car, leaving him with a last-place finish. Stage 1 was rather uneventful, but Stage 2 brought a few cautions with single-car spins, including Bubba Wallace and Chris Buescher. Stage 3, though, well, things got a little interesting. Shortly after starting the stage, Matt Kenseth and Bubba Wallace got into each other, causing major damage to Wallace's right front. Once restarting from that caution, Joey Logano caught debris on the track and cut his left front tire. That caused a chain reaction of wrecks, leaving Matt DiBenedetto with heavy damage as well. Jimmie Johnson and Austin Dillon also suffered because of Logano's spin. When that was finally cleared, not much was able to get going before Christopher Bell crossed in front of Ryan Newman, leaving Ryan Preece as the biggest victim. A red flag came out after his car slammed the inside wall and almost landed on its roof. Thankfully, Preece was not physically injured, but he was noticeably angry. Preece has had a very long streak of bad runs, with multiple last-place finishes. Something has to give for this team and soon. Preece is looking to keep his ride, but these finishes are not a good way to prove his worth to the team, unfortunately. Hopefully, something turns around quickly for them.
Where Are We Headed This Weekend?
This weekend, maybe he'll have better luck as they head to Loudon for the running of the Foxwoods Resort Casino 301. "The Magic Mile," as fans and teams affectionately know the track, is a 1.058 asphalt and granite oval. It has a 12% grade variable banking in the turns and a mild 1 degree of banking on the straights. This place is a beast on tires. With the track surface, we often see the teams struggling to come up with the correct tire strategy throughout the race. We saw what a commodity tire strategy played at Kansas, and I believe it's going to be an even more significant factor this weekend. While track position is important, it isn't everything. Pit strategy can really help the teams get ahead this weekend. It will be imperative that crew chiefs are clear in communication as the drivers maintain composure and do not make any mistakes coming onto or leaving pit road. Kyle Busch! I'm talking to YOU! Speeding is a problem on this pit road for whatever reason, so drivers need to watch their RPMs as they navigate their way down.
Odds and Value Picks
When it comes to picking a winner here, we should focus on the consistency of the drivers so far this year while also still taking into account their history at this track. With no practice or qualifying, it's going to be hard to get a car setup correctly without prior knowledge and strong finishes here. Many have Truex Jr. as a front runner, which I understand due to his recent strong finishes. But without a win here yet, I just don't' think that this is his weekend. There are too many other strong drivers here with wins. Ultimately, I am going to pull Hamlin for the win this weekend. While his last win here came in 2017, he is set up right now to win virtually any race the way that their team is running. He had a runner-up finish her last year as well, so he definitely knows how to get around Loudon. He's going to have his hands full with Truex and also Harvick. I think that Harvick is going to be his biggest contender overall, which is easy to see as evenly matched in the odds right now at +400. Harvick won the last two races at Loudon and has won a total of three of the last five overall. He's strong here, but I have a hard time knowing that he didn't lead many laps. I think that Hamlin will see his 6th win this weekend. Let's take a look at your potential winners as the drivers and teams head to New Hampshire:
Favorite: Denny Hamlin (+400). Bet your NASCAR picks for FREE all month by taking advantage of a 100% REAL CASH bonus offer on your first deposit of $100 to $300 at MyBookie Sportsbook! For those not familiar with sportsbook bonuses, it's free money that is added to your wagering account as an incentive to give the sportsbook your business. They know you have choices on where to bet on the races, so they add free cash to your account as a "welcoming bonus". Example: If you were to deposit $200, they'd match that with an additional $200. Go here to take advantage of this great offer!
Midrange Odds: Ryan Newman (+10000)
Dark Horse: Matt Kenseth (+5000)
I hate putting Newman, who is such a longtime veteran of the sport as a B list type driver or a midrange pick, but if we're honest, he's had his struggles. Coming into Loudon, though, he does have an opportunity to really fight for a win. Out of a total of 34 career starts, Newman has twenty top 10 finishes and three wins. If there's a track that can turn around his year, this is the one. He's good here. Look for Newman to really be as competitive as we've seen him all year this weekend. I mean, with a +10000 line standing right now, you're sure to make a pretty penny off a win if he can pull it off. Sometimes, it's worth the gamble. Matt Kenseth is another oldie but a goodie. Flat tracks are a thing for him. With a strong run earlier this year at Indy, I think that we will see another repeat and a strong performance here at Loudon. He has a great record here, with two wins in his last six starts and five top-four finishes. I have a feeling we'll see some veterans at the front of the pack this time around! With only seven races remaining until the playoffs, you bet your bottoms that these guys are going to be competing as hard as they can for not only the win but also the best finishes they can muster for every last point. Let's take a look at where the guys are standing after Kansas:
NASCAR Standings
Kevin Harvick (+400)
Brad Keselowski (+800)
Ryan Blaney (+700)
Denny Hamlin (+400)
Chase Elliott (+800)
Joey Logano (+1100)
Martin Truex Jr. (+700)
Aric Almirola (+1200)
Kyle Busch (+700)
Kurt Busch (+2500)
Alex Bowman (+2800)
Clint Bowyer (+5000)
Matt DiBenedetto (+5000)
William Byron (+5000)
Tyler Reddick (+4000)
Erik Jones (+4000)
There was some definite movement in the standings after some weird circumstances at Kansas. Jimmie Johnson fell out of contention, while Tyle Reddick and Erik Jones jumped up into the top 16. William Byron also jumped a couple of spots. The top 11 are holding pretty steady, with only a few minor swaps. I think that this weekend's race is going to really throw another wrench in the points, though. It's just a feeling I have, especially as we move close to the playoffs. There's really no telling what the teams are going to bring to the table and what they're willing to risk on the track at this point. Stay tuned for a great day of racing in New Hampshire at The Magic Mile!