Go Bowling at The Glen Picks & Race Analysis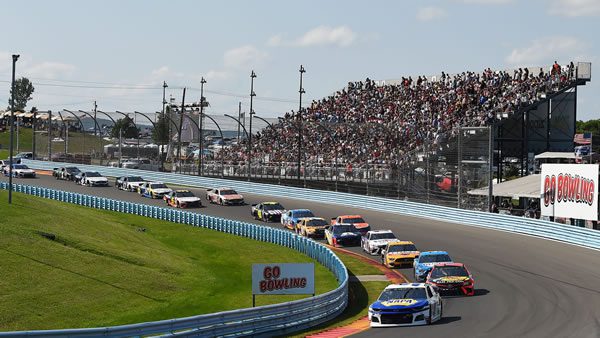 Race: Go Bowling at The Glen
Date: Sunday, August 8, 2021
Track: Watkins Glen International
Time: 3 pm ET
Channel: NBCSN
What Did We Learn From Last Weekend?
And we're back! The drivers are coming back after a two-week hiatus as we head into the late stages of the regular season. Only four races are remaining before the field is set for the Playoffs. There are also no more breaks for these drivers and teams before the end of the season. It's on now. There's going to be no holding back and nothing stopping some of these drivers as they try to earn their way into championship contention. Before they get to the Playoffs, they are all going to have opportunities for a win at Watkins Glen, Indy, Michigan, and Daytona. Quite frankly, I think that ending the regular season at Daytona is dumb, to say the least. Superspeedways are always a crapshoot, and I don't think it's a great way for the season to end for the teams. In all honesty, I believe that the schedule was set purely for the fans sometimes since Daytona draws such a viewership. But I digress. The drivers are coming off their last race at New Hampshire, where dark horse Aric Almirola pulled out a win and earned his spot in the Playoffs amongst the greatest.
It was an interesting race, to say the least, starting with Kyle Busch wrecking only six laps in due to wet track conditions. The race had already been delayed by a couple of hours due to the rain, but to Busch, it wasn't delayed long enough to get the track right. To say he was aggravated would be an understatement. This is Kyle Busch we're talking about. He actually bumped the pace car on his way to the garage, something NASCAR said they would address with him after the race. His teammates Denny Hamlin and Martin Truex Jr. also suffered from the slick track conditions and spun before the red flag came out. Hamlin noted that it "wasn't a good look" for NASCAR. Needless to say, they finally got to the point where the track was suitable, and the race restarted. Unfortunately, it was cut short by eight laps after the extended delay because of the dark conditions. With no lights on the track, NASCAR was forced to call the race, as they couldn't suffer from another "lack of safety" call for the day. Almirola was able to mire his way through lap traffic long enough to hold off Christopher Bell. Bell was sure that had he been given those eight laps, he would've caught and passed Almirola, but that is neither here nor there at this point. Penske had a solid 3-4-5 finish with Brad Keselowski, Joey Logano, and Ryan Blaney rounding out those spots.
Where Are We Headed This Weekend?
This weekend, the drivers are resuming racing at none other than the road course at Watkins Glen. The series missed this race last due to COVID and NY's *ahem* special restrictions. Hopefully, there are no issues this weekend as the teams head up for their first race since 2019. This track is always a blast to watch. Jeff Gordon was my favorite driver to watch here. He had a knack for these road courses and a finesse that we rarely see amongst the field these days. The NASCAR Series runs the "short course" with inner loop here. There are several layouts, but this one is most conducive to the stock cars. It's a 2.454-mile asphalt course with eight total turns. Watkins Glen is a track of skill for the drivers. As with any road course, you're either good, or you're not. The biggest technical issues that we see are tires and pit stops. Pit stops seem to eat these teams alive for some reason. It can be a challenging pit road and one that drivers tend to get a lot of penalties on. That's an area to watch. The tires tend to be a determining factor in a lot of races here. Towards the end of the race, especially, we always see short runs (usually after several cautions have run the race down), and fresh tires can really make or break a race for the drivers. That remains to be seen this weekend, but I bet there will be some tire issues that play a factor in the outcome.
Odds and Value Picks
When it comes to picking a winner for Watkins Glen, you really don't have many options. You have Chase Elliott or the guy that won before Chase Elliott in 2019. That's also Chase Elliott, in case you were wondering. Chase has got this place down pat. He's also got all of the other road courses down pat. If someone is going to win a road course, it's Chase Elliott. There are not too many drivers that can really contend. Kyle Busch will be someone to watch. He's just crazy enough and aggressive enough to put it all on the line. His Achilles heel is also been crazy enough and aggressive enough to put it all on the line. That's a double-edged sword for sure, but it means that he'll make a point to be a contender. Let's take a look at all of the potential winners heading into Sunday's race:
Favorite: Chase Elliott +175
Mid-Pick: Christopher Bell +1600
Dark Horse: Daniel Suarez +8000
Bet YOUR Watkins Glen picks for FREE this week by taking advantage of a 100% real cash bonus on your first deposit of $100 to $300 at MyBookie Sportsbook! (Must use bonus code PREDICT100 to receive the extra bonus dollars)
Suarez is an odd pick. I know. But you know what? Aric Almirola was too, and he won last weekend. Watkins Glen is an unusual track that can produce unusual outcomes. For Suarez, his start with Trackhouse Racing has gotten off to a shaky start, but this might be a race that will give him a little bit of solid ground to stand on. While his finish with SHR wasn't the greatest, his two starts with JGR resulted in top 5 finishes. He's proven he knows how to drive around road courses, and he might just give us something to watch. Christopher Bell, well, he won the Daytona road course this year, so he's one of the only drivers to knock Elliott from a road course win in recent history. That's nothing to sneeze at. Now, he's never raced here in the Cup Series, but that doesn't mean much. His Xfinity results will likely transfer over with the level of skill he's shown this year. He's also coming off a 2nd place finish at New Hampshire, so he's got a lot going for him. In only two starts at Watkins Glen in the lower series, Bell came away with a top-5 and a top-10. He's a heck of a wheelman and someone to keep your eyes on this weekend. He's got his spot in the Playoffs, so what does he have to lose? He's got a lot to gain from getting another "W" in his column. But then again, there are a lot of other drivers that have a lot more to lose from not getting a win. Let's see where everyone stands heading into Watkins Glen.
NASCAR Standings
1. Denny Hamlin
2. Kyle Larson
3. William Byron
4. Kyle Busch
5. Joey Logano
6. Chase Elliott
7. Martin Truex Jr.
8. Ryan Blaney
9. Brad Keselowski
10. Kevin Harvick
11. Alex Bowman
12. Tyler Reddick
13. Austin Dillon
14. Kurt Busch
15. Christopher Bell
16. Chris Buescher
Buescher is hanging on by a thread. In fact, Michael McDowell and Aric Almirola will knock him out if he doesn't get a win before the Playoffs. Austin Dillon is also not safe. He will be knocked out more than likely without a win. Tyler Reddick is on the bubble. Sitting in 16th purely on points is a dangerous spot to be. He really needs to gain some more points or find a win in the next four races to secure his spot. He's only five points above the cutoff. I really do think that the return to racing this weekend with only four races remaining before the Playoffs is going to bring out some pretty wild moves. The tempers are going to come out, and the patience is going to start wearing thin. Stay tuned for a great afternoon of road course racing as the teams return to Watkins Glen!
Hey Y'all! Before I go, I wanted to make sure you're aware that we have a great staff of writers here who'll soon be doing game previews offering their NCAA football picks! Please check out that page and bookmark it! They're good, especially Dan Jamison! He really knows his stuff!