O'Reilly Auto Parts 253 Odds & Picks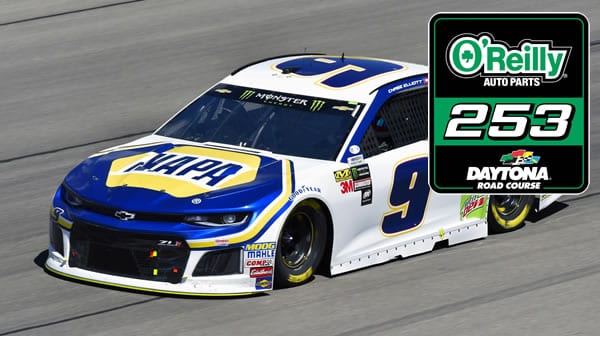 Race: O'Reilly Auto Parts 253
Date: Sunday, February 21, 2021
Track: Daytona International Speedway Road Course
Time: 3 pm ET
Channel: FOX
What Did We Learn From Last Weekend?
What a finish it was at Daytona International Speedway! Michael McDowell took home the win in a pretty spectacular finish. In fact, McDowell took home his first win in 357 races during his 13-year career. Being that this is the biggest payout for a race, I'd say he's pretty stoked. We've all heard the 500 coined the "crown jewel" of NASCAR. Even if you're not a NASCAR fan, if you know literally anything about racing, you've heard of the Daytona 500. To win it is to be in elite company, that's for sure. It certainly couldn't have gone to a better guy. McDowell is a class act. The level of joy he got for not only himself but for his team and the entire Front Row organization was infectious. It's such a pleasure to watch a driver have so much gratefulness for a win, especially a driver in what the industry would call "sub-par" equipment. Front Row doesn't have everything that Hendrick or Gibbs or RCR does, but they have a lot of heart and give it their all. There's a lot to be said for that.
Now while some observers are saying this race wasn't very exciting, I beg to differ. With only 14 laps on the scoreboard, we experience the "big one" involving a total of 16 cars. The red flag flew for quite some time while NASCAR worked to clean up the mess. Shortly thereafter, there was an extended red flag due to rain. I was actually pretty certain the race wouldn't resume, and if it did, it definitely wouldn't end in a full 500 miles. I was wrong. The race resumed after 9 pm and finished into the wee hours of Monday morning. There was quite a bit of single-file racing, which is where a lot of complaints originated from some of the writers I've seen; however, that's to be expected at Daytona and definitely during a race that has already seen its fair share of red flags. Although the racing was seemingly "uneventful," if you are a true race fan, you could catch the strategy being played out by the teams through not only the pits but by the drafting order on the track. Unfortunately, that drafting didn't always pan out so well, as evidenced by the Penske drivers of Brad Keselowski and Joey Logano. Logano had the finish line in his sights and was bumped by Keselowski, leading to a pretty gnarly and fiery crash through the last leg of the race. Keselowski threw his helmet at his car while apparently everyone in NASCAR tried to blame him for trying to pass Logano. I'm not quite sure where the hatred from Keselowski resonates from, but I can appreciate his raw talent and his ability to race without worrying about what everyone thinks about him. It's easy to sit here behind a computer or tv and say that he was at fault. Until you sit behind the wheel of a stock car going 200mph, you can kindly sit back down.
Where Are We Headed This Weekend?
This weekend, the drivers are staying at Daytona, but they're jumping back onto the road course. It might be a touch easier to predict this weekend's winner being that we already saw a race here. It kind of gives us a good idea of who has a good feel for the track, being that this is so much different than the superspeedway. The current configuration of the road course has been utilized since 1985 but has only been used in NASCAR since August of 2020, making it one of the newest tracks to join the series. It's a total of 3.61 miles with 12 turns and a chicane at the exit of the last turn that was added to accommodate the stock cars. It will be interesting to see if this track stays in the regular rotation of NASCAR's tracks. Watkins Glen was restricted because of COVID, so this road course essentially took up the slack.
Odds and Value Picks
There are a handful of drivers that are notoriously good on road courses. However, with only one race on the books for the road course at Daytona, we are working with limited data. In my opinion, this road course is nowhere near as challenging as Watkins Glen or Sonoma, the two veteran road courses of the series. That being said, it leaves the door open for some drivers who aren't the greatest at road courses to still stay in the mix. Based strictly on the inaugural race in August of 2020 and this year's finishes so far, though, I think that we can clearly see that there are two standouts when it comes to a potential winner here. Chase Elliott and Denny Hamlin both raced and finished strong in the road course (and the oval!) so far at Daytona this year and last year. Elliott won the inaugural road course race at Daytona and also finished 2nd in the Clash this year. Coming off a third-place finish on the oval is just more momentum for his team. He's going to be the one to watch, in my opinion. Here's a look at your potential winners heading into the road course this weekend:
Top Favorite: Chase Elliott (+170)
Mid-Range Pick: Tyler Reddick (+8000)
Dark Horse: AJ Allmendinger (+800)
BET YOUR PICKS FOR FREE! DEPOSIT $100 TO $300 AND MYBOOKIE WILL GIVE YOU A 100% REAL CASH MATCH BONUS WHEN YOU USE PROMO CODE: PREDICT100
Allmendinger is making his first Cup Series start since 2018. That being said, he's a heck of a road course driver. With little pressure in terms of points, this should be a fun race and one where he drives both aggressively and competitively. I really think that this is a race that he's got quite a shot at. Tyler Reddick is still learning quite a bit, but if his performance at the Clash was any indication of his road course talent against the big dogs this year, well, he's going to have something to say at the end of all of it. He finished 4th in the Clash, and that was not by luck. The kid made his presence known all night. He finished top 20 last year, but I think he's really developed some in the off-season. Let's see how it plays out for him this weekend. While we're still very early in the season, the stage is set with our top 16 thus far.
NASCAR Standings
Austin Dillon (+15000)
Denny Hamlin (+900)
Kevin Harvick (+1000)
Chase Elliott (+170)
Michael McDowell (+12500)
Ryan Preece (+75000)
Kyle Larson (+4000)
Bubba Wallace (+15000)
Joey Logano (+1800)
Christopher Bell (+5000)
Ross Chastain (+12500)
Corey Lajoie (+250000)
Kyle Busch (+750)
Jamie McMurray (not racing)
Cole Custer (+6600)
Brad Keselowski (+2000)
While it might seem counterintuitive that McDowell isn't our points leader, you have to remember that the Duels handed out points to the drivers as well. So the finishes in the qualifiers and the 500 results add up to give us our current standings. That being said, I believe we are going to see a big swing this weekend after the road course. In my opinion, the road course is better than the 500. We see a lot more passing, a lot more skill, and a lot more mistakes, especially on pit road. The road courses put the entire team to the test more so than a regular oval because it's still something out of the ordinary for them. Stay tuned to see how the positions change after this Sunday's race on the road course at Daytona!