Pennzoil 400 Analysis & Picks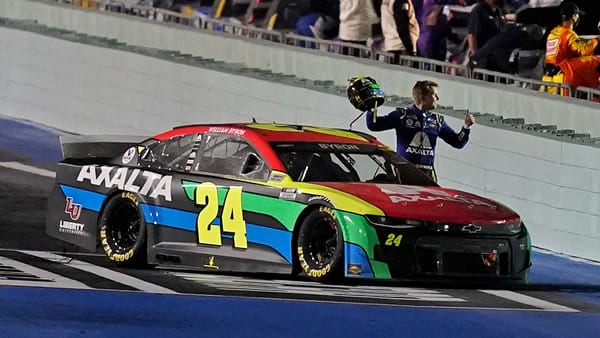 Race: Pennzoil 400 presented by Jiffy Lube
Date: Sunday, March 7, 2021
Track: Las Vegas Motor Speedway
Time: 3:30pm ET
Channel: FOX
What Did We Learn From Last Week?
Well, well, well. We're having an interesting start to the 2021 season. William Byron took the win at Homestead to be the third winner of the season. He joins both Christopher Bell and Michael McDowell as unlikely winners in the first three races of the NASCAR Cup Series. While we look at it as surprising, it's something that we should really expect. I've noticed that there have been a lot of sighs and whispers regarding the veterans taking second string to the "newbies." Are they really newbies, though? Byron has run a total of 111 Cup races. Maybe we're getting to the point where they're coming into their own. The once new guys are finally reaping the benefits of their efforts each week after learning from the best of the best. Byron's win at Homestead was not a fluke. He dominated a good portion of the last two stages of the race, leading the field to the checkered flag nearly 3 seconds ahead of Tyler Reddick.
That said, strategy plays an important role in these finishes. While some say these drivers won by happenstance, look at the conditions they won under. For Byron, the partnership with his former crew chief, Rudy Fugle, might make all of the difference in the world for this team this year. Fugle was paired with Bryon when he ran in the truck series for Kyle Busch Motorsports several years ago. They are a solid match, even so, that Hendrick was willing to hire outside of his own organization after seeing the potential in this pair. So far, so good this year. We'll see how the rest of the season goes for Byron, but I'm willing to take a bet that it goes well. There are quite a few other names that ran out front. Chris Buescher actually led a lot of the first part of the race, ultimately winning the first stage. The rest of his day didn't go as well, as he ended up with a 19th finish, but those stage points definitely do not hurt. Following Byron and Reddick, Truex Jr., Larson, and Harvick rounded out the top 5 spots. Mcdowell, Newman, Kurt Busch, Alex Bowman, and Kyle Busch finished out the top 10 spots. McDowell is showing us some strength here. I'll be interested to see if this can continue.
Where Are We Headed This Weekend?
The drivers leave the east coast and head west for Las Vegas this weekend. This track holds a special place in my heart since I was given the opportunity to drive on it. It's amazing what 12-20 degrees of progressive banking looks like from the windshield of a stock car. This track is a 1.5-mile asphalt tri-oval with that progressive banking throughout the turns across the track. Speed is the name of the game here. Much like Miami, we are going to see long stretches of green flag racing where drivers are rarely on the brakes and forever on the gas. It will very likely turn into a race where someone is able to pull away from the field. Pit strategy will also be critical here. A mistake can cost seconds that can cost a driver the race in situations like these on such large speedways. It's hard to make up time, so once a driver is lapped, pray for the lucky dog or some sort of catastrophe because catching up is hard to do. That being said, it's not impossible, but you have to make sure that tires are good and fuel strategy is on point to get back to the front of the pack, or even to the main pack in that instance. With a good strategy in place, the drivers will still have to race the track itself. Vegas is notorious for being a very bumpy ride. Shocks are critical here if for nothing but comfort. It's going to be interesting to see if the novice drivers can pull off another stunning win this weekend. I have a sneaky suspicion that this might be a harder fought win for the younger teams.
Odds and Value Picks
If we take a look back, we will also realize that hasn't helped us much this year in picking our winners. That fact aside, it's still important to see the history and stats of the previous years to gauge where the competition lies. We can't negate the wins we've seen from McDowell, Bell, and Byron. McDowell put up another top 10 finish last weekend, leaving us to believe that he's going to be some sort of a contender for a solid finish this weekend as well. Don't count him out. But I digress. If we do take a step back and look at the history of Vegas winners, there are a few prominent standouts. Most notably, Penske has Keselowski and Logano going for them. They've won 50% of the last ten races run between the two of them. That's quite a feat. In between the Penske garage winning, we see that Kevin Harvick, Kurt Busch, and Martin Truex Jr. also have solid runs here. It's a veteran's track, in my opinion. In fact, I think that a veteran will win. Let's take a look at your potential winners heading into this Sunday's race:
Top Favorite: Martin Truex Jr. (+600) Bet this pick for FREE by taking advantage of a 100% REAL CASH bonus on your first deposit of $100 to $500 at BetNow Sportsbook!
Mid-Range Pick: Williams Byron (+1800)
Dark Horse: Tyler Reddick (+5000)
Reddick has been impressive to me. He finished a strong runner-up last weekend, and it wasn't because he was lucky. Reddick is proving that he's got some serious skill behind the wheel. Heading to another intermediate track will only bolster his confidence. With the way these young drivers are running this year so far, I wouldn't count him out at all. In fact, there's a lot of money to be made on these lines. When it comes to Byron, well, he's already proven that he can win on an intermediate track. He hasn't had the best finishes here to date, but he's only run a total of 6 races. What's going to be critical for him is qualifying position. The drivers who start up front finish up front at this track. That's a fact. Truex Jr. shouldn't have any problem doing that at all this weekend. With a couple of Vegas wins under his belt and a super-fast car coming out of Miami, I think that his experience level is going to override the younger drivers this weekend. He's also looking to make up some positions in the points and show that he's better than a 9th place driver. Here are your top 16 after Miami.
NASCAR Standings
Denny Hamlin (+700)
Kevin Harvick (+475)
Joey Logano (+800)
Michael McDowell (+12500)
Chase Elliott (+700)
Kurt Busch (+1800)
Christopher Bell (+2800)
Kyle Larson (+1000)
Martin Truex Jr. (+600)
Brad Keselowski (+1000)
Austin Dillon (+3300)
Ryan Preece (+50000)
William Byron (+1800)
Cole Custer (+6600)
Chris Buescher (+8000)
Bubba Wallace (+6600)
There's been a lot of movement in the bottom half of that roster. What you might notice is that drivers like Kyle Busch and Alex Bowman are sitting outside of the top 16 right now. That's bound to change, but it's an interesting site at this point. As I mentioned above, keep your eyes on qualifying. This is a track where qualifying is critical to the outcome of the race more often than not. I think that we will see a stronger field of veterans at the front of the pack this weekend purely based on this particular track. That's not to count out the young guys. They've already proven me wrong, but I think they'll be chasing down Truex for a chance at the checkered flag. Stay tuned for a great afternoon of racing at Las Vegas Motor Speedway! Bet the tournament LIVE in-progress at the NASCAR betting site with the BEST live wagering platform on the planet –> Bovada!