Toyota/Save Mart 350 Odds & Predictions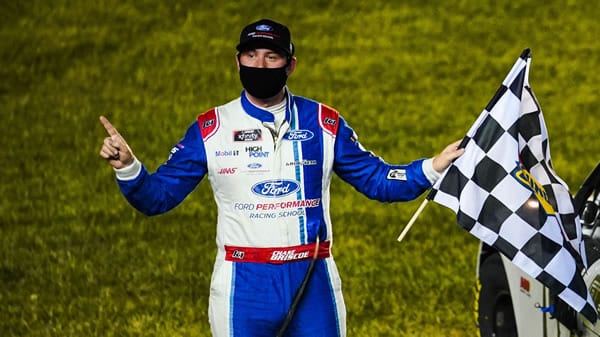 Race: Toyota/Save Mart 350
Date: Sunday, June 6, 2021
Track: Sonoma Raceway
Time: 4 pm ET
Channel: FS1
What Did We Learn From Last Weekend?
And just like that, Hendrick Motorsports breaks the all-time record for most wins by a NASCAR Cup Series team. With Kyle Larson taking the win in the Coca-Cola 600 on Sunday night, that bolstered HMS to 269 wins amongst the entire team, beating the previously held record of 268 by Richard Petty Motorsports. To say that's an incredible feat would be an understatement. The thing about racing these days is that while having big money matters, there are so many teams that have big money. There's a lot more financial equality in the sport than there was back in the days when the Petty team was racing, at least in the top tier of the sport. By "equality," I essentially mean that everyone has the same resources when they get to this level for the most part. We will always have a team or two at a disadvantage, but we will also always have the Rousch, Hendrick, Gibbs, and Stewart-Haas teams and alliances that create the mega-tiers in this sport. To a degree, that means that there is something to be said for the level of talent that these drivers exude. Being that they all have an essentially equal opportunity to race in fantastic equipment, it's a matter of what a driver can do with what he's given. The team solicited by HMS is truly one of great talent over the years, regardless of who has come in and out of those doors.
Kyle Larson is a testament to Hendrick's eye for talent. He's a dominant force no matter where you end up in the season. Short tracks, superspeedways, road courses, dirt tracks, you name it, Larson is always a contender for the win. Never count that one out. He's going to bring something to the table each and every week. Look at his predecessors. Kasey Kahne is an amazing talent. Then we have the big names of Jeff Gordon and Jimmie Johnson. If I'm being completely honest, racing for a team that had those guys on the roster is beyond an amazing testament to Hendrick's belief in a driver. At the same time, it may seem daunting and quite a few big shoes to fill; what an honor to be chosen to be part of such an elite group of drivers. Chase Elliott is also part of that group. Being that he's born and bred of a legend himself doesn't hurt. He managed a runner-up finish behind his teammate. In fact, HMS had another overall dominating weekend, taking 4 of the top 5 spots. Kyle Busch broke up the monotony by coming in 3rd for JGR. It's turning out to be a pretty stellar 2021 for the young team being developed by Hendrick. With the loss of both Jimmie Johnson and Jeff Gordon in recent years, I don't think that anyone really expected HMS to be dominating to this degree so quickly.
Where Are We Headed This Weekend?
This weekend, I do believe that we are going to see another dominating performance. It's a weekend of road course racing, this time at Sonoma. This track is a 12 turn course boasting 2.52 miles of asphalt. There is a lot of elevation that the drivers combat while on this track. Interestingly enough, this track has been around longer than a lot of the regular oval tracks in NASCAR. Constructed in 1968, it wasn't until 1995 that NASCAR had a spot on the schedule. The truck series was the debut NASCAR event, and it eventually turned into hosting all three NASCAR series. Throughout the years of watching this series really dig in and earn their place on the road courses, it's definitely worth noting that tires are going to play the biggest role during the race. With 12 turns, a variety of sharp turns and changing elevation, and the sudden need to brake and skirt the turns, the drivers are inevitably going to be tough on tires. Engine failure is also another storyline of this particular track. All of those different characteristics I just described also play into drivers using their motors to their full capacity. The hard stop and then immediate rev of RPMs in and out of some of these turns most definitely plays a role in seeing how well these companies build their motors. Chase Elliott actually blew an engine here in his most recent race at this track.
Sonoma can be a place of unpredictability, much like the superspeedways. Things can happen in the blink of an eye. The history can also follow the ones with the best records at road courses, as well. This is definitely an anomaly in the typical races that we're used to and the drivers and teams. With that, we often see a handful of drivers that can dominate and really shine on the road courses. We have some outliers that race just these courses throughout the season this year as well. Sonoma is a race that a few of the drivers have really figured out. Road courses are a race of finesse, determination, and grit. It takes a special type of driver and team to really keep their resolve and finish these races strongly. Let's take a look at your potential winners heading into this road course.
Favorite: Chase Elliott (+225)
Mid-Range Pick: Chase Briscoe (+6600)
Dark Horse: Erick Jones (+15000)
Briscoe is a solid value pick. Sure running currently on 66-1 odds, he's far from the favorite, but he's also not your typical road course driver. With his career on road courses superseding his oval track record, he's one to keep on your roster for that dark horse slot. Erik Jones is also a long shot, but he's actually quite good at Sonoma. While he's got solid finishes across the board at most of the road courses, he's got 2 top 10 finishes at his most recent finishes at Sonoma. He's hungry, and while he hasn't had the best of luck this year, I still believe in his ability to get a win. Erik should be able to put together a solid weekend with a good outcome if he can drive a smart race. They will all be chasing Chase. I think that Elliott will have his fair share of competition too. Kyle Busch and teammate Kyle Larson are a couple of guys I'd keep my eyes on. With two wins here, Kyle Busch has the determination it takes to win on this type of track. He's also got five top 7 finishes in his last five starts. That's a pretty solid record. Martin Truex Jr. is also another very strong driver at this course. With his success so far this year, Truex will be someone to watch. He's actually the defending winner of the last two races here. Although he will be hard to beat, HMS has something for him this weekend. Let's see where they all sit in the standings after their longest race of the year.
Toyota/Save Mart 350 Odds
Chase Elliott No.9 +225
Martin Truex Jr. No.19 +500
Kyle Larson No.5 +600
Kyle Busch No.18 +1000
William Byron No.24 +1200
Denny Hamlin No.11 +1400
Joey Logano No.22 +1400
Kevin Harvick No.4 +1600
Alex Bowman No.48 +2000
Brad Keselowski No.2 +2000
Ryan Blaney No.12 +2000
Christopher Bell No.20 +2800
Tyler Reddick No.8 +3300
Kurt Busch No.1 +3500
Chase Briscoe No.14 +6600
Matt DiBenedetto No.21 +6600
Michael McDowell No.34 +6600
Ross Chastain No.42 +6600
Austin Dillon No.3 +8000
Chris Buescher No.17 +8000
Cole Custer No.41 +8000
Daniel Suarez No.99 +10000
Erik Jones No.43 +15000
Ricky Stenhouse, Jr. No.47 +15000
Aric Almirola No.10 +20000
Ryan Newman No.6 +20000
Darrell Wallace Jr. No.23 +25000
Ryan Preece No.37 +25000
Corey LaJoie No.7 +60000
Anthony Alfredo No.38 +75000
Odds provided by Bovada
NASCAR Standings
Kyle Larson +550
Martin Truex Jr +550
Denny Hamlin +650
Chase Elliott +700
Kyle Busch +800
Joey Logano +900
Brad Keselowski +1000
Kevin Harvick +1000
Ryan Blaney +1200
William Byron +1200
Alex Bowman +1400
Christopher Bell +2000
Kurt Busch +6000
Austin Dillon +6600
Matt DiBenedetto +6600
Tyler Reddick +7000
Michael McDowell +10000
Ross Chastain +10000
Aric Almirola +15000
Ryan Newman +15000
Cole Custer +17500
Ricky Stenhouse Jr. +20000
Chase Briscoe +25000
Chris Buescher +25000
Erik Jones +25000
Darrell Wallace Jr. +30000
And there we see McDowell still hanging tough in the bubble spot. He's got a 30+ point lead over 17th place of Matt DiBenedetto. Hamlin has been holding his own, as has Kyle Larson and William Byron. It's definitely a testament to their consistency. Byron sits quietly each and every week, rarely moving from his 3rd place position. That goes to show that while someone like Truex has three wins, there's still a place for these guys that show up and place well each and every week. Byron still has his spot in the playoffs with a win, but Truex will ultimately trump that once the playoffs begin simply due to his three current wins. Regardless, it's good to see that consistency is still rewarded. Perhaps the most interesting position is our leader. Hamlin has zero wins. You read that correctly. Hamlin has a consistent season thus far. That being said, he definitely wants a win. No one is disputing that fact. If he manages to get into the playoffs without one, though, he will be at the bottom of the totem pole when the points reset. At this point in the season, we're going to see more and more emphasis on the actual wins because of that reason. Sonoma might just be the start of that, with just a few weeks remaining to race before the end of the regular season. Stay tuned for a GREAT afternoon of racing as these guys get wild on the road course of Sonoma!