Xfinity 500 Race Analysis & Picks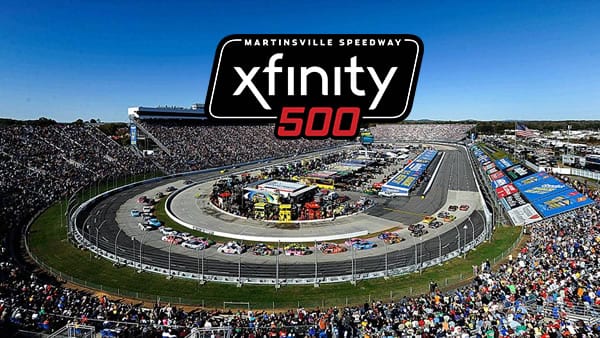 Race: Xfinity 500
Date: Sunday, November 1, 2020
Track: Martinsville Speedway
Time: 2 pm ET
Channel: NBC
What Did We Learn From Last Weekend?
Kyle Busch finally broke his 2020 winless streak. It's a shame that he's already booted from championship contention, but at least he got a win in this year. As much as he annoys me, Busch is a solid driver and quite the wheelman, so it's good to see him in victory lane. It's also a nice change of pace from the whining he's been doing the entire season. Plus, his wife's social media was gloomy recently due to his lack of wins as well. Samantha is usually very cheerful, so I'm glad we can all get back to happy times. This is actually Busch's 16th consecutive season with at least one win. It's almost like an iron man type streak, something like Jimmie Johnson had gone with never missing a race until COVID (*major eye roll*). It's impressive, to say the least. While Busch took the checkered flag, he was followed by Martin Truex Jr., Christopher Bell, Ryan Blaney, and Alex Bowman.
As mentioned, although he won, Busch is not a championship contender, so that leaves Joey Logano as the only driver who is locked in for the final round. Three transfer spots are remaining right now prior to the final race in the round of eight. Currently, Kevin Harvick, Denny Hamlin, and Brad Keselowski are the ones in those positions, but that is subject to change. The remaining drivers fighting for those spots include Alex Bowman, Chase Elliott, Martin Truex Jr., and Kurt Busch. Busch is going to have to win if he intends to get into the final race. There's no way around it being 81 points behind. Bowman and Elliott both sit at 25 points behind, and they will have to bump Keselowski to get in. Truex is a little further behind at 36 points below the cutoff line. It's going to be a really good race to see who can get into the final 4 for sure, especially since we are short-track racing for the final spots.
Where Are We Headed This Weekend?
Martinsville is going to be a wreck fest if it's anything like I anticipate. With this being that last race before the championship in Phoenix, every single driver has literally everything or nothing to lose. Either way, it makes them lose all sense of logical thought when it comes to competition, and the "anything goes" mentality is sure to take over at some point. Martinsville is the smallest track on the entire circuit. The straightaways are only 800 feet long with no banking and only 12 degrees in the turns. Heavy braking and heavy throttle are the name of the game, with drivers having to maintain their equipment throughout the race. It isn't quite as difficult as it used to be, with the stages breaking up the longer green flag runs, but equipment failures have been known to happen. The biggest issue will be trying to stay out of the wall. With the competition at a pivotal point, there will be no mercy given. I dare say we'll see a lot of drivers literally moving cars out of the way. There will be little patience reserved for lap traffic as well, which is always a constant battle from very early on in the race at this track. Martinsville is challenging to maneuver due to the traffic, the heavy braking into the turns, and also trying to keep other drivers off your bumper.
Odds and Value Picks
The thing about this place is that what happened last week is going to make zero difference. The drivers that were good at Texas are likely not going to be the same ones at the front of the pack at Martinsville. Texas is a big cookie-cutter intermediate track, while Martinsville will have a driver half a lap down after the first lap just because of track position. That being said, you can imagine that starting at the rear of the field would be extremely detrimental to a driver. It's not over until it's over. We did watch Jeff Gordon drive to a win after being three laps down. But that's Jeff Gordon. Very few drivers can manage to pull off that kind of stunt. Knowing that starting position is going to be very important. Being that it's already set, the drivers need to make sure they don't mess up pre-race inspection. That will put them at the rear of the field. DON'T CHEAT! Fuel strategy can sometimes come into play depending on the how the race goes. Some guys can short pit and manage to get just enough fuel to get to the end, saving critical seconds on pit stops. That's another issue at Martinsville. As you can imagine, pit road is very small here. It's tough getting on and off without speeding penalties and can also be a challenge for the drivers to get in and out of their boxes without incident. This is going to be a very tough pit road this weekend for the drivers. No mistakes can be made. But I guarantee that the race will be won or lost on pit road for at least one team. Who is going to take the cake? Let's take a look at your potential winners heading into Martinsville.
Top Favorite: Martin Truex Jr. (+325). Bet the race LIVE while it's going on at Bovada Sportsbook! Your credit card will work there for deposits and they'll give you a 50% bonus too!
Mid-Range Pick: Kurt Busch (+800)
Dark Horse: Tyler Reddick (+8000)
Reddick has only one start here in the Cup series from earlier this year. He remained pretty consistent with his starting and finishing position. He started P14 and finished P16. I think with the experience he's gained so far this season, he will capitalize and have a better finish so long as he can stay out of trouble. Out of the rookies, he's got one of the better short track records overall. Kurt Busch is a driver that must really win to remain in championship contention. Unfortunately, this is not a great track for him. But with where he stands in the points, I'm going to say we're going to see some aggressive moves from him to get himself into victory lane. Busch has only two wins here, with the most recent being back in 2014. His average finish is 21st. He's got 8 top 10s and 3 top 5s. He's got his work cut out for him, but if there was ever a time when he is going to make the most out of a good starting position, this is the weekend to do it. He will have his work cut out for him, as Martin Truex Jr. also has an uphill battle in front of him to steal a spot away from the current top 4 drivers. Truex has a better history here than Busch, though. I said better. I didn't say great. He's also only got two wins, but those are from the last two races here. He has 7 top 5s and 13 top 10s. Overall, Truex is a better short-track racer than Busch, in my opinion. I think that he's going to go for a win to not only defend his title from earlier this season but also to ensure that he moves into the final round of the playoffs. Let's see where these guys stand moving into the final race before the championship round in Phoenix.
Xfinity 500 Odds to Win
Martin Truex Jr +325
Brad Keselowski +600
Denny Hamlin +600
Chase Elliott +750
Joey Logano +750
Ryan Blaney +750
Kyle Busch +800
Kevin Harwick +1000
Alex Bowman +2500
Kurt Busch +2500
William Byron +2500
Clint Bower +3300
Jimmie Johnson +3300
Matt DiBenedetto + 5000
Aric Almirola +6600
Austin Dillon +8000
Tyler Reddiock +8000
Check out MyBookie for the complete list of driver odds for the Xfinity 500. They'll give you a 100% bonus on your first deposit of $100 to $300!
NASCAR Standings (NASCAR Cup Series Championship Odds)
Joey Logano (+350)
Kevin Harvick (+150)
Denny Hamlin (+600)
Brad Keselowski (+350)
Alex Bowman (+6600)
Chase Elliott (+2200)
Martin Truex Jr. (+1400)
Kurt Busch (+10000)
I think that Harvick is going to be a shoo-in based on points alone. Hamlin and Keselowski are really the only drivers that may transfer spots. Interestingly enough, they both have a great shot at a win here as well. It's going to be a hard-fought battle outside the mountains this Sunday. Stay tuned to see how the final race in the round of eight plays out and who makes it to the final four in the championship round! Before I go, I'd like to tell you about the best sportsbook bonus we've EVER seen in the industry (we've been around for 20 years). You can deposit $100 to $1000 and get a 100% real cash bonus added to your betting account at BetNow Sportsbook. You can literally fund your bankroll for a whole year by taking advantage of this limited time offer! Click here to get it now!