[et_pb_dcsbcm_divi_breadcrumbs_module hide_homebreadcrumb="off" homebreadcrumbtext="Home" separator="sep-raquo" hide_currentbreadcrumb="off" homebreadcrumborientation="left" _builder_version="3.8″ fontsbreadcrumbs_font="Lato||||||||" fontsbreadcrumbs_text_color="#000000″ fontsbreadcrumbs_font_size="15px" fontsbreadcrumbs_line_height="16px" fontsseperator_font="||||||||" fontsbreadcrumblinks_font="||||||||" fontsbreadcrumblinks_text_color="#2567cf" custom_margin="25px|||" custom_margin_phone="30px|||" custom_margin_last_edited="off|desktop" custom_css_main_element="font-family: Helvetica Regular;" disabled="on" global_module="3641″ saved_tabs="all"][/et_pb_dcsbcm_divi_breadcrumbs_module]
Boston Celtics vs. Milwaukee Bucks Pick for Game 2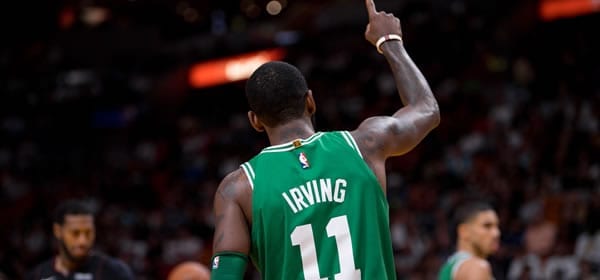 Boston Celtics (54-33, 43-42-2 ATS Regular Season) vs. Milwaukee Bucks (64-23 SU, 51-32-4 ATS)
When: Tuesday, April 30th, 2019 – 8:00 p.m. ET
Where: Fiserv Forum, Milwaukee, Wisconsin
TV: TNT
By: Matt Lowry, NBA Handicapper, Predictem.com
Point Spread: BOS +7.5 / MIL -7.5 (MyBookie Sportsbook)
Total: O/U 220
Last Time Out: Boston beat Milwaukee 112-90. The Celtics lead the series 1-0.
Game Two Rest Advantages:
Game one of this series was played over the weekend on Sunday, April 28th, meaning both teams will have had just one day to prepare for game two. On one day of rest this season, the Celtics have posted a 10-4 record straight up but a record of 5-8-1 against the spread. As for the Bucks, they are 13-5 straight up and 10-5-3 against the spread in the same scenario.
Going Buck Wild:
After destroying the Pistons in the first, the Bucks came out flat in game one of this series.. and flattened KC's bankroll just a little. That leads me to the question of, "Is this team for real? Or are they going to crumble as the one seed as many have done in the past?" Let's look at what went wrong in the first game and how the Bucks can correct it to avoid falling into a 0-2 hole.
To start, Giannis was held in check for the most part, which rarely happens to say the least. He was held to 22 points, while only shooting 7 of 21 from the field (33.3%). He did not even reach a double-double, which tells me the Celtics had the perfect game plan to contain the possible MVP. Just for comparison sake, Giannis averaged 27.7 points per game this season and 12.5 rebounds, so you see why limiting him is so important. Now I fully expect Giannis to bounce back with a monster game two. I am thinking he will score at least 30 points, but my key to the game will be Khris Middleton.
Starting with Middleton, he provided a double-double in game one, scoring 16 points and grabbing 10 rebounds. After doing some research, I found that in four games against the Celtics this year (including the playoffs), Middleton is averaging 17 points per game. Seeing how Giannis had his struggles, that is where Middleton can step up and provide a second wind. Also, the Bucks have their backs to the wall now after getting blown out in their own arena, so I like Middleton to be the difference maker in game two.
Another factor I saw that will need to improve is the bench scoring for the Bucks. In total, the Bucks had 40 bench points, 44.4% of their 90 total points. However, when you break down the numbers, only one player was able to score more than 10+ points coming off the bench. That player is of course, Nikola Mirotic. Mirotic scored 13 in game one but needs to make his presence known in game two. Over the course of the regular season, Mirotic scored an average of 15.2 points per game (with the Pelicans and Celtics combined), but in the playoffs that number has fallen to 8.6 points per game. Even if Mirotic is put in the game to bang around in the low post, it will still provide an extra boost to the Bucks. Look for an increased use of Mirotic to take it to the Boston big men and for Mirotic to have a much better performance in game two.
Peace of Mind:
Haven already stolen home court advantage, it has most certainly given the Boston fan base a "Peace of Mind." Now they know that all they need to do is win all their home games and they will be through to the Eastern Conference Finals. However, there is no chance they are content with a 1-0 lead and will want to come out with the same intensity level and dominate to ensure they give themselves a chance to end things in Boston as fast as possible. So, let's now look at some factors as to why Boston can win another game on the road.
Starting with their defense, the Celtics just shut down one of the top scoring teams by limiting them to 90 points. Considering the Bucks were averaging 121.8 points per game before game one of this series, tells me that this Boston defense is legitimate. But how was the Celtics defense so good against a potent Bucks offense? Well it started with their ability to shut down the Milwaukee guards. Eric Bledsoe and Sterling Brown combined for 9 points on 2 of 12 shooting from the field and 1 of 7 from the three-point line. Compare this to Jaylen Brown and Kyrie Irving, who combined for 45 points on 20 of 35 from the field and 5 of 12 from the three-point line. These stats basically tell the whole story in a nutshell and prove how much better the Boston backcourt is than the Bucks. That said, the key to winning game two will be the play of the Boston guards versus the play of the Milwaukee guards. If Milwaukee has another game where their starting guards score less than 10 points combined, Boston will run away with this game and head back to Boston with a commanding lead.
Best Bet:
My pick for this game will be the Boston Celtics plus the points. Boston's defense has been too good in the postseason and they will limit this high-powered Milwaukee offense enough to either win outright or to lose in a close game.
Free NBA Pick: Boston Celtics +7.5
Who else wants $60 of FREE member picks & predictions?