[et_pb_dcsbcm_divi_breadcrumbs_module hide_homebreadcrumb="off" homebreadcrumbtext="Home" separator="sep-raquo" hide_currentbreadcrumb="off" homebreadcrumborientation="left" _builder_version="3.8″ fontsbreadcrumbs_font="Lato||||||||" fontsbreadcrumbs_text_color="#000000″ fontsbreadcrumbs_font_size="15px" fontsbreadcrumbs_line_height="16px" fontsseperator_font="||||||||" fontsbreadcrumblinks_font="||||||||" fontsbreadcrumblinks_text_color="#2567cf" custom_margin="25px|||" custom_margin_phone="30px|||" custom_margin_last_edited="off|desktop" custom_css_main_element="font-family: Helvetica Regular;" disabled="on" global_module="3641″ saved_tabs="all"][/et_pb_dcsbcm_divi_breadcrumbs_module]
Brooklyn Nets vs. Philadelphia 76ers Pick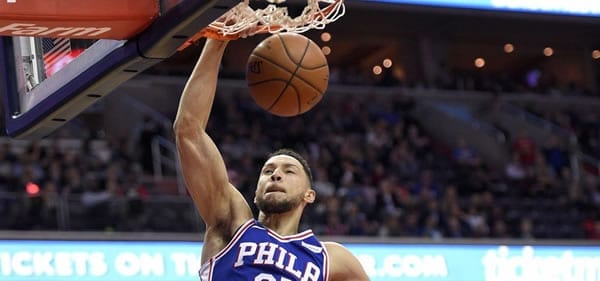 Brooklyn Nets (43-43 SU, 46-40 ATS) vs. Philadelphia 76ers (54-32 SU, 41-45 ATS)
When: Tuesday, April 23rd, 2019 – 8:00 p.m. ET
Where: Wells Fargo Center, Philadelphia, Pennsylvania
TV: TNT
By: Matt Lowry, NBA Handicapper, Predictem.com
Point Spread: BKN +8.5 / PHI -8.5 (MyBookie Sportsbook)
Total: O/U 229.5
Last Time Out: Philadelphia won game four 112-108. 76ers lead the series 3-1.
The Series So Far:
After the initial win in game one by Brooklyn, it has been all Philadelphia. The Sixers will now look to end this series on their home floor and move on to face what is likely to be the Toronto Raptors. In the games Philly has won, they have ended up winning by an average of 14 points per game. With the point spread set at -8.5 in game four, my early lean is on Philly to once again win by double digits.
Game four was played over the weekend, giving each team two days of rest and travel. Philly is 14-9 straight up and 11-12 against the spread in this situation over the course of the season. Brooklyn is 10-7 straight up and 12-5 against the spread over the course of their season when given two days to rest.
Nothing but Nets:
Many thought the Nets would not even make the playoffs and yet they proved all these people wrong by having a fantastic second half of the season and ending up with the 6th seed. Once they did make the playoffs, everyone expected them to be a quick four-game series with the Sixers and be back at home on their couches by now. However, as Brooklyn has showed throughout this series, they are not going down without a fight. Granted things have not gone particularly well since game one, but nonetheless, the Nets are sure to put up a fight in this elimination game. So, let's look at what this Nets team must do, to try and force a game six back in their own arena.
Trail Blazers vs OKC Thunder Game 5 Pick
First off and most importantly, we need to examine the Nets defense. I did some calculations and found that the Sixers are shooting an average of 51.3% from the field and 36.9% from the three-point line in their three wins. Compare this to their loss in game one where they shot 40.7% from the field and 12% from the three-point line. This is clearly a huge difference and really the Nets have not been able to slow this high-powered offense down for over a week now. But how have the Sixers shot the ball so effectively against this Nets' defense? If you dive deeper into the numbers, you will find that the Sixers have totally dominated the Nets specifically in the paint. Through four games, the Sixers are averaging 56 points per game inside the paint compared to the Nets average of 49 points per game in the paint. A ton of this production comes from the likes of Joel Embiid. Embiid has only played three games in this series but has made his presence known each time. He has scored a total of 76 points in these three games, an average of 25.3 points per game.
That said, the next question to ask yourself is, "Who can slow down Embiid?" While it has not happened yet, the answer still must be Jarrett Allen. Allen has really struggled on both sides of the ball this series, but he is the guy that needs to play at an elite level to take the Nets back home for game six. Allen has scored just 47 total points in four games, an average of 11.8 points per game. If the Nets do not get increased production from Allen, especially on the defensive side of the ball, the Nets will have no chance to win this game.
The Philly Special:
Even with Embiid listed as probable for this game, you must speculate whether the Sixers can win by the required amount to cover the spread. In all honesty, there is no reason for Embiid to risk further injury, so it would be in the best interest of the Sixers to hold him out or at the very least limit his playing time. I am not the Philly coach however, so my opinion on this matter does not hold much weight. Regardless, the Sixers showed in game three (the game where Embiid did not play at all), that they possess the talent to defeat the Nets by a considerable margin. The question is, "Who needs to step up to pull this off?"
TIRED OF YOUR CREDIT CARD NOT WORKING AT SPORTSBOOKS? IT WILL AT MYBOOKIE+ GET a $1000 Free Play!
This may be an obvious answer, but I believe Ben Simmons needs to be the go-to guy if Embiid has limited minutes or does not suit up. Simmons has taken a back seat of sorts over the course of this series. There is one outlier however and that is game three. Simmons scored 31 points in this game without Embiid in the lineup and dished out 9 assists. Whereas, in games one, two and four, Simmons scored an average of 14 points per game and had 7.7 assists per game. Should Embiid end up playing, some of Simmons' production may be lost, but in a general sense, Simmons needs to consistently score if the Sixers are going to make a deep playoff run.
Best Bet:
I do not believe the Nets will have the firepower to knock out the Sixers on their home court for the second time this series. My pick is the Sixers to win straight up and against the spread regardless if Embiid plays or not.
Free NBA Pick: Philadelphia 76ers -8.5
Who else wants $60 of FREE NBA picks & predictions?
(NO commitments. NO Credit Card. NO Salesman.)