Portland Trail Blazers vs. OKC Thunder Pick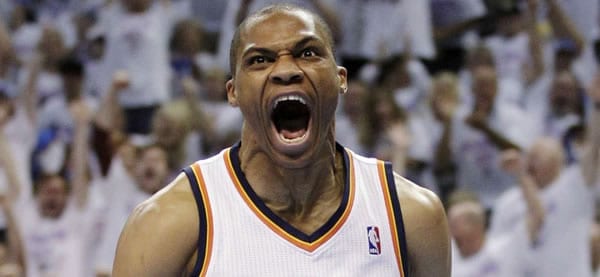 Portland Trail Blazers (53-29, 45-36-1 ATS regular season – 3-1, 3-1 ATS playoffs) vs. OKC Thunder (49-33, 42-40 ATS regular season – 1-3, 1-3 ATS playoffs)
When: Tuesday, April 23rd, 2019 – 10:30 pm ET
Where: Moda Center – Portland, OR
TV: TNT
By: Kyle Cash, NBA Basketball Handicapper, Predictem.com
Point Spread: OKC +3.5/POR -3.5 (Bovada)
Total: 219
Situations: NBA Western Conference Playoffs – Round 1, Game 5 – Portland leads 3-1
Well, crap. That didn't exactly go as planned. The Thunder were supposed to rally back from a 2-0 deficit to tie the series for a best-of-3 coming down the home stretch, and instead I'm left having to throw the baby out with the bath water as another Thunder season goes down the tubes. How exactly does a team with two All-NBA players get bounced in the first round for the second year in a row? It just doesn't seem right. I'm not mad – I'm just disappointed. We did win our game 4 pick however, so we'll ride with that!
Before we twist the knife in completely, let's see if the Thunder have a chance to extend this series to a Game 6 back in Oklahoma. Bovada Sportsbook has not yet caught on that Portland is dominating this series, and as such, Portland is only laying 3.5 points in their home arena. With the total knocked down to a wimpy 219 points, expect the defense to get ratcheted up and the shot selection by OKC to get more erratic. That's a recipe for a disaster if I've ever heard one.
Disappointment: Thy Name is Westbrook
Why change a subtitle when it can so easily be recycled? Through four games, Westbrook is a playoff career-low 36.3% from the field and averaging a ghastly (for him) 21.3 points per game. The Durant-less Thunder haven't made it out of the first round, and Russ was even more efficient from the field the year that he shot 30 times per game. This year's sudden drop has me more worried for his longevity than ever before; Westbrook may be the type of player that when it's over, it's over. His outside shooting is getting worse before it gets better, and when his athleticism diminishes by 10%, he won't be able to make up for it by keeping defenses honest. NBA centers usually are done by the time they are 30 – could Westbrook be on a similar trajectory?
These are all of the things that Thunder fans are going to have to start worrying about if OKC can't pull off the upset in Game 5. They can survive the random Al-Farouq Aminu offensive "explosion," but not when their two best players shoot a combined 13-for-42 from the field. OKC is always going to live and die by their two superstar players, but they would hope that their death isn't via suicide.
Like I said before, we're out of tricks; this is the team, and this is how it's going to be. What other adjustments does OKC need to make? Maybe they should design some plays for Westbrook and PG13 early to have them see the ball go through the hoop. The mental boost you get from making a shot or a free throw is something that stat nerds are never going to be able to properly quantify; basketball is as much of a rhythm sport as any we have. Hey, Billy – why don't you get off your ass and get your superstars some clean looks, eh? Just a thought from a neutral observer.
Port-land of the WC Champs
It's going to happen, Portland fans – your team is going to the Western Conference Finals. Denver and San Antonio are too busy beating the crap out of each other to be worried about what's going on in the world around them; whoever wins that series will be saying, "We have to play more games now?" It's in Portland's best interest to get this thing over and done with so that they can have a few days off before the next round. Houston-Golden State is the Mountain vs. the Viper of the NBA playoffs, and there's unlikely to be an un-maimed survivor from that series. No better time for Portland to strike than on a wounded animal, right? Could we seriously get the Trail Blazers in the NBA Finals? Is that a real thing? Can you tell that I'm jinxing them right now? Is it obvious?
I'm sorry, Portland. It's nothing against your team. I love Damian Lillard, and C.J. McCollum and his PA college lineage are near and dear to my heart. But I can't quit the Thunder, and I still need more time to heal after you let me down last summer.
With that being said, Portland's scheme against OKC has been flawless. Stotts has found a way to utilize Kanter as a weapon in a way that his counterpart was never able to do. And maybe that's ultimately the story of this series: Stotts v. Donovan. Both teams possess All-Star talent and uber-productive role players, but Stotts' team is clicking on all cylinders while Donovan's inmates are running the asylum. If Portland can continue to wield an efficient offensive attack and exploit OKC's superstars' injuries, they'll be flying off to Denver before you can say, "Weber State."
Best Bet
Tricked you! If you thought that I was going to change my allegiances to the Trail Blazers, you clearly haven't been paying attention. I've come this far with the Thunder, and I can go a little further. I mean – I have to, right? They have two of the guys that are going to make the All-NBA 1st/2nd teams – only the Warriors are going to be able to share that distinction. Westbrook and George have been bad, but I still think the Game 3 blueprint exists. The real problem with this series for the Thunder is that they simply can't stop Damian Lillard – or C.J. McCollum, for that matter. What do you do when you can't stop someone? You outscore them. The Thunder were an average offensive team, but they play at an elite pace – something that Portland isn't as comfortable doing. I think that Billy Donovan and the Thunder staff are going to take another look at what exactly New Orleans did last season to force the ball out of Lillard's hands, and hopefully they can make a few adjustments to dictate the narrative of the game in their favor. At the very least, you're betting on a complete savage making an elimination game competitive. There are worse ways to gamble your hard-earned money.
Final Score Prediction: Oklahoma City 122 – Portland 120
50% Cash up to $250

Who else wants $60 of FREE member picks & predictions?