[et_pb_dcsbcm_divi_breadcrumbs_module hide_homebreadcrumb="off" homebreadcrumbtext="Home" separator="sep-raquo" hide_currentbreadcrumb="off" homebreadcrumborientation="left" _builder_version="3.8″ fontsbreadcrumbs_font="Lato||||||||" fontsbreadcrumbs_text_color="#000000″ fontsbreadcrumbs_font_size="15px" fontsbreadcrumbs_line_height="16px" fontsseperator_font="||||||||" fontsbreadcrumblinks_font="||||||||" fontsbreadcrumblinks_text_color="#2567cf" custom_margin="25px|||" custom_margin_phone="30px|||" custom_margin_last_edited="off|desktop" custom_css_main_element="font-family: Helvetica Regular;" disabled="on" global_module="3641″ saved_tabs="all"][/et_pb_dcsbcm_divi_breadcrumbs_module]
Celtics vs. Pacers Pick & Prediction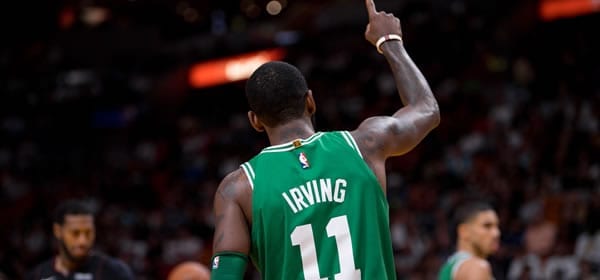 Boston Celtics (47-32, 36-41-2 ATS) vs. Indiana Pacers (47-32 SU, 39-39-1 ATS)
When: Friday, April 5th, 2019 – 8:00 p.m. ET
Where: Bankers Life Fieldhouse, Indianapolis, Indiana
TV: ESPN
By: Matt Lowry, NBA Handicapper, Predictem.com
Point Spread: BOS +1.5 / IND -1.5 (MyBookie Sportsbook)
Total: O/U 215
Last Time Out: Boston beat Miami 112-102, Indiana beat Detroit 108-89
Around the League in 82 Games:
To start, I want to formally apologize to the city of Boston for doubting that their Celtics could beat the Miami Heat in consecutive games. To be fair, they did not play very well on Monday and allowed the Heat to cover, so it only seemed right that Miami would toughen up and take the second game at home. Since my time at Predictem, I have covered the Celtics on four separate occasions. I am 2-1 ATS when picking against the Celtics and 0-1 when picking the total. So, to quote Pedro Martinez, "The Celtics are my daddy." But this time around I will not make the same mistake, which leads me to my initial lean that the Celtics will win this game and cover.
Anyway, back to the game at hand, and I might sound crazy for saying this, but this is an NBA game that means something in April. I know, I know, it is wild to think about a game in April and before the playoffs where a team is not tanking and may play some defense. That said, this game is very important for both teams if they plan to open their playoff season on their home floor.
Another important factor for this game is rest. Both teams are coming off one day of rest since their last game, and history shows that the Celtics are 30-18 straight up, while the Pacers are 24-24 straight up when only receiving one day to recuperate. Especially with-it being April, this is something to keep in mind when considering how tired each team may be.
Speaking of tiredness, each team is obviously beat up and therefore dealing with some injuries. The biggest ones to note are Al Horford (left knee soreness) and Marcus Morris (left knee soreness). Horford has been listed as questionable, while Morris is already listed as out for this game. Luckily for the Celtics, Al Horford was able to play last time out in Miami, making his chances to play very high.
The Pacers are Coming! The Pacers are Coming!
It only seems appropriate that I quote the famous Paul Revere when discussing the Boston Celtics. Although this time the British are not the ones coming, but the Pacers certainly are. This Pacers team is breathing down the necks of Boston for home court advantage and Boston is doing everything they can to hold them off. They are 2-1 straight up against the Pacers this year, but the problem is all 3 meetings were won by the home team. The next question is, "Can the Celtics go on the road and win this game?" Well as I mentioned earlier they just won in Miami, improving their away record to just 19-20. Meanwhile, the Pacers are sitting pretty with a home record of 29-10. This is a scary task for the Celtics, but they have the talent to pull off what would be a small upset.
A Celtics win all starts with the play of Kyrie Irving. Irving is coming off a 23-point game in Miami, while also shooting 8 of 19 from the field. However, the X-factor so to speak will be Gordon Hayward. Hayward has been inconsistent all year long but has shown flashes of his former self throughout the season. One being on Wednesday night when he dropped 25 points coming off the bench. That said, if that version of Gordon Hayward comes to play in Indiana, the Celtics will be in a great position to not only cover but to win this game by a comfortable margin.
Indy "Below" 500
I know what you may be thinking, "But Matt, the Pacers are well over .500 and are competing for the 4th seed in the East, what do you mean they are below .500?" In this regard I am not talking about the season as a whole, but more so the season since their star went down. Feel free to fact check me, but since January 23rd, the game where Victor Oladipo went down with a season ending injury, there have been 33 games. Including the game he went down in, the Pacers are 16-17. Yes, this feels like ages ago, but I believe it is still relevant when trying to handicap this team. Sure, guys like Bojan Bogdanovic, Domantas Sobonis, Myles Turner, Thaddeus Young, and many more have stepped up to continue winning games, but do you really think the Pacers have what it takes to win a game as important as this without their leading scorer?
Let me give you another stat to further prove how important Oladipo was to this lineup. Before the injury to Oladipo, they scored 108.9 points per game. After the injury, they have scored an average of 106.6 points per game. Oladipo was truly the leader for this team and they do not look the same without him. Same goes for defense, the Pacers allowed an average of 103.1 points per game with Oladipo and now are allowing 105.5 points per game without him.
They are especially missing Oladipo as of late. The Pacers have gone 3-7 straight up in their last 10 games and have almost thrown away home court advantage completely. Unless they get a monster defensive performance from guys like Corey Joseph, who will likely be guarding Kyrie Irving, I do not see how the Pacers can beat the Celtics.
Best Bet:
Strangely enough, the Celtics opened as a 1.5-point favorite, but now sportsbooks like MyBookie have them as a 1.5-point underdog. I believe the Celtics are too talented in individual matchups and they end up crushing the Pacers away from TD Garden, increasing their chances for the coveted 4th-seed, while remaining in the conversation for the 3rd-seed. To wrap things up, I love the Boston Celtics +1.5 in this crucial game in Indiana.
Who else wants $60 of FREE member picks & predictions?