Detroit Pistons vs. Portland Trail Blazers Pick 3/23/19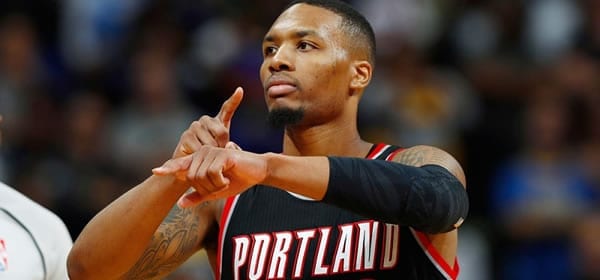 Detroit Pistons (37-34, 36-34-1 ATS) vs. Portland Trail Blazers (44-27, 40-31 ATS)
When: Saturday, March 23rd, 2019 – 8:30 pm ET
Where: Moda Center – Portland, OR
TV: NBATV
Point Spread: DET +5/POR -5 (WagerWeb)
Total: 215.5
Last Night in the NBA
A tale as old as time: if you see a line that's too good to be true, it probably is. Luckily, your go-to NBA handicapper can parse through the tea leaves better than most. Anytime you see such astute statistical analysis as, "Uh, idk, the Thunder, I guess? I'm a Westbrook defender," you know that you've really struck gold. Don't hate me cause you ain't me.
While the NCAA tournament raged on, the NBA continued to do its thing. Harden put up another box score that shouldn't be viewed by anyone under the age of 17 without adult supervision, and LeBron's Season From Hell finally met its logical, sticky end at the hands of D'Angelo Russell. Go ahead and deny the existence of a cosmic presence all you want, but you just can't make these things up. D-Lo 4 life.
While the NCAA tournament kicks into overdrive, let's lean back off of the accelerator a bit in the NBA and take a drive down easy street. We have the pleasure of taking in a game that has so little effect on the sports world at large that they could just simulate it in 2K and none of us would be any the wiser. Even still, where there's a game, there's a wager, so let's break it down as the Pistons head into Portland for one last romp. The home team, sans C.J. McCollum, is still a 5 point favorite with the total set to a wimpy 215.5. Boo! Defense and slow pace! Boo!
Detroit Motor City
Sorry – that's the best I got. Oh! Motor City…Pistons…it's all starting to make sense to me now. And if you want to get really technical, Detroit has been firing on all cylinders for the past couple of weeks. After a torrid streak of 12 victories in 14 games, the Pistons have come back down to Earth a bit as they head west for one final road trip. Without the lack of fanfare coming out of Detroit, you would think that the Blake situation has become unraveled, but it's actually quite the opposite; BG is quietly putting together a stealthy All-NBA case. Three weeks ago, I was salivating at the thought of a first-round date between lifelong BFFs Joel Embiid and Andre Drummond. I'm not yet to the point that I'm worried, but I am going to hold off on cracking the champagne just yet.
But unless Detroit can survive its gauntlet to end the season, I may not even have a chance to be worried about them. They close their season with 7 games against current playoff teams, 5 of which are on the road. It's not quite time to panic yet, but they definitely need to string together a few more Ws to hold off the line of teams chomping at their heels.
They can do so tonight by picking up a road victory over the McCollum-less Blazers. To do so, they'll really need to focus on generating some clean looks on offense. While Blake has been a fantastic point forward this year, Detroit is just 20th in the league in offensive efficiency, and they play at a pace that isn't exactly aesthetically pleasing. Portland, meanwhile, is among the elite offensive units in the NBA and are able to put teams away early with outside shooting. It's hard to say this without laughing, but Detroit is really going to need Reggie Jackson to go toe-to-toe with Lillard tonight for them to have a realistic shot. I know – even just typing that felt stupid. Just skip ahead and let me make my pick. We're done here.
The Other Curry
I know that it's been a crappy organization for the last 10 years, but what exactly does the Magic front office do in their spare time? There has never been a bigger glut of guard talent in league history than we have right now, and yet Orlando's guard rotation consists of D.J Augustin, Isaiah Briscoe, Jerian Grant and Markelle Fultz' lifeless shell of a body. You're trying to tell me that they couldn't have thrown a boatload of money at Seth Curry and used him as a combo guard next to Fournier? Is that not a better option than a rash of G-League talent? Is there no creativity happening in Orlando? Or is the organization getting bled dry like a stuck pig? I need to get Charlie from "Always Sunny" to do his Pepe Sylvia research on the case – I think the Magic front office might be a ghost town.
I digress. I'm just amazed at the lack of ingenuity that some teams have. If it was me, all I would do all day is comb through data and game tape to find diamonds in the rough. And that's exactly what Portland has unearthed by plugging Curry into the McCollum spot. In a way, this is cathartic for all of us "trade C.J." truthers out there; McCollum's offensive game is more geared towards creating opportunity than capitalizing on the chance that a lead ball handler could create for him. In other words, a Dame-C.J. backcourt can be somewhat redundant. But with Curry whipping off screens and canning open jumpers, Portland's scheme and offensive hierarchy makes a lot more sense.
And they'll need the offensive firepower if they want to hold off the Pistons tonight. Detroit owns the 11th best defense in the NBA, and they present some match-up problems for PDX. Drummond is The Mountain to Nurkic's Hound, Blake can probably hold off Aminu and Harkless on his own, and the rest of Detroit's rotating cast of characters on defense range somewhere between adequate and Luke Kennard. The X-factor is, as always, Damian Lillard's ability to run an effective offense. As long as he doesn't turn in a dud, he should have no problem manipulating Reggie Jackson into a pretzel and carving up Detroit's backcourt. If, however, our King fails to live up to the task, things could get very interesting very quickly in Portland. Don't sleep on West Coast Blake.
Best Bet
To me, the Andre Drummond Test is the best way to determine whether or not someone actually watches the games or just sifts through the various box scores and League Leaders tabs on NBA.com. There has never lived a more "empty calories" player than Drummond, and yet I'll have people telling me how impressive he is because he had 20-20. Yea – big whoop. Six of those rebounds were missed tip-ins that he got a finger on and 10 of them were uncontested by anyone. I haven't dived into his rebounding metrics in terms of rebounding in traffic, and I'm sure they're fine – but honestly, who cares? Basketball is about synergy, and Drummond is ultimately disruptive to that for an NBA team in 2019.
With that being said, the last couple of weeks have been Drummond's best ever in terms of defense and stats that lead to team success, and being able to generate second-chance points could be huge in a game projected to be a tight affair. However, Portland's rebounding numbers and presence of Nurkic should be enough to render Detroit's advantage null and void, and their 27-9 home record gives me some comfort. Portland has firepower from deep, and if Detroit falls behind early, I can see them calling off the dogs and saving it up for a big Sunday match-up with an apathetic Warriors team. Trust in Lillard, and trust in Kyle Cash.
Final Score Prediction: Portland 117 – Detroit 108