Golden State Warriors vs. Los Angeles Clippers Pick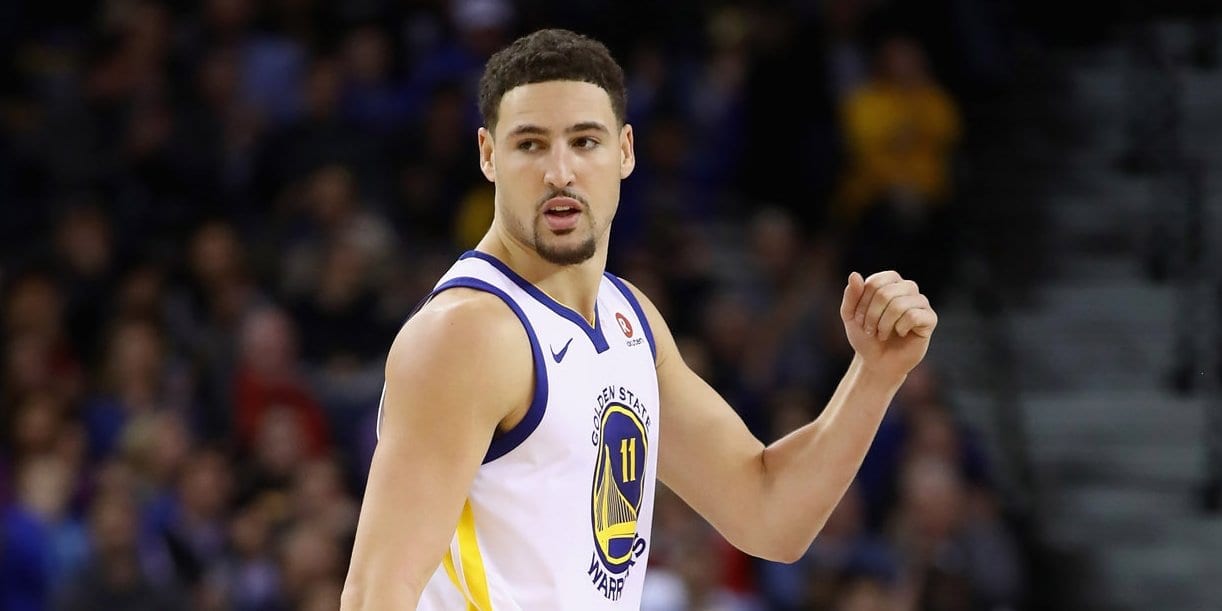 Golden State Warriors (11-2, 8-5 ATS) vs. Los Angeles Clippers (7-5, 7-5 ATS)
When: Monday, November 12th, 2018 – 10:30 pm ET
Where: STAPLES Center – Los Angeles, CA
TV: NBATV
By: Kyle Cash, NBA Basketball Handicapper, Predictem.com
Point Spread: GSW -3 / LAC +3
Total: 214
Last Night in the NBA
After three straight embarrassing losses for Predictem.com, I decided on Friday to hang up my betting ticket for good. I was despondent, despaired, and disappointed that I had arrived at this point. But then – a beacon of light shined down upon my face. I gazed into the warm, blinding ray of hope as it bathed me in its glory. And then – I heard a voice. It was hard to discern at first, but soon, the echoing bass thundered into my very soul, and the message became clear. A smile crept across my face as tears formed in my eyes. I repeated the words that had been foisted upon me, and it read thus:
Minnesota has agreed to a deal to send Jimmy Butler to Philadelphia for a package that includes Robert Covington and Dario Saric, league sources tell @ZachLowe_NBA and me (@wojespn).
We're back, baby! Any guesses on what game my Wednesday column will be on?
I'll hold the rest of my Jimmy Butler-related thoughts until then, but for now, let's head back to the City of Angels for a match-up between the two-time reigning champs and Doc Rivers' excitingly frisky squad. Sans Stephen Curry and possibly Draymond Green, the Warriors currently sit at a 1-point underdog in Staples Center with the total set at 214 points. The road to redemption begins right now.
Monday Night Football Pick: Giants vs 49ers 
Steph and the City
Kevin Durant is the perfect cog in the perfect basketball machine, but Stephen Curry is the engine. Without Steph, the Warriors do not exist in their current glory. Seriously – go watch their games. You might have forgotten about the gravity that he creates on a basketball court. I am watching the game through an omnipotent lens, and yet even I still sometimes find myself daydreaming watching him dart in and out of screens only to realize too late that someone has been left unattended under the basket. In college basketball, old-time guys like to tell you to work your offense inside-out i.e. establish a low-post/interior presence and allow that to create open space on the perimeter. The Warriors took that and flipped it on its head; they use the threat of their shooting to create mismatches inside and brain-fart induced wide open lay-ups and dunks – and there's no greater threat on Earth than Wardell Curry.
Even still, Kevin Durant is one of the most efficient basketball players in the history of the league, Klay Thompson is one of four people ever that can hold a candle to Steph's shooting ability, and the rest of the patched-up Warriors get the job done when called upon. However, at some point, the Warrior's embarrassing lack of veteran talent is going to catch up to them, and it's best for us to at least be wary of it.
Against the Los Angeles Clippers, it's not a good idea to have noticeable gaps in personnel. Arguably the league's most balanced team, the Clippers are an inch deep but a mile wide, and they might be able to drown the pothole that is the current Warriors roster. Patrick Beverley and Shai Gilgeous-Alexander are pesky, rangy defenders; Tobias Harris and Danilo Gallinari are one of the best forward tandems in the league; and Boban is a very large, strong man that exists on this Earth for the sole purpose of making other very large, strong men look not so large and strong. The Clippers rank inside the top half of the league in both Offensive and Defensive Rating, and their balanced attack may cause problems for the Warriors' dilapidated roster. If I wanted to bet on the Santa Cruz Warriors, I would just find someone to take my G-league bets. Luckily, I haven't stooped that low into degenerate status – yet. And neither should you.
Clippers Gonna Clip
On Saturday night, the Clippers stared into the eye of the beast, and they said, "Not today, Death." The Greek Freak gave them everything that could handle (27 points, 18 rebounds, 4 assists, 5 steals, 2 blocks) but Montrezl Harrell and Tobias Harris held him down while Lou Williams plunged in the wooden stake, and Giannis was vanquished in a puff of smoke. If they want to keep their momentum rolling, they better sharpen their knives and reload their weapons – the Slim Reaper awaits.
I understand the argument that crafting a team around superstar talent is the fastest and most likely road to an NBA title. If you look through the annals of NBA history, almost every single championship has been won by a top-5 player. But the Spurs brand of basketball inspired in me a thought that I have never been able to suppress, and one that I know I will never see in my lifetime: an egalitarian basketball team. In other words – a team where everyone on the team has equal talent, measurements, skill, IQ, etc. A complete uniformity. I believe that the perfect game of basketball does not require dribbling: just ball movement, player movement, and shooting.
Can the Clippers reach that Nirvana? No. No one can. But a team without a discernible crunch time guy is a blessing and a curse. It eliminates your game-to-game reliability and responsibility, but also allows for variance in a way that other teams lack. The LA Clippers have threats across the board, and against a banged-up Warriors team, they should be able to manipulate match-ups in their favor. They have bodies to throw at Durant, a few lock-down perimeter defenders to babysit Klay, and after that, who is left that is a threat? Quinn Cook? *checks box score* 27 points?! Okay, yea, maybe Quinn Cook too. Let's deal with him. But then…we bring the noise. The Clippers had their test drive on Saturday to see if their defense could hold up against the Greek Freak; now, let's put this thing into second gear and take on Durant. Bring it on, Durantula.
Quick Match-up Notes
The Warriors have won 14 of their last 16 games versus the LA Clippers
Kevin Durant is 10-2 versus Tobias Harris in his career
Golden State ranks first in Offensive Rating; LA ranks sixth
NBA Pick
Online Sportsbooks have GSW as high as 3 point favorites this morning. Listen, this is a divisional game, and we all know that you can throw out the stats when it comes to NBA divisions. Wait – hold on. Just got done watching the Eagles get their asses kicked by the Cowboys. What I meant was: these teams have history. Lob City is dead, but their spirit lives on. The current incarnation of the LA Clippers are like the stunt doubles for the Clippers' stars of old, but it's actually working to their advantage. With less team turmoil, a more attentive coach, and a roster construction that makes sense for the brand of basketball that is being played in today's NBA, the Clippers are a dangerous out on any given night.
With all that being said, there are just too many skeletons. When you break a team, it's hard for them to regain their spirit. This isn't The Dark Knight Rises; the Clippers are not going to climb their way out of the Lazarus Pit and go rescue Gotham anytime soon. In this story, Talia Al-Ghul's plan (What was it again? Destroy the city? How cliché) goes through without a hitch, and the bad guys win the day. While I appreciate their fervor, the LA Clippers are a team of Robins, and only Batman can save their day.
Final Score Prediction: Golden State 118 – LA Clippers 110
TIRED OF YOUR CREDIT CARD NOT WORKING AT SPORTSBOOKS? IT WILL AT BOVADA + GET A 50% CASH BONUS!
<h4 class="widgettitle">NFL Picks</h4><!-- [et_pb_line_break_holder] -->
<div style="width:340px; margin: 0 auto;"><!-- [et_pb_line_break_holder] --> <a class="twitter-timeline" data-width="340" data-height="500" data-link-color="#008156" href="https://twitter.com/PredictemPicks?ref_src=twsrc%5Etfw">Tweets by PredictemPicks</a> <script async src="https://platform.twitter.com/widgets.js" charset="utf-8"></script><!-- [et_pb_line_break_holder] --></div>