Houston Rockets vs. Golden State Warriors Game 2 Pick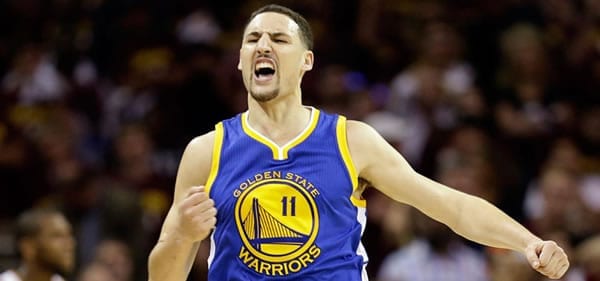 Houston Rockets (53-29, 40-39 -3 ATS regular season – 4-2, 4-2 ATS playoffs) vs. Golden State Warriors (57-25, 35-46-1 ATS regular season – 5-2, 3-4 ATS playoffs)
When: Tuesday, April 30th, 2019 – 10:30 pm ET
Where: ORACLE Arena – Oakland, CA
TV: TNT
By: Kyle Cash, NBA Basketball Handicapper, Predictem.com
Point Spread: HOU +5.5/GSW -5.5
Total: 220
Situations: NBA Western Conference Playoffs – Round 2, Game 2 – GSW leads 1-0
Things in my life that don't currently make sense: 1) why I'm not a super rich, super famous sports blogger, 2) how [redacted] in the last episode of Game of Thrones [redacted] the [redacted] and [redacted] the [redacted], and 3) how the hell the Celtics stopped Giannis in Game 1.  Did Mike Budenholzer forget that he had to actually coach? Did he pull a Coach K and just roll the ball out and say "let them play"? The world may never know. Congrats to Matt on calling that one.
Let's leave the past in the past and look forward towards the Bitch-fest of the week as the Houston Rockets complain their way into Golden State for Game 2 of the Western Conference Semi-finals. Houston's analytics guys may be on the case regarding the foul imbalance in this series, but the online sportsbooks are more focused on Golden State's recent dominance as they have the Dubs as a 5.5-point favorite with the total set to a steamy 220 points. It's time to litigate what exactly is a "landing area" for another 2.5 hours! Strap in!
And the Oscar goes to…?
I mean, really? This is what we're doing with our taxpayer dollars? Houston has their crack team of crackpots trying to find out just exactly how much they are being marginalized by a group of referees who make 1/100th the salary of the guys that they are refereeing. Listen – I get it. Everybody hates the refs. But they have an absolutely impossible job. It's a thankless position where no matter what you do you're going to piss off 50% of the viewership. Unless, of course, you call fouls against Golden State, in which case you're only pissing off the city of Oakland because nobody outside of there (except for me) really wants to see the Warriors win another championship. But guess what, fellas? Trying to win an Oscar with your foul-drawing performance ain't going to do it. You have the tools already, Houston. Use them.
For Houston to knot the series up at one a piece, they're going to need a better effort from their star players. Fouling and complaining about fouling is a valid strategy, but not when you're trying to beat the best in the world. Houston, since the All-Star break, was first in offensive rating and second in defensive rating. They have the tools on both ends to stop a fairly hobbled Golden State team. With both Steph and Klay's lower extremities feeling the wear and tear of a fifth straight finals, Houston's guards need to put the pressure on them off the dribble. Just run a pick-and-roll with Steph's man to get him switched on to Harden and let the roasting being.
Offensively, Houston has the recipe: bomb threes, get to the line, take advantage of mismatches. But their ancillary play has to improve as well. With Iguodala inserted into the starting lineup, Houston got manhandled on the boards, and only came down with 26 in the game. The whole game! Bill Russell grabbed 44 of those one time! Playing small is all well and good, but your wing guys really need to step up on the boards and in passing lanes to improve Houston's ability to get stops. If they can't keep Golden State off the glass, this might not be the series that we were hoping for.
Logan Lucky
A lot of people have been clamoring to proclaim Kevin Durant as the best in the world for the better part of the last three years. In some ways, I see it. There's basically no one in the world that can stop him from getting to his spot. He has a crazy fluid shooting motion. He's sneakily athletic for being as tall as he is, which is sneaky tall. And while I watch Embiid lumber through the lane like a drunk baby with a pacifier, Durant moves like a gazelle. This was always the thing with KG as well. He just looked like he was born to be that tall, where as other guys seems like they got that tall by accident. And like I said, basically no one in the world can stop Kevin Durant from doing what he wants on the basketball court. Except for the actual best player in the world, Kawhi Leonard, who is going to haunt my dreams for the next 7 to 10 days.
There are two ways to look at the Game 1 result from a Golden State perspective: 1) they gutted out a win without getting major contributions from the Splash Bros, and they withstood Houston's run at the end and were still able to seal a victory, or 2) they got a little bit lucky with the officiating, a little bit lucky with Harden's inefficiency, and a lot bit lucky that Chris Paul and Clint Capela decided to take the day off. Neither team played to their full capacity, and that's okay. We want these teams to struggle so that we can watch them eventually prevail. We want a knock down, drag-out series that leaves both teams wounded heading into the Western Conference finals and beyond. But that doesn't mean we also don't want some good basketball. Golden State's general sloppiness and disregard for their own offensive flow is concerning bordering on dangerous, and these are the kinds of mistakes that can swing a series one way or another. Just think of Steph's insane behind-the-back pass to Klay Thompson in Game 7 of the 2016 finals in the middle of a tight fourth quarter. No one on Earth would make that pass in that scenario, but when you're feeling yourself as much as the Warriors feel them selves 24/7, those types of plays are bound to happen.
While the total may be set to 220 points, if you're looking for an offensive explosion, you might want to tune into Portland versus Denver instead. Yes, this series has six of the 18 (or so) best offensive players in the world involved, but most of them double as elite two-way players, and both teams can go to another level defensively if they have to. And that's mostly the key for Golden State's victory. Cut off the head of the snake, and the body will crumble. Harden is a snake. Cut off his head.
Best Bet
People that pay closer attention than I do to these two particular teams seem to think that this series is destined for seven games. I'm not convinced of that yet, but I'm also definitely a bit more in the pro-Golden State, anti-Houston camp than the casual NBA fan. I think that I just believe in the mysticism of Stephen Curry's shot-making on a level that is probably unhealthy for my own psyche. If you ask me, I would probably say that one of these games is bound to be a Golden State blowout, as well as one of these games is bound to be a Houston "We make 25 three pointers in the first 3 quarters" kinds of games. But for the time being, I think that this series is on a path to be On the longer side solely because of the talent that exists on both side from the players to the coaches to the front offices. Houston might not be able to win this game, but they're going to go all out to try to get the split, and they're not going to pack it in early. They have too much variance in their style of play; they could just as easily go 16 for 24 from downtown as they could go 0 for 24, and for that reason, they are never truly out of the game. This game should be close through and through and it's basically malpractice that the line has climbed all the way to 5.5-points. End of game free throws notwithstanding, if this game ends up as more than a one possession affair in Golden State's favor, something either went really, really right for Golden State or really, really wrong for the Rockets. My money, for one night only, lies with Houston.
Final Score Prediction: Golden State 108 – Houston 107
Who else wants $60 of FREE member picks & predictions?