Houston Rockets vs. OKC Thunder Pick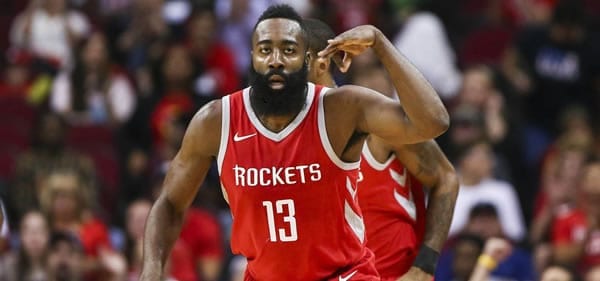 Houston Rockets (53-28, 40-38-3 ATS) vs. OKC Thunder (47-33, 40-40 ATS)
When: Tuesday, April 9th, 2019 – 9:30 pm ET
Where: Chesapeake Energy Arena – Oklahoma City, OK
TV: TNT
By: Kyle Cash, NBA Basketball Handicapper, Predictem.com
Point Spread: Rockets - 1
Situations:
HOU: Last game – Sun. vs. PHX, Next game – PLAYOFFS
OKC: 3rd in 4 nights, Last game – Sun. @ MIN, Next game – Wed. @ MIL
Last Night in the NBA
With only two nights of NBA regular season hoops left on the schedule, let's take advantage of a slow sports week (until Thursday's Masters) and roll over our UVA winnings into the final games of the NBA regular season. You did bet on UVA to win it all at 8/1 on February 16th as per my advice, right? That's right, baby. 8/1! We give out winners here at Predictem.com.
And let's give out another one right now. The Houston Rockets broke their own 3-point record on Sunday against the Suns while Russell Westbrook and his band of cohorts were triple-doubling their way to a 3rd straight victory. Tonight's game is number 82 for Houston and 81 for OKC, so suffice to say that bookmakers have been hesitant to set a line until player rosters are confirmed. Some sportsbooks like Bet365 have opened the Rockets at -1, but let's settle in and handicap the game and you can throw it back in my face tomorrow. Sound like a plan?
Defending the Crown
For the sole reason that I think the vote is going to go against him, I am beginning to waver on my "Giannis is the MVP" stance. James Harden just had his 4th season where he had a total Win Share over 15.0. For context, the following players also have 4 or more such seasons: Wilt, MJ, Malone, LeBron, Kareem, Oscar, David Robinson, Bird, Magic, and Dirk. By that simple math alone, Harden would be one of the 12 best offensive players in history in the midst of his greatest offensive season. Giannis is a 24-year-old phenom who (knock on wood) has another 8 or 9 seasons as good as or better than the one he is currently having. Harden isn't an old man by any standard, but his game is going to fall off when his first step starts to go, and then it's adios for Mr. Harden. Maybe we should just give this one to the Beard and save a few for the Freak down the road.
And that's pretty much all of the clean-up that we need to do for the Rockets' season. They have cemented themselves as the preeminent threat to the Warriors in the Western Conference, and it's now-or-never for James Harden's playoff legacy.
To secure his place in history, Harden would be wise to snag as much home-court advantage in the playoffs as he can. With some help from the Timberwolves on Wednesday night, Houston can snag 2nd place right from under Denver's nose – if they take care of business against OKC, that is. Despite a stellar defensive front, OKC ranks 16th in the NBA in opposing 3-point percentage, and spoiler alert: Houston makes a ton of 3s (see: Sunday's NBA record). Provided that Houston is properly motivated, they have the players and the scheme to give a struggling OKC team all kinds of fits. And one last Special Skills section in Harden's MVP resume wouldn't hurt either.
A Get-Right Game
In order to avoid a Round One beatdown at the hands of the Warriors, OKC is going to need to take care of business here in the last two days. The 8-spot is the death spot, and it's not the match-up that OKC is looking for. A date with Portland or Houston? They'll take their chances. Best case scenario? The baby Nuggets. Anybody but the Warriors would be just fine with the OKC faithful.
And after a lackadaisical month or two, the Thunder are happy to see their team get back on track. They own a 2-1 record versus Houston this season, and while Harden has put up big scoring numbers, it's been an inefficient run for him. He's failed to top 43% from the field in any of his 3 meetings with the Russ Bus this season, and if you cut off the head of the snake, the body will follow. If OKC can frustrate Harden and use their 4th-ranked defense to stop Houston's barrage of 3s, they should be able to win this in a walk and avoid a horrible Round One fate. Fingers crossed for my guy.
Best Bet
As winners of 20 of their last 23 games, it's hard to imagine any scenario in which Houston loses to a beaten-down OKC team while at full-strength. Injury reports be damned, the scuttlebutt surrounding Paul George's shoulder(s) is not great, and his MVP-level play is long gone. In their last meeting, George needed a Herculean 45 points to overcome Harden's 42, and there's just no way that he can reach those heights again right now. Westbrook's abominable shooting has been more league-average as of late, and his playmaking and hustle are as wild as ever. But this feels like a classic mic-drop game from Harden where he puts an exclamation point on his 2018-19 MVP campaign. Anything less than a 50-point outing is disappointing for the Beard of late. Lay those hard-earned smackeroos on the past and future MVP.
Final Score Prediction: Houston 117 – OKC Thunder 111