Indiana Pacers vs. Boston Celtics Pick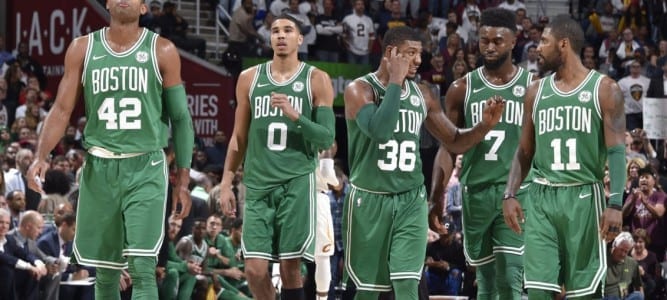 Indiana Pacers (45-30, 36-38-1 ATS) vs. Boston Celtics (44-31, 35-38-2 ATS)
When: Friday, March 29th, 2019 – 7:00 pm ET
Where: TD Garden – Boston, MA
TV: NBATV
By: Kyle Cash, NBA Basketball Handicapper, Predictem.com
Point Spread: IND +6.5/BOS -6.5 (Intertops Sportsbook)
Total: 214
Last Night in the NBA
I mean, what else do you want from me, Denver? I've given you every opportunity to prove your worth, and you've failed at every turn. For a team that is going to finish with 55 wins, you sure do lose a lot of the games! Smoke and mirrors – that's all that you are to me, Denver. Emphasis on smoke.
Elsewhere in the NBA, the MVP candidates (Giannis, Harden, and my son Joel) had a trifecta of impressive stat lines, Manu's jersey retirement ceremony had us all up in our feelings, and Luka Doncic lost the Slovenian war to Goran Dragic but still managed to cross James Johnson into next week in the process. Incredible stuff from the young fella.
Tonight, let's keep our win streak alive with a playoff preview as the Indiana Pacers travel into Beantown to take on the Boston Celtics. With both teams limping to the finish line, we could be in store for a sloppy affair. Boston has a rash of questionable players, but the sportsbooks like Intertops still like them as 6.5-point favorites and a total set to a wimpy 214 points. Three wins in a row and 4/4 in my Elite Eight picks so far – when you're hot, you're hot.
Deal with the Devil
You'll never get me to believe that Indiana doesn't have some kind of deal with a crossroads demon in place to help propel them through this season (shout-out to any Supernatural lovers). I've lamented this before, but it's worth repeating that Indiana's three best players are Bojan Bogdanovic, Myles Turner and Domantas Sabonis. Spoiler alert: none of those guys are good enough to be the best player on a 4-seed. But Indiana has somehow persevered, and their 3-headed snake can easily expand to a 9-headed hydra on any given night. When the sum of the parts is greater than the whole, you find ways to beat the crap out of bad Eastern Conference teams and pad your stats.
But that doesn't mean that the Pacers are incapable of toppling the juggernauts; we're not dealing with a Denver Nuggets-esque situation here. They've split their series with Boston this season but were subjected to a 27-point drubbing in their previous matchup sans Oladipo. Defensively, guarding Kyrie is always going to be a problem for Indiana; Boston can attack Bojan or an off-kilter Turner in isolation sets and neutralize Indiana's tight defensive scheme.
To keep this one close, Indiana is going to need to make up the deficit on the other end. The Pacers aren't as good of a rebounding team as their roster would indicate, but they should be able to beat up on Boston's undersized frontcourt. A Sabonis-Turner-Young trio is a legitimate force to be reckoned with inside, and I don't think Al Horford's corpse, Daniel Theis or the Timelord Robert Williams is going to scare them away. If second-chance opportunities are few and far between, Indiana is going to need to turn defense into offense with their 2nd-ranked forced turnover percentage and track down some easy buckets in transition. And that's the beauty of this team – any method of winning will do. They aren't picky. I'm pulling for you, Indiana!
The Season from Hell
We've had a whole season of team dysfunction and mediocrity, and yet I still have a hard time believing how far the mighty have fallen. All we heard about all summer was about how Boston was assembling the next great dynasty and were going to torture the Eastern Conference for the next decade. Flash forward six months later and they're staring down the barrel of a B-level star Jayson Tatum-led team saddled by two contracts paying nearly 60 million dollars per year to two aging, injured veterans while Kyrie flees for the bright lights of the Big Apple. I'm glad you Boston guys love Terry Rozier so much because I will thoroughly enjoy watching Ben Simmons put him in the torture chamber for the foreseeable future. Keep talking about how dysfunctional the Sixers' roster is – we'll see y'all in June.
And if Boston wants to meet us at the top, they'll have to topple Indiana first. This should, on paper, be a defensive battle. You may think that a low-scoring affair would play towards Boston's favor with their 7th-ranked defense, but the Celtics are just 4-17 in games in which they've scored 105 points or less.
In short, the Celtics shouldn't be interested in making this a slugfest. Despite their inconsistent nature, Tatum and Irving are two of the better isolation scorers in the NBA, and Boston has enough shooting around them to put up points in a hurry. The real X-factor lies in their 30-million-dollar man – Gordon Hayward. The Baby-Faced Assassin is overqualified to be a secondary playmaker and scorer, and he's perfectly capable of breaking any game wide open with his offensive skillset. In fact, Boston is 15-2 when Gordon breaks the 15-point threshold, so if you like the Celtics in this one, maybe find a Hayward player prop as well. Food for thought!
Best Bet
I almost think that I should approach this as a question of who is going to lose the game. With Kyrie going off the rails and Al Horford noticeably hobbled, the Celtics have been in a fog over the last week or so, and Indiana finally crashed into their glass ceiling of talent. With both teams on the front end of a back-to-back, there's no need to bring rest or relaxation into the equation, but Indy is coming off of a tough road game in Oklahoma City. If I were a betting man, I would probably take my talents to the NCAA tournament and lay my money on that guy named Zion; this game is simply too close to call. But my gut is telling me that Indiana has something to prove and Boston doesn't want to show them any tricks, so I'll feel okay about taking the points and heading for the hills. Let's gut one out for the blue-collar Midwest, boys.
Final Score Prediction: Boston Celtics 104 – Indiana Pacers 99