Indiana Pacers vs. Philadelphia 76ers Pick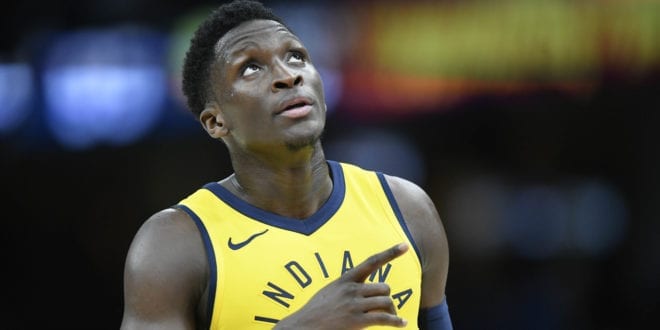 Indiana Pacers (18-10, 14-13-1 ATS) vs. Philadelphia 76ers (19-10, 13-16 ATS)
When: Friday, December 14th, 2018 – 7:30 pm ET
Where: Wells Fargo Center – Philadelphia, PA
TV: ESPN
By: Kyle Cash, NBA Basketball Handicapper, Predictem.com
Point Spread: 76ers -4.5 (5Dimes) 
Total: 219
NBA Advent
To celebrate the holiday season, let's countdown with a fun NBA fact or statistic related to the number of days left until Christmas:
12 – This is a little bit of a cheat, but this past February, Julius Randle scored the 12,000,000th point in NBA history. Unfortunately, we don't have records of the other 11 men who scored each million milestone point, but shout-out to those 12 guys – whoever you may be. And here's to 12 million more.
Last Night in the NBA
I'm sorry, but this is beginning to get goddamn ridiculous. I'm fine with having my analysis being a bit off; there's only so much you can do to predict the outcome of an NBA game. But a pseudo-blowout? Led by TJ Warren and Jamal Crawford? I think in terms of my Gambler's Insurance, we can go ahead and file that one under "Act of God." Eff you, Phoenix.
Outside of a James Harden routine 50-point triple-double, we had a quiet night in the Association. With players signed to contracts this summer eligible to be traded on Saturday, look for some teams to start making pre-emptive deadline deals *cough Ariza cough* in order to sure up their line-ups *cough to the Lakers cough* or to make sure that they can bottom out *cough James Jones colluding with LeBron cough* and get the best chance in the Zion sweepstakes. Picking up what I'm putting down? (LeBron is blatantly cheating) (*cough*).
With Christmas Day fast approaching, the conference standings are beginning to make more sense. We have a particularly interesting bout in the City of Brotherly Love on Friday night as the Indiana Pacers come into town with a 3-seed on the line. With Jimmy Butler's status still up in the air, we are currently stuck without a line, but let's take a peak at the X's and O's anyway and see if we can come up with a winner. That's my final answer, Regis.
To the Victor (Oladipo) Go The Spoils
And to the winner of this match-up goes the 3-seed. The Eastern Conference Semi-Finals are already shaping up to be an epic showdown between Toronto, Milwaukee, Philly and Boston, but Indiana is a lingering threat to that double date. They're like the little brother that your mom makes you take with you to the movies and embarrasses you and your buddy in front of the two out-of-your-league chicks you convinced to accompany you. If they end up crashing the party – so be it. Indiana is a solid, sneakily-deep team, and they're going to be a nightmare to take out in the playoffs if Oladipo gets back up to speed. I just prefer my double date as is.
Indiana gave Philadelphia fits last season, but hopefully that won't be the case again tonight. Oladipo is still being eased back into the rotation after his month-long absence, and Indiana will need more than Darren Collison to take down the Sixers. Stylistically, Indiana represents a good foil for the Sixers' ethos. With outstanding guard play, an array of outside shooters and versatile, hard-nosed bigs, the Pacers lack a true weak point. Myles Turner has been outstanding over the last two weeks and Sabonis looked like the reincarnation of his father for a month straight. A Jimmy-less Sixers team will focus primarily on pounding the ball inside with Embiid, and if the Pacers can a) limit his efficiency and b) wear him down/pull him away from the rim on defense, they will walk out of Wells Fargo Center with a big W.
No More BS from BS
My god – I am sick of the Sixers losing to the goddamn Nets. It's almost like they see a bit of their former, pathetic self in the lowly Nets and decide to pull their punches. Like the NBA tanking version of paying it forward. If we really wanted to help them out, we would kill them every game and help their draft lottery odds. Then again – if they get Zion, then we have to see him four times per year. I'm always on board for a long con – just ask Sawyer (LOST reference – take a drink).
The best way to get over a loss is to get under the Pacers, er…beat the Pacers? I think the saying goes something like that. I'm paraphrasing. Without Jimmy, we're back to the OG Sixers; my son Joel, The Fresh Prince Ben Simmons, and a ragtag group of vets, foreigners and white guys are ready to go to battle. Despite some late shenanigans, Furkan Korkmaz played well in his first career start, and now that Muscala, Chandler, and Shamet are regulars in the rotation, the lineups are starting to favor Ben Simmons' up-tempo, spaced out style more.
To defeat the Pacers, the Sixers will need BS and Embiid at the top of their games. Indiana owns the second-ranked defense in the NBA, but the Sixers can dismantle that with simple math. More free throws (second in the NBA) and 3-pointers (13th in attempts) for the Sixers is going to lead to more points, and this game has sneaky shoot-out potential. With Embiid roaming the middle, an inside-out approach should work nicely to establish an interior force while burying Indiana with outside shots. Ultimately, it's a make-or-miss league, and the 76ers tend to favor the former at home.
Best Bet
It's been a few years since it's felt like we've had parity in the NBA, but with the number of talented guys coming into the league every year, it's rare to find a game on your schedule that is a guaranteed win. Maybe it's just a Philadelphia thing – no lead or deficit seems too large to relinquish or rally back from, so every game probably takes two weeks off of my life. This game feels like it might be a four-weeker, and it may be the type of viewing experience for myself that my wife's lawyer will eventually use against me in a deposition. These two teams had margins of 11, 3 and 8 in three games last season, but all of them were up-in-the-air until the final minute. I'm expecting Jimmy Butler to sit out one more game, so the line should fall around 2.5 in favor of the Sixers. Anything more than that – take the points and run. But I like Philadelphia to continue their home dominance and come away with a close one. Fingers crossed – the Sixers and I need this W badly.
Final Score Prediction: Philadelphia 108 – Indiana 105
On paper, Creighton should be a solid bet to comfortably win this game. The Bluejays' three losses have come to two Power 6 foes and Gonzaga, which might be the most complete team in the nation. But first lets look at Green Bay for a couple reasons. DJ breaks down the Friday Night Game!