LA Lakers vs. Minnesota Timberwolves Pick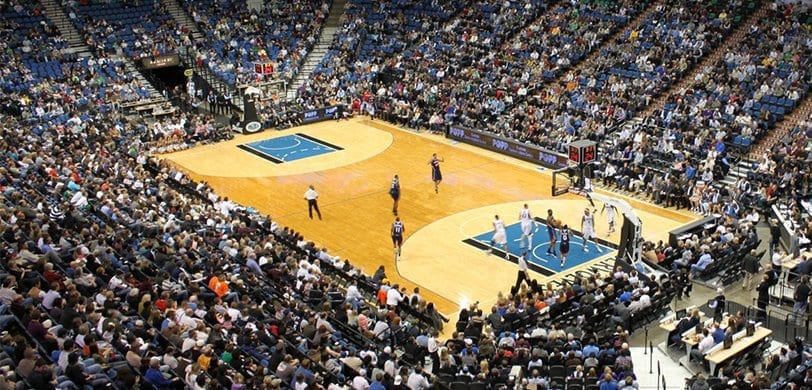 LA Lakers (2-4, 2-4 ATS) vs. Minnesota Timberwolves (2-4, 2-4 ATS)
When: Monday, October 29th, 2018 – 8:00 pm ET
Where: Target Center – Minneapolis, MN
TV: NBATV
By: Kyle Cash, NBA Basketball Handicapper, Predictem.com
Point Spread: LAL PK/MIN PK
Total: 239
Last Night in the NBA
We're finally back to our winning ways after climbing to the top of the Stifle Tower, and we didn't even need Donovan Mitchell's help. That's what I like to call a win-win. Meanwhile, Chef Curry cooked up another monster stat-line en route to another victory in Brooklyn, and as a fellow NBA expert so eloquently put it to me, Steph is having his "Forget About Dre" season, and it's appointment television every night. Who needs LeBron in LA when you have Steph Curry in the Bay?
Well, apparently we do. Monday night's Shaky Team Chemistry battle takes place in the frigid north of Minneapolis, and LeBron and his new kids are looking to wipe the tears of the Dodger faithful by righting the sinking ship that is the Lakers season. Meanwhile, Jimmy Butler will continue to brush up on "How To Connect with Millennials (For Dummies)" before taking the floor in a game that Vegas said, "Screw it – you figure it out." All we have to do is pick a winner (and a total above or below 239 points) and we can be a winner. Are you with me?
This Is Your King?
I've said it before, and I'll say it again: Lonzo Ball sucks at basketball. Wait, no. Not that. Well, yes, that too, but what I meant to say is that no one is more committed to putting out content than King James. For all we know, this crappy start to the Lakers' season is just the rising action of Space Jam 2. Pretty soon, we could be seeing the training montage of Lonzo shooting 3s with toilet paper like in Little Giants; or LeBron putting glasses on JaVale McGee so he can see a backdoor cut coming like the goalie in Kicking and Screaming; or maybe Bill Murray will reprise his Space Jam role (as himself) so he can suit up on a 10-day contract and tell Luke Walton, "Woah, I don't play defense." Perfect, Bill Murray! You'll fit right in here.
Los Angeles currently sits in the bottom-10 of both offensive and defensive rating, and it's unclear whether the main culprit is scheme, personnel, chemistry, or all of the above. I'm going to go with D. All of the above. Final answer. LeBron-led teams have struggled on defense over the last couple of seasons as the King has realized his energy is best saved for offense, but that end isn't clicking yet either. What is most concerning through six games is LeBron's 20% 3-point shooting accuracy. He has polished his jumped from deep into somewhere between "serviceable" and "legit" the last two seasons, but if he falls back off that cliff…well, go ask Ben Simmons what that does to your driving and passing lanes.
Against Minnesota, the Lakers weaknesses aren't going to be exposed on the offensive end. Jimmy "You F'ing Need Me" Butler takes no prisoners on D, but the rest of the Wolves roster consists of low-effort, low-IQ defensive players, and they rank even lower than LA on that end. But Minnesota has weapons on offense, and I'm sure their home crowd will be chomping at the bit to get a piece of the King. LeBron and Jimmy should cancel each other out on both ends, so it will be up to Lonzo, Kuzma, and the recently paroled Brandon Ingram to win their own individual matchups to generate offense for the purple and gold. Expect this game to be quick and high-scoring, and the New Showtime Lakers are going to have to emerge in transition to put this one away.
Timmmmmbbbbberrrrrrr!
Prior to this season, I've historically been pretty lukewarm on the merits of Jimmy Butler's game. He won me a boatload of money on DFS one time, so he's family for life. But I subscribe to the pace-and-space Morey-ball system of 3s and lay-ups, and his healthy diet of mid-range jumpers is a style of basketball that I typically turn my nose up at. However, I love guys that talk trash AND back it up, so the now-legendary Jimmy Butler Scrimmage has me firmly on his side, and I'm directing all of my vitriol towards Wiggins and Towns. Free Jimmy!
Unfortunately for my new favorite egomaniac, he's employed by a team with a coach/general manager that is holding him hostage at gun-point, and the team turmoil is teetering on Washington Wizards-levels of contempt. All of this has led to an uneven start for what should be a Western Conference dark horse, and Towns is playing like a Section 8. Last season, Karl-Anthony Towns averaged 22 points and 12 rebounds on 54% shooting; this season, he's barely scraping together 16 and 8 on 42% shooting. He has the talent to be one of the most gifted offensive bigs in the league, but Butler's Code Red didn't do anything except shatter his fragile psyche, and something is going to have to give.
Luckily for the Timberwolves, talent is the number one factor in determining a winning basketball team, and they possess that in spades. The Lakers, as noted, are abominable on the defensive end, and the Wolves have an A- superstar, two B-level young guns, and even a rejuvenated Derrick Rose at their disposal to run up the score and drop buckets on LeBron's head. More importantly, they have a surprisingly great home crowd; the Wolves fans love when that team is good, and with a potential soft-reboot incoming, every game is like their last. LeBron will not be welcome in the biting cold of Minneapolis, and Butler and his army of fans might ruin his road trip before it even begins.
Quick Match-Up Notes
• LeBron is 6-12 lifetime in the regular season versus Jimmy Butler
• Both teams rank inside the top-10 in Pace
• Los Angeles is the third-highest per game scoring team in the NBA
Best Bet
Unlike the NFL, the NBA season is long, and sometimes, it's okay to let a win slip through your grasp; there's plenty of nights to go full-throttle and lay the smack down. But both of these teams have deep playoff aspirations, and in order to get there, you have to win some games. If you fall to 2-5 and need 48 wins to get an 8-seed, now you're staring at an extended stretch run of 46-31 in a daunting Western Conference, and that is easier said than done. For that reason, and that reason alone, I am treating tonight's game like a must-win playoff game. Remember how LeBron is a shocking 6-12 versus Jimmy Butler in the regular season? Well, he's 8-3 against him in the playoffs, and that's all I really need to know. The Lakers have scored 126 points per game in their two wins, and I like the over as well, so feel free to go nuts and toss it that in a parlay. The Dodgers already disappointed Magic Johnson once this week – LBJ isn't going to let that happen twice.
Final Score Prediction: LA Lakers 128 – Minnesota Timberwolves 124
<aside><!-- [et_pb_line_break_holder] --><div class="widget105"><!-- [et_pb_line_break_holder] --><h4 class="cash">NBA Basketball Bonuses</h4><!-- [et_pb_line_break_holder] --><div class="widgetlist"><!-- [et_pb_line_break_holder] --><div class="col1"><!-- [et_pb_line_break_holder] --> <a href="https://www.predictem.com/out/Bovada"><img src="https://www.predictem.com/wp-content/uploads/2018/04/bovada.png" width="" alt="Bovada" /></a><!-- [et_pb_line_break_holder] --></div><!-- [et_pb_line_break_holder] --><div class="col2"><!-- [et_pb_line_break_holder] --><span class="list"><b>50% Cash</b></span><br><!-- [et_pb_line_break_holder] --><span class="list">5x Rollover</span><!-- [et_pb_line_break_holder] --> </div><!-- [et_pb_line_break_holder] --> <div class="col3"><!-- [et_pb_line_break_holder] --><a href="https://www.predictem.com/betting-sites/bovada/"><button class="btn-widget">Review</button></a><!-- [et_pb_line_break_holder] --></div><!-- [et_pb_line_break_holder] --></div><!-- [et_pb_line_break_holder] --><div class="widgetlist"><!-- [et_pb_line_break_holder] --><div class="col1"><!-- [et_pb_line_break_holder] --> <a href="https://www.predictem.com/out/Intertops"><img src="https://www.predictem.com/wp-content/uploads/2018/04/intertops.png" width="" alt="Intertops" /></a><!-- [et_pb_line_break_holder] --></div><!-- [et_pb_line_break_holder] --><div class="col2"><!-- [et_pb_line_break_holder] --><span class="list"><b>50% Cash</b></span><br><!-- [et_pb_line_break_holder] --><span class="list">4x Rollover</span><!-- [et_pb_line_break_holder] --> </div><!-- [et_pb_line_break_holder] --><div class="col3"><!-- [et_pb_line_break_holder] --><a href="https://www.predictem.com/betting-sites/intertops/"><button class="btn-widget">Review</button></a><!-- [et_pb_line_break_holder] --></div><!-- [et_pb_line_break_holder] --></div><!-- [et_pb_line_break_holder] --><div class="widgetlist"><!-- [et_pb_line_break_holder] --><div class="col1"><!-- [et_pb_line_break_holder] --> <a href="https://www.predictem.com/out/Gtbets"><img src="https://www.predictem.com/wp-content/uploads/2018/05/gt-bets.png" width="" alt="GtBets" /></a><!-- [et_pb_line_break_holder] --></div><!-- [et_pb_line_break_holder] --><div class="col2"><!-- [et_pb_line_break_holder] --><span class="list"><b>150% Cash</b></span><br><!-- [et_pb_line_break_holder] --><span class="list">4x Rollover</span><!-- [et_pb_line_break_holder] --> </div><!-- [et_pb_line_break_holder] --> <div class="col3"><!-- [et_pb_line_break_holder] --> <a href="https://www.predictem.com/betting-sites/gtbets/"><button class="btn-widget">Review</button></a><!-- [et_pb_line_break_holder] --></div><!-- [et_pb_line_break_holder] --></div><!-- [et_pb_line_break_holder] --><div class="widget-footer"><a href="https://www.predictem.com/best-sportsbooks/bonuses/">See all sportsbook bonuses</a></div><!-- [et_pb_line_break_holder] --> </div></aside>
<h4 class="widgettitle">NFL Picks</h4><!-- [et_pb_line_break_holder] -->
<div style="width:340px; margin: 0 auto;"><!-- [et_pb_line_break_holder] --> <a class="twitter-timeline" data-width="340" data-height="500" data-link-color="#008156" href="https://twitter.com/PredictemPicks?ref_src=twsrc%5Etfw">Tweets by PredictemPicks</a> <script async src="https://platform.twitter.com/widgets.js" charset="utf-8"></script><!-- [et_pb_line_break_holder] --></div>